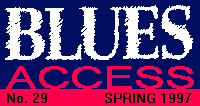 ---
There are so many independent releases on my blues shelf that we've expanded Homebrew. For the first time, I've also incorporated a rating system specifically for Homebrew independents.

| | |
| --- | --- |
| Poor | |
| Fair | |
| Average | |
| Good | |
| Excellent | |
---
A more-than-satisfying studio album of covers from vocalist/bassist Chicago Pete, The Blues Is Alright (Speakeasy 3003) makes for pretty good listening. Pete's got the funk, and his Old Chicago Blues Band, led by inventive, rock-oriented guitarist Doug Varty and featuring some excellent horn-work, lay pleasant waste to blues standards by Little Milton, John Lee Hooker and others.




---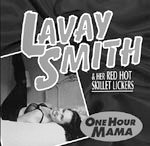 It's not too often that a group of players from a current time take on music a half-century old and make it fresh, invigorating, compelling and true to the intention and purpose of the original creators. That is exactly what has happened with a delightful Bay Area band, the wonderfully named Lavay Smith and Her Red Hot Skillet Lickers, in their debut, One Hour Mama (Fat Note 0001). Ms. Smith is a skilled vocalist coming into her own as a remarkable interpreter of sassy blues gals of the past. She sings hell out of tunes associated with Bessie Smith, Dinah Washington, Helen Humes, Ida Cox and other golden, gifted voices from another era. Smith's intoxicating and, indeed, red hot octet is led by superb pianist Chris Siebert, who arranged all the music and produced this simply marvelous debut. The band has been knocking them dead in Northern California clubs the last few years. Now it's your chance to hear why. Want to be a Skillet-Head? I'm right there with you.





---
Louis King and the Liar's Club is an Australian trio featuring vocalist and drummer King, who has a knack for solid rockabilly rhythm and retro-R&B phrasing. His on-top-of-the-beat snare work gives Louis King and the Liar's Club (King Records 801) a confident urgency. Its 10-track, all-original material is often rocked out. However, the band has done its homework, playing it hard and legitimate in a mid-'50s style that gets the job done.




---
Northern California quartet Hoosier Daddys' Into Something (Hoosier Daddys) suffer from lead-vocalist Ned Kraft's weak vocals and the band's uninspired arrangements. Although rock and blues-rock is a genre they're comfortable with, there is little in the original material or blues covers that elevate Into Something into special status.


---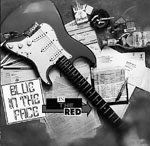 Blue in the Face demonstrate confidence and late-night grit on In the Red (Smoke Ring 1011). This turtleneck-tight quintet from Connecticut cuts loose on 13 originals and a Buddy Guy cover in a well-paced blues studio outing. Vocalist Dan Aldrich's smoky delivery is just fine, and his very supportive players hit nary a clam.



---
With matinee-idol looks and a soul born to the blues, Jon Lawton leads his band, Little Jonny and the Giants, on a satisfying second release, No Mercy (Corn Bread 20096). More than tough-enough guitar plus quivering, razor-sharp vocals by Lawton will make you crank up your stereo and say, "Who are those guys?"




---
Osee Anderson Live! Smokin' Not Jokin' (D'Lotis Records 051230) finds Anderson leading a strong quartet through five fairly-blistering but weakly-recorded live cuts and then an OK studio band through three others. Multi-instrumentalist and vocalist Anderson (formerly Lonnie Brooks' guitar foil) touches funk and rock-blues bases and shows muscular promise. The recording is a little uneven, and Osee's electrifying guitar work at times oversells a bit, but talent will out.




---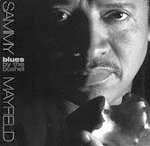 Yipes! Denver's in the house! Long-time Solomon Burke guitarist Sammy Mayfield has struck out on his own with Blues by the Bushel (OPM 5600) and hits enough Rocky Mountain highs (sorry!) with his song-writing and often brilliant lead-guitar work to make you wonder why this guy hasn't been noticed, let-alone recorded before. Then again, how many A&R guys check out Colorado for the next big blues thing?





---
A nice and funky and blues-filled surprise comes from vocalist/drummer Melvin Leonard on Prince of the Blues (Spice 1231). Although the title might be a little far-fetched, the music inside is solidly played and pleasingly sung by Leonard in a voice that'll make the gals swoon and the guys relate. He may not be your prince, but his confidence and delivery fit perfectly into every song he sings. This is a release that can help put a long, hard day into perspective and make you say to yourself, "Somebody knows how I'm feeling."




---
Mark (the) Harper is consistently irritating as a vocalist and fairly hokey as a songwriter. However his forceful harmonica playing and his vigorous, top-notch band are enough to push Man on a Mission (Turquoise City 7001) to the level of adequacy.



---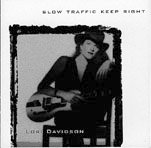 Blueswoman Lori Davidson struts forth with a sultry, sweaty and often sexy nine-cut effort, Slow Traffic Keep Right (All Blues 1069). Outstanding production by Davidson and musical-partner, bassist Ken Embry, bring out the best in their stellar band, including John Lee Hooker guitarist Rich Kirch, harp-whiz Eugene Huggins and sax-stylist Doug Rowan. This gal-to-be-reckoned-with confidently sings her way through several states of blues and comes out sounding as great as she looks on the tray card.




---
Little Georgie and the Shuffling Hungarians give you your moneys-worth in a rousing two-hour, let-the-good-times-roll set of 21 sparklers. This two-disc, down-home R&B revue was recorded Live at Styleen's Rhythm Palace in Syracuse, New York (Queen Bee 96662). They touch on the Beatles, Sly Stone, old-time gospel, New Orleans streetbeat, crossover pop and blues-based rock'n'roll all performed effortlessly but with loving care by the Hungarians' solid-as-cement players. Leader/keyboardist/vocalist George Rossi has split the two discs (with a great hoodoo tray card) into the headings, Chance and Desire. Let me add three more words, "a sure bet."




---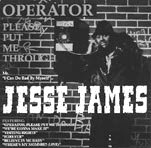 Bay Area R&B star Jesse James released two discs in the same year, and both are elegant examples of this tenor's soulful vocal surety and his late-night, turn-the-lights-down-low, sexy ways. From his whisper to his screams, both Operator, Please Put Me Through (Gunsmoke 003) and I Can Do Bad By Myself (Gunsmoke 001) would please the most demanding of soul-blues fans.




---
Five pals that go by the moniker Doc Johnson Blues Band have released an all-original recording, Doc Drops In (Blue Iris 760251-9). Consisting of mostly up and mid-tempo shuffles, it's a fairly muddy recording, but has a nice feel to it. As leader, Johnson seems to know his vocal limitations and doesn't struggle with it. That's a plus as is the band's undeniable instrumental-prowess and easy delivery.



---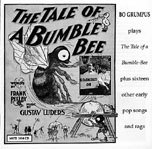 The Tale of the Bumble-Bee (Miss Anne Thrope 1004): Traditional ragtime blues played by Bo Grumpus, a fine acoustic trio in an extraordinary display of musical virtuosity. Guitarist Craig Ventresco is a marvel born in our time, but whose musical heart is living within the turn of the century.





---
The Chazz Cats play a delightful blend of crooning '20s songs and sassy music of the '40s just as well. On Roadhouse Swing (Chazz Cats 050) they exhibit a lively, five-piece rhythm section and the perfectly understated, just-right vocal phrasings of newcomer D'lilah Monroe. Where did you get that girl, you lucky fellows? This retro-gang of six has put out a debut they can be proud of and you can buy with confidence. They don't write songs like this anymore, but then again, hardly anybody plays them as well as these youngsters can, either.




---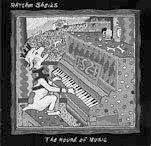 Lead guitarist, lead vocalist and bandleader Larry Dunn is an artist and a hell of a musician. His rollicking, roadhouse swing quintet, Rhythm Sheiks, have recently released their second disc, Hound of Music (New Blue Classics 1002). It's fun to listen to, it's danceable, it's a great party record and you'll be hard-pressed to hear a false or forced note. Dunn's song-writing and arranging is masterful and if justice is done, you'll be hearing more from these ultra-talented rumble-Rhythm, super-Sheiks.




---
Don't know how Ohio bluesman Tommy Shaper and the Mature Individuals got lucky enough to obtain the services of the Roomful of Blues horn section, but the four cuts they guest on are worth the price of admission alone. Shaper's Over Budget, Late, But Great (Jasperhead Records) is a delightful surprise. The all-original songs hang together well, and Shaper's guitar is strong and sure. He's enlisted some terrific players, and were it not for his painfully-weak vocals, this 1996 effort could be one of the better indies of the year. As it is, it's still worth a call to Ohio for.




---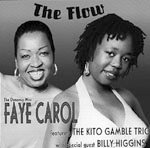 Rave liner notes from respected musicologists (Lee Hildebrand, Philip Elwood) and master musicians (Charles Brown, Steve Turre) might be enough for you to think, "There's a hype goin' on." But believe me, in the case of gifted-vocalist Faye Carol and her piano-playing daughter, the supremely-talented Tito Gamble, the words just about do justice to their sumptuous and symbiotic effort, The Flow (World Stage 1016). Jazzy-blues and bluesy-jazz have rarely had their forms so well explored by unjustly overlooked talent of this quality.





---
See Where to Find 'Em for label information.
---
BLUES ACCESS encourages blues musicians to send us independent releases. And blues fans, if there's a band or musician you've heard, seen or followed, and think they're deserving of wider recognition, send us, or have them send us their releases as well. With your help, we'll find out and hopefully be able to help spread the word about some great new music.
We need two copies of each release, preferably on CD. Written promotional material regarding the music and the player(s) is also welcome and helpful.
Please address to:
Homebrew
c/o: Blues Access
1455 Chestnut Place
Boulder, CO 80304-3153
---
This page and all contents are &copy 1997 by Blues Access, Boulder, CO, USA.