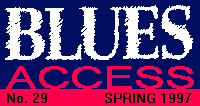 ---
Discs that have been given full reviews in this or previous issues of BLUES ACCESS
are quoted with the reviewers initials in brackets.

Red Rooster Pick

Catfish Pick
---
Johnny Adams - One Foot in the Blues

See review in this issue. "Johnny Adams, one of the great singers of our Earth, here turns in a CD that could have been called Blues With Elegance." [TS]
(Rounder)
---
Jim Allen - Weeper's Stomp

Allen's left-field lyrics and lack of adherence to blues form might put off purists, but his song/poems and instrumentation (slightly reminiscent of Tom Waits) have a way of sneaking up on you.
(Prime CD)
---
Luther Allison - Where Have You Been? Live in Montreux 1976-1994

See review in this issue. These live recordings over a span of years from Montreux, Switzerland, "are a chronicle of the arrival of the consummate pro who stuck to it despite anonymity in his own homeland." [JM]
(Ruf)
---
The Backsters - Live

I'll move the table against the wall, mama, while you put on your dancing shoes, and we'll let the Backsters play jump blues 'til way past the dawn. How can you go wrong with a band that lists Roland Kirk, Johnny Otis, Eddie Vinson and the Beach Boys as influences?
(Front Runner)
---
Johnnie Bassett & the Blues Insurgents - I Gave My Life to the Blues

See review in this issue. "A smooth, finely crafted disc, with 14 songs that lean heavily on swing and jazz yet offer an occasional nod to Delta blues and R&B." [JB]
(Black Magic)
---
Carey & Lurrie Bell - Dynasty

(1988-89) Recorded after Carey Bell's Harpslinger album with his sons in the band, this represents an hour's worth of Chicago blues at its deepest and most penetrating. Turn it up: "Brought Up the Hard Way."
(JSP†)
---
Big Top Blues Band - Mad Love

Sydney band with reverence for American blues, but never derivative. Turn it up: "Hawaiian Twist," based around the theme song of a popular island television detective show that you'd have to be, uh, old enough to remember; "Muddy Water's Mad Love," which is as strange as the title sounds.
(Bigtop Production)
---
Deanna Bogart - New Address

Rich, satisfying, unassuming soul/blues grooves. Turn it up: "Alright," about a reaffirmation of life, complete with gospel chorus, and the Womack's slinky "Missing Persons Bureau."
(Viceroots)
---
Spencer Bohren - Dirt Roads

Songs slow and moody dominate most of this disc, which includes some haunting slide guitar (reminiscent of Ry Cooder's in Paris, Texas). Just Spencer with Jab Wilson' harmonica textures, but it adds up to one of his best albums to date.
(Zephyr)
---
Robert Bradley's Backwater Surprise

There's something agitated and unsettling about Bradley's funk/blues/soul Surprise. "Shake It Off," for instance, sounds like "Gimme Some Lovin'" 30 years on, and even more intense, if that's possible. And even when they quiet down, there's an edge that tells you there's something happening here, and it just ain't exactly clear.
(RCA)
---
Nappy Brown - Just for Me

The presence of Big Jay McNeely on tenor sax adds to the authentic "old R&B" feel of this 1988 session recorded in London. There's a remake of Nappy's "Night Time (Is the Right Time)" as well as some straight-ahead blues.
(JSP†)
---
Jimmy Burns - Leaving Here Walking

Burns is a Chicago bluesman who hasn't lost touch with his Delta roots. There's plenty of down-home Southern feel in his voice, whether he's doing "Catfish Blues," Little Willie John's "Talk to Me" or Curtis Mayfield's 'Gypsy Woman."
(Delmark)
---
Jeannie & Jimmy Cheatham - Midnight Mama

(1986) Jeannie and Jimmy Cheatham's debut album is finally available on compact disc, with Red Callendar, Snooky Young, Eddie Davis and John Harris. Late-night jazz/blues in all its ambient splendor.
(Concord Jazz)
---
Sean Costello and His Jivebombers - Call the Cops

If this were 1957, it would be easy to imagine Sean Costello as a budding rockabilly guitar star for Sun Records. Fortunately for us, 40 years later this teenaged Memphian is making blues CDs for Blue Sun Records and playing Sonny Boy I, Robert Nighthawk, Little Walter and self-penned material in a winning style all his own.
(Blue Sun)
---
Clarence Fountain - Golden Moments in Gospel

Fountain is the leader of the current Blind Boys, and his great voice supercharges the 10 tracks on this disc.
(Jewel)
---
Billy Gibson - Billy Gibson

Southern-fried harmonica and vocals on a set of fresh blues tunes recorded in Memphis. Drummer Bobby Little and "Mr. Johnnie" Billington chip in to sing a couple original songs. Gibson also plays a pair of duets with chromatic harpist Pete Pedersen.
(North Magnolia Music)
---
Buddy Guy - Breaking Out

(1980) This album, Guy's most experimental, gets the royal remix treatment and a couple of added tracks from the same period. It probably makes better sense today than it did when it was first released. Turn it up: "Texas Flood," yeah, that one, before SRV got hold of it.
(JSP†)
---
John Hammond - Nobody But You

(1987) Originally released on the Flying Fish label, Nobody But You finds Hammond in an unusual setting -- a five-piece band with Gene Taylor on piano -- which comes off as a pleasant excursion through classics by John Lee Hooker, Muddy Waters, Arthur Crudup, etc. Don't miss "Honey Bee."
(Pointblank)
---
John Lee Hooker - Live at Café Au Go-Go (And Soledad Prison)

(1966, '72) The Café Au Go-Go set is a classic, with subdued backing by the Muddy Waters Band. Also John Lee's five vocal tracks from the Soledad set, with a band that features Luther Tucker.
(MCA)
---
Joe Houston - The Blues & Nothin' Else

Saxophone great sings (and plays) the blues with stellar accompaniment from L.A. Jones on guitar and Mike Malone on piano. Good choice of covers and originals, including two for Joe's old friend, Big Joe Turner.
(Shattered Music)
---
Erick Hovey - What You Blue About?

As he says in the song, there is "Nothin' Like a Good Guitar," and Midwesterner (Ft. Dodge, Iowa) bluesman Erick Hovey takes those immortal words to heart. Judging from the cover photo (it's him as a geeky teenager doing his best blues snarl with his sister beating an Indian drum), he's been at it for a time, and this homegrown disc grows on you like the corn in his home state.
(Junior's Motel)
---
Mississippi John Hurt - Avalon Blues: The Complete 1928 Okeh Recordings

See review in this issue. "Listening to Mississippi John Hurt wail on his 1928 Okeh recording "Frankie" makes one think not just of the roots of the blues, but to the roots of human language and storytelling." [WR]
(Columbia/Legacy)
---
Steve James - Art and Grit

See review in this issue. "Another collection of wonderful music mainly based in the blues tradition but which also includes references to country, 19th century minstrel shows, Hawaiian, ragtime, early New Orleans jazz and just about anything else that can be played on a stringed instrument." [SD]
(Antone's/Discovery)
---
Luther "Guitar Jr." Johnson - Downstairs at the Rynborn

There's a lot to recommend about the many moods of Luther Johnson on a good night at the New Hampshire club the Rynborn. Versatility, good choice of material and a band ready to step out with the master in any direction he heads.
(Rynborn Blues)
---
Johnny "Yard Dog" Jones - Ain't Gonna Worry

Gritty Chicago singer and songwriter also play s a little (actually very little) harp and guitar. He doesn't really need to play much with Johnny B. Moore (guitar) and Detroit Junior (piano) in the band.
(Earwig)
---
Andrew "Jr. Boy" Jones - I Need Time

Jones finally steps from the shadows of the greats with whom he's collaborated (Charlie Musselwhite, Freddie King, Katie Webster, Bobby Patterson). Judging from this stunning debut led by his distinctive guitar leads, the only question is: Why did he need so much time?
(JSP†)
---
King Biscuit Boy - Badly Bent

If you're new to the Biscuit, this is a good place to start. It features some of the best tracks from the Canadian harp wailer's legendary early-'70s LPs Official Music and Good'uns and a couple from a later, Alan Toussaint-produced disc.
(Stony Plain)
---
Koerner, Ray & Glover - One Foot in the Groove

If nothing else, this set proves that it's possible to stay true to the forms of the past without losing any contemporary edge. Of course, that's why they were so popular the first time around, too. Which leads to another adage: what goes around, comes around.
(Tim/Kerr)
---
The Mighty Reapers - Trouble People

My guess is that this Aussie group is one hot live attraction. Here they take on any number of styles, and, for three tracks, back up Margie Adams, including a funky, bluesy reading of her "Mistreated Woman."
(Terra Nova)
---
Aaron Moore - Hello World

Delmark continues to prove that there's no dearth of veteran blues talent in Chicago. Aaron Moore isn't a household name outside the city, but with his playing, singing and songwriting he shows that there is plenty of blues piano life after Sunnyland Slim.
(Delmark)
---
Dan Noland and Carl Snyder - Birdnest on the Ground

Chicago soul vocalist Noland and funk keyboardist Carl Snyder have found a good groove, with some of Chicago's finest contributing to the mood. Where else could you find blues covers of the Box Tops ("The Letter"), Willie Nelson ("Funny How Time Slips Away"), Willie Dixon "(Little Red Rooster) and the Spinners ("I'll Be Around") in one place?
(Lost World Music)
---
Kenny Parker - Raise the Dead

If you like the kind of gritty soul/blues of the Butler Twins, this is your meat. Guitarist Parker steps out on his own after several years with the Twins, and he fronts the same kind of assault-weapon blues. Great guitar work and strong vocals backed by a band that includes Darrell Nulisch and, occasionally, Clarence Butler. Not for breakfast, though.
(JSP†)
---
Yank Rachell/David Morgan - Pig Trader Blues

At age 87, Rachell seems as energetic and purposeful as singers and players half his age, and these relaxed sessions with David Morgan from 1994-'95 find the blues mandolinist alternately rascally ("I Love My Woman"), reminiscent ("My First Mandolin") and inebriated ("Sloppy Drunk"). All Morgan has to do is keep up.
(Slippery Noodle Sound)
---
Jimmie Lee Robinson - Guns, Gangs and Drugs

Like the trance music of Jr. Kimbrough, his spiritual cousin in Mississippi, Robinson's rhythms and arrangements are entirely his own; his spurs jangling in time to "Parchman's Farm" are as important an element as the guitar riff. Alternately angry (on the title track), reminiscent (on two versions of "Maxwell Street (Memories of Chicago)," atmospheric ("Parchman's Farm") and downright whimsical on "Houdley Voo Doo Man." A man of many moods, and they're all worth hearing.
(Amina)
---
Son Seals - Live -- Spontaneous Combustion

Full-bore intensity marks Son's latest live effort, recorded at Buddy Guy's Legends. He reprises "Don't Pick Me for Your Fool" and "Your Love Is Like a Cancer" to go with some covers and new originals.
(Alligator)
---
Eric Shoutin' Sheridan & the Uptown Rhythm Kings - Live Show

Honkin' and shoutin' all the way, Sheridan and his nine-piece big band work their way through 14 sweaty tunes in the style of the great "H&S"ers of the past..
(Big Mo)
---
John Sinclair & His Blues Scholars - Full Circle

Sinclair's poems, all carefully researched and rendered, capture moods, thoughts and feelings as well as any lyricist today, and he continues to sound more relaxed reading his own words. Teaming with old partner Wayne Kramer was an inspired idea that works as well in the groove as it does on paper. Turn it up: The amazing story Bukka White tells in "Shake 'Em on Down," the crawling boogie beat that frames "Doctor Blues," based on an interview with Roosevelt Sykes, and "Ain't Nobody's Bizness (Just Say Yes)," just because you'll never hear it on the radio.
(Alive)
---
Clarence Spady - Nature of the Beast

Supremely soulful and deeply personal outing from this 35-year-old bluesman on the rise. Spady plays guitar and sings in a church-trained voice of the travails of the modern blues life, backed by a fine set of musicians.
(Evidence)
---
Roosevelt Sykes - Music Is My Business

This unique snapshot from the mid-'70s captures the piano giant playing solo and in combinations featuring Louisiana Red and Sugar Blue (neither of whom he'd ever heard of), along with old pal Johnny Shines.
(Blues Alliance)
---
Two Aces and a Jack - Hot As You Got

(1987) This collision of electric talents by these Ohio originals is primal, raw, stripped-to-the-bone, essential, core, full assault, fingernails-on-the-chalkboard, gut-level stuff.
(Blue Suit)
---
Various - Blues Piano Orgy

(1972) Delmark has kindly tacked on seven more unissued pieces to the CD reissue of this Chicago piano tour de force. Speckled Red, Roosevelt Sykes, Sunnyland Slim, Little Brother Montgomery, Memphis Slim, Curtis Jones, Otis Spann: The names say it all.
(Delmark)
---
Various - The Bluesville Years Volume Five: Mr. Brownie & Mr. Sonny

Sonny Terry and Brownie McGhee in various configurations from 1960, plus seven live tracks from the At the Second Fret album. Good stuff, if you don't have the originals.
(Prestige/Bluesville)
---
Various - Straight From the Delta

High-quality field recordings and interviews by photographer extraordinaire Rex Miller conjure the cottonfields, poverty and oppression that gave birth to the blues in the Mississippi Delta. Artists include James "Son" Thomas, Mississippi John Hurt Jr., Eugene Powell, Rev. Leon Pinson, Big Jack Johnson, Mr. Johnnie Billington, Jessie Mae Hemphill.
(RexMusic)
---
Various - Juke Joint Jump

Eighteen excellent representations of that joyous, eight-to-the-bar piano music that never gets old, from the big names -- Ammons, Johnson and Lewis -- and some lesser-known tracks from Freddie Slack, Red Saunders, Champion Jack Dupree and Art Tatum.
(Legacy)
---
Various - The Best of Slide Guitar

Can't say for certainty that this is, indeed, the BEST of slide guitar, but I have no complaints with the selection of music, which counts practitioners like John Primer, Muddy Waters, Hound Dog Taylor and J.B. Hutto among its contributors, or the informative liner notes of Brett Bonner. Great package.
(Wolf)
---
Kenny Wayne - Alive & Loose

Not to be confused with the guitarist who adds Shepherd to the name, Kenny Wayne cut this disc of piano-based blues live, and it has a nice, spontaneous feel, paying tribute to his background and forging his own sound at the same time.
(Blues Roots)
---
Junior Wells - Come on in This House

See review in issue #28. "Junior is in top form, articulating stories through his instrument, accompanied by a cadre of mostly slide-playing guest guitarists with impeccable credentials, including Bob Margolin, Sonny Landreth and Derek Trucks." [TM]
(Telarc Blues)
---
Mitch Woods - Keeper of the Flame

See review in this issue. "A collection of duets with guests ranging from James Cotton to John Lee Hooker. The playing is terrific in a challenging range of styles." [DF]
(Viceroots)
---
This page and all contents are &copy 1997 by Blues Access, Boulder, CO, USA.