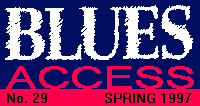 ---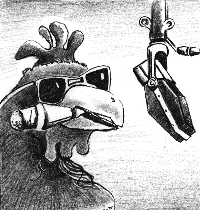 The Rod's Final Nod
He had his way of talkin'
Was a language of his own.
When Rahsaan Roland Kirk wrote those words as lyrics to Charles Mingus' "Goodbye Porkpie Hat," he was talking about jazz great Lester Young, but they apply just as well to Maurice "HotRod" Hulbert Jr. "The Rod," who passed away at the age of 80 on Christmas Eve, 1996, was one of the first and certainly one of the greatest black "rapper" DJs.
When the Rooster was just pint-sized poultry, HotRod came from radio station WDIA in Memphis (where B.B. King had a few years earlier gotten his nickname from his on-air persona as the Beale Street Blues Boy) in 1951 to work at WITH 1230 AM in Baltimore, Maryland. What was most significant about this event was that it made Hulbert the first full-time black air personality to work at an all-white Baltimore radio station.
If you're up on your history, you'll know that Maryland fought with the Union during the Civil War. But the border state was anything but Yankee. The Eastern Shore town of Cambridge was the site of a much-publicized skirmish in the battle for civil rights in the early '60s. And well into the latter part of that decade, Baltimore's TV teen dance program, The Buddy Deane Show, was strictly segregated, with black youths appearing on only one show every week or two.
Deane, recently arrived from Memphis himself, was the morning drive jock on WITH when the station's ownership asked if he knew of any black DJs down South who could help the station tap into the city's large African-American population. Deane immediately recommended Hulbert. (Incidentally, the eventual integration of Deane's TV show -- and a related race riot at Gwynn Oak amusement park -- are the serious subtext of John Waters' hilarious film, Hairspray.)
HotRod had a compelling personality that he combined with a musical menu that mixed Top-40 with a roster of black R&B artists who were getting no airplay until his arrival. His "Commander HotRod and the Rocket Ship" show not only nabbed the black audience WITH was looking for, it turned young white listeners -- yours truly included -- on to a world of music known until then only by the tame cover versions recorded by the likes of Pat Boone and Peggy Lee.
Hello mommios and daddios, keen teens, ladies and gentlemen. Commander HotRod moving and grooving, wheeling and dealing, hop, skipping and jumping here, there, each and everywhere bringing you the best in music, oyay, the best in songs, the best in jive, the best in helpful information, dedicated to you, the greatest people in the world, my listeners, as we move and groove, wheel and deal, hop, skip, jump here there and everywhere, I gotta say this is without a doubt the High Priest of Space, not the flower, not the root, but the seed, sometimes called the herb, sometimes called the burner. VOSA!

My own keen teen brain ate this staccato delivery up at the same time it wondered, "What the hell is he talking about?" Whatever, my mommio and daddio certainly didn't have a clue, which in itself was a big plus. I could just kick back and ride the rocket ship with James Brown, Sir Walter Jackson, the Dells, Etta James, whoever. I was definitely getting "the nod from the Rod."
By the early '60s, HotRod was a sizzling commodity throughout the airwaves of the Northeast, thanks to the fact that he was simultaneously doing shows on WHAT in Philadelphia, WWRL in New York and on Baltimore's WWIN. New Yorkers, however, missed out on the Rocket Ship show: Another DJ named Jocko had essentially stolen elements of the shtick and set up shop before the Rod got there.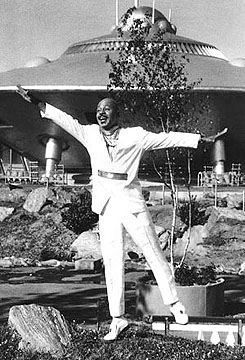 Even with the abridged version of his trademark rap, Hulbert had plenty of charisma. Jonny Meadow, Peabody Award-winning producer of the radio documentary The Rise and Fall of Vee-Jay Records, recalls listening to the Rod on WWRL in 1961. Meadow called him up to request some oldies. HotRod responded that he didn't have much there, but the teenager could bring his collection down to the studio if he wanted. Hulbert dubbed him "Astronaut John Meadow" and the two became fast friends.
"HotRod was the most consummate professional I ever met," Meadow recalls. "Both on the air and off. From the way he wore his suit, shined his shoes, to his manner on the air. He was such a good performer himself, he brought out the best in the talent. He was a great showman and a great salesman. He could read a spot of cold copy and make it sound different every time. He entertained you with the commercial -- and with the records."
Both stores are open 'til 10 p.m., all day Sunday until five. Tha-at's right. Only a few General refrigerators in stock. Now when these are gone we won't be able to replace 'em, mommio and daddio, at this low price of $99. Get on your dilly-a-blah and dial or call [heavy echo] Granite 4-ni-yen-thousand. Granite 4-ni-yen-thousand.

Free to my listeners, a big family-sized turkey with your refrigerator if you call within the hour. This offer's only for my listeners and their friends. So tell Bartell's that HotRod told you to call. Remember, everybody knows Bartell's. Ask your neighbor: You get the easiest credit terms in town.

That dilly-a-blah once a-gain: Granite 4-ni-yen-thousand. Call that number now. VOSA!

Dilly-a-blah? You know, that thing you dial up on and go "Blah blah blah." And VOSA? That was Rod's signature word, an acronym actually. It meant the "Voice of Sound Advice." But the way he said it made it take on a mysterious quality, like something Ming the Merciless might intone before he banished Flash Gordon to the island of perpetual Captain and Tennille.
Then there was "great googa mooga," the '50s equivalent of "awesome," an expression that was first immortalized in song by the Magic Tones in 1953 as "Good Googa Mooga":
"It was started by a guy down around our way. Oh, HotRod was the first to say,
'It's good googa-mooga,' which means 'ain't she nice.' "
The phrase turned up again in the Cadets' "Stranded in the Jungle" in 1956 and later on the Temptations 1970 hit, "Ball of Confusion."
My favorite verbal twist was HotRod's take on Pig Latin, his "ee-us" talk. Now I know Murray the K did this and called it "Mee-us-urray," but I'd almost be willing to bet it was a Hulbertism first. It simply consisted of inserting "ee-us" in almost every syllable, as in "Get the nee-us-od from the Ree-us-od."
Hulbert was a great live music promoter as well. He brought in artists like Sam Cooke, Little Richard, Wilson Pickett, Chuck Berry, the Flamingos and the Orioles to venues like the Royal Theatre and Carr's Beach, which were favorite haunts of the Baltimore area black community. He would often demonstrate his flair for showmanship by arriving in full space regalia.
Like many of Baltimore's outstanding soul DJs, HotRod bounced around from station to station. In 1968, WWIN was the happening place to be, boasting such legendary lights as Paul "Fat Daddy" Johnson, Al Jefferson, Rockin' Robin, Kelson "Chop Chop" Fisher and Sir Johnny O. I have a treasured photocopy of WWIN's "Soul 40 Tunes for the Week," flanked by pictures of these luminaries, the Rod included.
Nearly 30 years later, it's hard to imagine that you could have turned on the radio and heard a steady diet of these artists who made the list for the week of January 15: Albert King, Big Maybelle, Howard Tate, King Curtis, Clarence Carter, Junior Walker, the Temptations, Pretty Purdie, Aretha Franklin, Marvin Gaye & Tammi Terrell, William Bell, Otis Redding, James Carr, Carla Thomas, Sam & Dave, James & Bobby Purify, Inez & Charlie Foxx, James Brown, and on and on.
In 1984 HotRod became the manager of gospel station WBGR, a position he held until his retirement in 1991. That year he was inducted into the Black Radio Hall of Fame in Atlanta. In 1992 he was feted at the third annual Living Legends Luncheon in Los Angeles, an event sponsored by Warner Brothers Records and the Urban Network. It was reported that Quincy Jones, himself one of the honorees, spent a large part of his acceptance speech describing what an honor it was to be on the same stage as Maurice Hulbert.
When the Rock'n'Roll Hall of Fame opened in Cleveland, HotRod was part of an exhibit honoring 100 DJs from 1930 onward. The audio display contained several HotRod-isms: "Don't forget, if I tell you a mosquito can pull a plow, don't ask how. Just hitch him up and ride him to the moon!"
Back in the fall of 1993 I wrote a piece in BLUES ACCESS about all the great black DJs who had influenced me. On a wild hair I decided to track HotRod down so I could send him a copy. At the time I didn't even know his real name, but I got lucky and was able to locate him. Over the phone his voice was little more than a whisper, which shocked me because I had remembered it being so robust. I didn't know for sure but was able to guess at the throat cancer that eventually took his life. He was very gracious and seemed grateful to hear from an old-time fan. I finished by saying, "I just wanted you to know what an inspiration you've been to me, Hee-us-ot Ree-us-od." He replied, "Thank you so much, Kee-us-air-ee-us-y. I really appreciate it." I was on a cloud for the rest of the week.
The Rocket Ship Show usually closed with a variant on this refrain: "Dedicated to you, the greatest listeners in the world. Makes no difference what you think of me, but it does make a difference what I think of you, and I think you are the greatest."
Me, too, HotRod. VOSA!
Thanks to Brenda Hulbert, Jonny Meadow and Bob Mathers of WITH for their kind assistance.
---
Blues from the Red Rooster Lounge originates on Boulder's KBCO 97.3 FM (where it can be heard Sundays at 9 p.m.) and airs weekly on 15 radio stations around the U.S.. Check with your local station for availability. (Station program directors can receive a sample copy of the program by calling the Longhorn Radio Network at 1-800-457-6576.) The Rooster also consults for the MusicChoice digital cable radio service, a 24-hour commercial-free, all-blues channel available from hundreds of cable providers nationwide.
---
This page and all contents are &copy 1997 by Blues Access, Boulder, CO, USA.