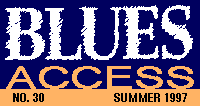 ---
What next for Chicago's historic Maxwell Street?
Steve Knopper writes:
What's left of Maxwell Street -- the mile-long stretch of Chicago neighborhood where Muddy Waters, Hound Dog Taylor and so many others worked the thriving

street corners in the early 1940s -- is a block and a half of tiny shops in rusted-out buildings. The historic area may shrink further if nobody heeds Chicago preservationist Steven Balkin's shrill warnings of University of Illinois-Chicago expansion.

Balkin, an economics professor at nearby Roosevelt University, calls UIC's decision-makers "white men in suits" and says they care more about money than preserving African-American history. The small college, he says, began its push into the South Side Chicago area in 1994 and plans to continue this year.

To stop the development, Balkin wants to create a Maxwell Street Historic District, with locally owned museums, shops and restaurants.

UIC officials, who have yet to pick a developer for an upcoming 30-acre expansion, want to erect new academic buildings, student

housing, athletic facilities and parking lots. But they say they're listening carefully to Balkin, who heads the Maxwell Street Historic Preservation Coalition, and other opinionated neighbors.
"We want to have retail activity along Halsted Street (the area's Maxwell cross-street)," UIC spokesman John Camper says. "It may be that what Steve is talking about would be just the thing to bring merchants into the area. The question would be to find a financial plan. We're not ruling out anything that Steve Balkin or anyone else is recommending."
The existing Maxwell Street -- original home of big-band pioneer Benny Goodman and New York Times writer Ira Berkow, author of the memoir Maxwell Street -- is still lively and colorful. Walk on the street for 30 seconds and an aggressive hawker will smear Michael Jordan cologne on your hand whether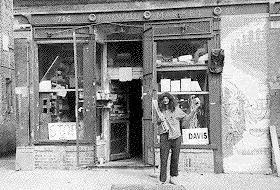 you want it there or not. Mannequins in store-front windows wear actual zoot suits, and there's plenty of raucous activity in front of the corner hot-dog stand.
Five decades ago, it was the same scene, only bigger and with lots more bluesmen. The most talented "graduated" from the Maxwell Street scene to be recorded at, say, the South Side's famous Chess Records or Gary, Indiana-based Vee Jay Records.
"What a lot of people don't realize is that blues did not get created in record studios and nightclubs," Balkin says. "They got created in the community and in social gatherings. The creative end was in places like Maxwell Street in Chicago and similar places in Mississippi and down South."
For more on Maxwell Street history and the preservation effort, Balkin has created a fascinating Web page: http://www.openair.org/, with information about open-air markets around the world.
---
California bluesman, son, injured in attack
Joseph Jordan writes: Hightone recording artist James Armstrong, along with his son, "Little" James, is recuperating at his Northern California home after a horrific early-morning knife attack by an unknown assailant. The intruder threw Armstrong's two-year-old son from a second-floor balcony to the pavement below, resulting in severe head injuries.

Father and son are expected to recover, although both were seriously injured in the apparently unprovoked attack. An assailant has been arrested. James' wife, Sonjia, and his youngest son, John-John, were not injured.

The talented blues guitar-player, singer and songwriter Armstrong, who released the 1995 critically-appraised Sleeping With a Stranger, suffered several debilitating stab wounds to the chest, back and arm area and was forced to cancel an upcoming major U.S. tour, according to his manager, Robert Pierce Mercer.

If you care to make a much-needed donation, Wells Fargo Bank of California has set-up a fee-free account that will help pay expenses for James and his son, who do not have medical insurance. Make checks payable to James Armstrong. All monies will go directly to the Armstrong family. Cards and letters are also encouraged:

James Armstrong
c/o Hightone Records
220 Fourth Street
Suite 101, Oakland, CA 94607
---
Singer's fiancee killed in road accident
Singer/guitarist W. C. Clark was not seriously injured in an automobile accident on March 9 near Sherman, Texas, that claimed the lives of the blues performer's fiancee, Brenda Jasek, and his drummer, Pete Alcoser Jr.
The band was returning to its Austin, Texas, hometown after a March 8 performance at a club in Milwaukee when the accident happened in the southbound lanes of state highway 75, after the van Clark was driving struck a guard rail and flipped over down a steep embankment. Jasek and Alcoser were apparently not wearing seat belts and were ejected from the vehicle.
Clark has returned to performing (he appeared in the Black Top Blues-A-Rama at the House of Blues in New Orleans during JazzFest) and is scheduled for several festivals this summer.
---
The virtual crossroads:
There's a preponderance of blues artwork on the Net these days. A nice place to start is http://www.bluechicago.com. Besides a cyber-tour and general information about the two popular Blue Chicago clubs in the River North entertainment district, the site includes virtual reproductions of the rich, intense paintings of South Carolinian artists John Carroll Doyle, whose work knocked out owner Gino Battaglia so much that it also graces the walls of the clubs.
And while you're at it, don't miss the photos of Jeff Dunas, including his stately, sepia portraits of legendary bluesmen and his remarkable, black-and-white photos from the Delta and New Orleans, all at http://www.dunas.com/fapage.html. Keep clicking and you'll find a wealth of fine photography on blues and secular subjects.
Photographer Michael Bruce (http://www.geocities.com/BourbonStreet/1654/) includes four galleries of photos from over the years -- a young Ry Cooder, a grizzled Leon Russell and the Michael Hill Blues Mob in concert among them -- along with a nice background look at how he got the photos.
Our friend and astute blues watcher Curtis Hewston's "The Blue Highway" site is always worth a visit. Try the Delta Log (http://www.vivanet.com/~blues/deltalog.html), an up-close-and-personal diary of Hewston's trip to the Sunflower River Blues & Gospel Festival in Clarksdale, Mississippi, with a couple of friends. It's complete with more than 60 snaps of their pilgrimages to assorted juke joints, cemeteries, barbecue houses, historical markers, birthplaces, headstones, highway markets, penitentiaries and other points of interest for blues fans. Don't miss the rest of the site, either, with essays, history, pictures and links to other blues sites. It's an invaluable tool for finding more cyber-blues.
The popular Highway 49 Blues radio program in Australia has ventured into cyberspace with a "Blues of Australia" web site and a Highway 49e-mail news bulletin targeted to radio producers, and a hard-copy version of Highway 49 Blues targeted to blues societies. Check out the site: http://www.ozemail.com.au/~hwy49 for information on blues down under or write Glenn Nelson, P.O. Box 19, Box Hill North, Melbourne Victoria, Australia, 3129 (phone: 61-03-98990022). Another Aussie, Craig Smith A HREF="http://www.aba.net.au/people/cs/ozblues/"> (http://www.aba.net.au/people/cs/ozblues/) also tracks Australian blues bands.
Paul Ferrera writes from São Paulo, Brazil: "It's very important to let the world know there are blues down here. Texas Bound, by an African musician called Nuno Mindelis, who lives in Brazil, was recorded in Austin, Texas, with the former Double Trouble bassist and drummer who played with Stevie Ray Vaughan. There is also a club in São Paulo, Bourbon Street Music Club, that has brought monthly visits from international names like B.B. King, Robben Ford and Buddy Guy, among others." Ferrera is looking for other blues fans in Brazil;e-mail him at pferrera@bigfoot.com.
And although it's mostly in Spanish, there is an online magazine dedicated to Brazilian blues. Revista Black and Blues is at http://www.dotbr.com/Black%26Blues/.
---
Send information for this column to ACCESS, c/o BLUES ACCESS, 340 S. 42nd, Boulder, CO 80303, fax to (303) 494-1127 or e-mail Lrucker@aol.com.
---
This page and all contents are &copy 1997 by Blues Access, Boulder, CO, USA.