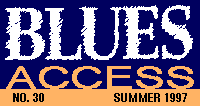 ---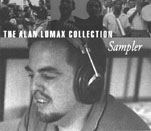 Listening to the first six individual CDs of The Southern Journey that inaugurate the ambitious Rounder Records release of the Alan Lomax Collection is to have your mind deliciously tricked by your ears. The discs document Lomax's sojourns, from white Appalachia to the black Mississippi Delta, from churches to juke joints, porches to chain gangs. The music on these six discs is of a rural America as yet untouched by television, and in some cases perhaps even without radio, electricity, running water or indoor plumbing.
The music seems rooted early in the 20th century, and in some instances you hear not just a different time, but a different place: These unamplified voices, these uncluttered arrangements, these visceral human sounds make the old countries -- Scotland and Ireland and England, the Ivory Coast and the Sudan and the Congo -- seem as near as a fingerpick or handclap.
And yet for all the ancient purity of this music, there is the remarkable clarity of the sound -- the sharp, true voice and sound of the people, recorded with such sensitivity and cunning that it will outlive all who will ever hear it.
But the shock is this: Most of these recordings were made by Alan Lomax in or around 1959. These performances were not done on a Wally Heider's 48-track, mobile sound studio plugged into a 64-track concert hall motherboard. No, it was Lomax, knocking on doors, sitting on porches, walking along with chanting prison chain gangs using a portable stereo tape recorder. A rather good one, certainly superior to the Edison cylinder machine that Lomax and his father, the great folklorist John Avery Lomax, first used in field recordings in 1933, but a 1959 tape recorder nevertheless. But it's not the equipment that makes these performances sound so good: It is the vibe between Lomax and the artist, an instinct for rolling the tape at the right time and place.
"One remembers those times when the moment in a field recording is just right," Lomax wrote in a 1960 essay reprinted in the booklet accompanying The Alan Lomax Collection Sampler (Rounder 1700). "There arises an intimacy close to love ... It takes practice, and it takes a deep need on part of the field collector -- which the singer can sense and want to fulfill."
There was not just the collector geek's desire for trophies that distinguishes the Lomax family's efforts over decades. There was a moral, philosophical, spiritual and political underpinning to the field work, an implicit attempt to somehow even the scales of social justice by giving permanence to the voices of the black, as well as the poor and disfranchised of any color or background.
So it makes sense that Alan Lomax seemed to find it unnecessary to make distinctions between musical "genres": What we label as "blues" or "country" or "gospel" had little if any influence on his field recordings. He wanted to get it all down for posterity, an aural history of indigenous pockets of America that would soon disappear in the name of "progress."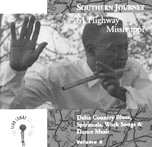 To cut to the chase, the BLUES ACCESS reader won't need a road map to head directly towards 61 Highway Mississippi (Rounder 1703), volume three in the series. Subtitled Delta Country Blues, Spirituals, Work Songs and Dance Music, it's a fairly amazing collection of performances. These 1959 recordings introduced "Mississippi" Fred McDowell to the world, and he's one of a handful of what might be called "featured artists" in this series. His "Keep Your Lamps Trimmed and Burning" is subtle and spare, a solo guitar sound filling in not just breaks but some verses; "Fred McDowell's Blues" rocks a bit, with a slide-driven shuffle rhythm underneath, Miles Pratcher on second guitar, and percussion courtesy of McDowell's sister, Ms. Fanny Davis, playing the comb. (Presumably, that's an acoustic comb.)
You're in intoxicatingly primitive territory here. A current of anguish runs through Rose Hemphill's "Rolled and Tumbled" that more contemporary versions (like that of Cream) couldn't carry with all the amplifiers in the world. Sid Hemphill, a blind Delta genius recorded often by Lomax, plays the Southern Gothic classic "Old Devil's Dream" using quills, an instrument from slavery days. With Lucius Smith playing a march beat on drums, it sounds like half-time in a haunted house.
But that's not as scary as hearing real men singing exquisitely elemental blues while breaking rocks in the hot sun at Parchman Farm. I'm not being metaphorical; Henry Ratcliff's field holler on "Louisiana," recorded at the notorious Mississippi prison, gives a whole new resonance to the notion of "blues" on a song some of us first heard by the Blues Project at the measurably less-oppressive Cafe Au Go Go 30 years ago. John Dudley, another Parchman prisoner, shows a stylistic similarity to his homeboys Robert Johnson and Charlie Patton on "Po' Boy Blues."
Lomax's on-location recording style reaches another pinnacle on Bad Man Ballads: Songs of Outlaws and Desperadoes (Rounder 1705). It opens with a wonderful a cappella tribute to "Jesse James" sung by an Arkansas woman named Almeda Riddle, a cousin of the legendary outlaw. It's no surprise to hear a rendition of "John Henry," the most durable and well-traveled of outlaw ballads. But it's startling to hear it sung by John Henry himself, who Lomax found. (Just kidding!). A close second to such a discovery, though, is hearing "John Henry" sung by Ed Lewis, a vocalist who accompanies himself on "axe strokes" (and we're not talking about "axe" as a guitar euphemism here), on a work detail at the Mississippi State Penitentiary at Lambert (a k a Parchman) in 1959. At the same prison, Johnny Lee Moore and some other unnamed prisoners sing a defiant "Early In the Mornin' ": "Well I used to be a porter/On the southbound train/I'm the same grand rascal/Stole your watch and chain." Impressive but more demanding is Sheep, Sheep Don'tcha Know the Road: Southern Music, Sacred and Sinful (Rounder 1706). The title song features one of Lomax' most important discoveries, Bessie Jones and the [Georgia] Sea Island Singers. You've got Fred McDowell equidistant from god and the devil in "You Done Tol' Everybody," the fundamentalist Estil C. Ball singing "Tribulations" and sounding like the Everly Brothers (who were big stars in 1959) and a comic spoof of preachers, doctors, lawyers and other so-called authority figures by Neil Morris called "Corn Doggers." I particularly like the Virginia fiddle player Hobart Smith's ode to booze, "Drunken Hiccups," and his own version of "Devil's Dream." There's weird and wonderful music here, but the blend of "sacred and sinful" can be disorienting: It's like one moment you're in church on Sunday morning and the next you're drinking whiskey and playing strip poker in a motel with a redhead named Lola.
There are plenty of tracks of interest to blues fans scattered through some of the other discs. You'll find Fred McDowell and Sid Hemphill again on Voices From the American South (Rounder 1701), a kind of anthology-in-itself of "blues, ballads, hymns, reels, shouts, chanteys and work songs." But the disc is a little esoteric for the blues person satisfied with an occasional fix of, say, Robert Cray. And while I'm enchanted with Ballads and Breakdowns: Songs From the Southern Mountains (Rounder 1702), especially cuts like Norman Edmonds' "Bonaparte's Retreat" and a whole bunch of stuff featuring master fiddler and gee-tarist Hobart Smith (whose "Graveyard Blues" transcends both musical categories and the material world), make sure you love fiddle and banjo and the sound of the old folks at home in the Blue Ridge Mountains. Volume four, Brethren, We Meet Again (Rounder 1704) has some spooky spirituals ("Sardinia" by the Sacred Harp Singers is as atonal and befuddling as any obscure world music recording), but the disc's white church music may be of more scholarly interest than pleasurable listening for the blues listener.
---
There's not sufficient space to do complete justice to two other important multi-disc reissues -- RCA's series of Bluebird recordings from the '30s and '40s and Chess' 50th Anniversary series with new packages of familiar material from the usual icons (Muddy, Wolf, Chuck, Bo, Etta) and a few first-tier musicians but second-tier solo artists (Buddy Guy, Jimmy Rogers), as well as some compilations.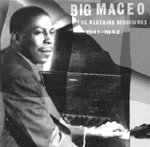 The Bluebird series soars with single discs by Memphis Slim (RCA 66720-2), Big Maceo (RCA 66715-2), Bill "Jazz" Gillum (RCA 66717-2) and the original Sonny Boy Williamson (RCA 66723-2), and a two-CD set of Tampa Red (RCA 66721-2).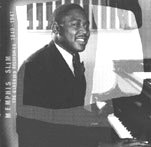 Memphis Slim may have been the best songwriter of the great gin-soaked piano-playing male blues singers. The Bluebird Recordings 1941-1942 is thick with the sinuous tales of sexual flair (his signature tune, "Grinder Man Blues") and hard-won barroom lessons ("Beer Drinkin' Woman"). The choppy, idiosyncratic piano style is at its best when it's at its most minimal: a solo break on "Empty Room Blues" has a kind of Zen austerity Slim did not often bring to his copious daily life. (Instead of the usual broke, busted and forgotten end, Slim married a wealthy French woman, lived in Paris and had a Rolls-Royce and Cadillac when he died there in 1988 at age 73, apparently from too much fun.)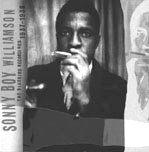 Imagine the set-up for John Lee "Sonny Boy" Williamson's The Bluebird Recordings (1937-1938). The "studio": the top floor of a hotel in Aurora, Illinois, the very same Aurora that would one day spawn the local access cable TV series that would eventually bring stardom to slackers Wayne and Garth in Wayne's World.
There are the songs: eloquent, straightforward narratives about the struggling life ("Collector Man Blues," "Worried Me Blues"), and the hedonistic options for coping ("Get the Bottle Up and Gone," and "Good Morning Little Schoolgirl"). Many of his songs remain standards of the modern blues repertory, but Williamson's powerful elocution and razor-sharp harp make most other performers sound like little schoolboys. (And having Big Joe Williams on guitar is like having Hank Aaron right behind you in the batting order). Bill "Jazz"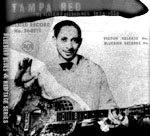 Gillum's Bluebird period (1934-1938) was the black hole of the Great Depression. His singing and harp playing do not overwhelm, the way Williamson's do, but his guitar player, a guy named Big Bill Broonzy, gives many of these tracks their historic weight.
The Tampa Red discs show an odd odyssey from a mean, raw, instinctive talent to a contrived pop performer. I'll take the songs from Tampa Red's dark side ("I'll Kill Your Soul (And Dare Your Spirit to Move") over later "crossover" pop such as "When I Take My Vacation in Harlem" any day.
---
It was love at first sight when I came across Great Googa Mooga, Volume One of rhythm & blues vocal groups from the King, Federal and DeLuxe catalogs from 1953-x1957 on the British label Sequel (NEM CD 907). There's an early version of the Platters' "Only You," and a gorgeous Billy Ward and the Dominoes track ("One Moment With You"), but the great stuff is nutty and near-nutty uptempo songs by groups so obscure that few people heard of them even then.
"Bo Peep" by the Lamplighters is like "Maybelline" with bad breath; another Lamplighters' track, "Be Bop Wino," is great swilling rotgut. The Sheiks' version of "So Fine," which predated the Fiestas version, has a funkiness the later hit only hinted at. Not much is known about the Sheiks, but they were thought to be part of Johnny Otis' gang. The title song is sung by the Magic Tones, but no matter how silly the lyrics, the musicianship and arrangements are up to the usual high King standards. So even an album of no-hit wonders like this one maintains a level of at least competence and occasional excellence, allowing the singers to do their thing with a crispness and vitality that proves that this era of rock'n'roll will stand.
---
This page and all contents are &copy 1997 by Blues Access, Boulder, CO, USA.