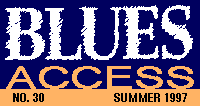 ---

Paeans to Paul: The so-called Information Age, while it bombards us with factoids, minutiae and sound bites, accords increasingly less value to serious research. With this constant barrage of input, who has time for deep thought? Radio and TV urge us to consume music like the products they use it to sell, with little heed for any underlying significance.
Mary Katherine Aldin's homage to blues researcher Paul Oliver is gratifying not only because it wreathes in laurel a deserving head, but because it also reminds us that the blues is way more than just fun music to party to. Throughout numerous books and other projects Oliver has focused on finding meaning in the songs, musicians and social history of a culture that he viewed, however fondly, from the outside. That he could do so without turning it into musty archaeology is a tribute to his talent and dedication.
In spite of -- or because of -- the many recent permutations and interpretations the blues has gone through, it's important that we be reminded from time to time that this is still a living tradition. A recurring note among all the people who laud Paul Oliver is that the more you dig into that tradition, the more satisfying your appreciation of the music becomes. We hope you'll be stimulated into your own journey of discovery. And, of course, we plan to be around to help.
Ladies blue: Is the blues indeed a man's, man's, man's world? If my CD collection is any indication, the answer is a big "yes." A random sample of 102 discs turns up 92 by male artists, just about the percentage I would have guessed. Numbers aren't everything. Some of the most moving blues performances we all think of, on disc or otherwise, were created by female musicians, usually but not always singers.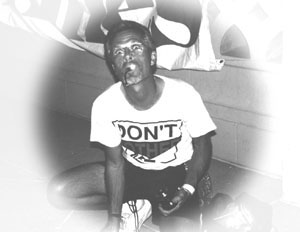 Photographer David Horwitz (pictured here swallowing a light bulb) has been traveling to clubs and festivals for years in search of great blues music for his ears and visual images to capture on film. Ask David to show you his favorite shots, and they will invariably lean heavily in favor of blues women. We've picked out some of the cream of his thousands upon thousands of prints for this issue's very special Photo Gallery, as we sing the praises of musical muliebrity.
Bad actor: If you thought that tales of blues artists getting exploited by shady record moguls were a thing of the distant past, think again. At least the legal setbacks of Houston producer Roy Ames may actually spell an end to one particular sordid incident. Then again, with appeals sure to follow, maybe not. The photo accompanying Aaron Howard's article gives a pretty fair insight into Mr. Ames' attitude.
The original story of Ames' dubious doings can be found in all its gory glory in our issue #20. See our listing of back issues on page 104 for ordering details.
Add Booker: A freak spring snow storm that caused him to miss his original flight to New Orleans is the reason that the Red Rooster's column is not about a very special recording session featuring Irma Thomas, Tracy Nelson and Marcia Ball. Instead, he found the spirit of the late James Booker waiting to draw him into the aura of this piano genius.
Interested radio stations or DJs can get broadcast copies of David Kunian's two-hour documentary "The Life, Music and Mystique of the Bayou Maharajah" by contacting him at WWOZ Radio, (504) 568-1238. Also, while they last, sample copies of our issue #17 containing David Feld's interview with Booker can be obtained for $4, postage paid ($5 Canada, $8 overseas) direct from BLUES ACCESS.
At the time of his death, there was very little Booker material to be found on record. That situation is being gradually rectified, including two releases in the last year. In addition to the collection of singles mentioned in the Rooster's article, there is also The Lost Paramount Tapes (DJM Records), a studio session recorded in California in 1973 with backing by a cast of New Orleans all-stars. (See David Feld's review in this issue.)
Feld wrote in some detail about the previously available CDs as a postscript to his interview in BA #17. They include Junco Partner on Hannibal/Rykodisc (Booker's first album, produced in 1975 by Joe Boyd); Classified (a studio date from 1982 that only took place when Booker pulled a reversal after two fruitless days of totally withdrawn behavior), Spiders on the Keys and Last of the Bayou Maharajah (both recorded during a long series of gigs at the Maple Leaf Bar from 1977 to 1982) and New Orleans Piano Wizard: Live (a 1977 live performance from Switzerland, originally released in Europe) -- all on Rounder Records; King of the New Orleans Keyboard (two CDs of live material recorded in Europe in the '70s) on JSP; and Blues and Ragtime From New Orleans on the German Aves label.
-- Cary Wolfson
---
This page and all contents are &copy 1997 by Blues Access, Boulder, CO, USA.