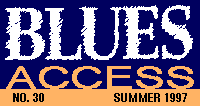 ---
Blues on Video
---
The Ladies Sing the Blues
(60 minutes VHS video)
---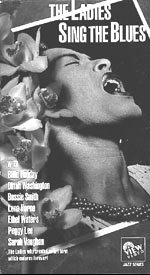 The "ladies" in question include Bessie Smith, Ethel Waters, Billie Holiday, Ida Cox, Lena Horne, Dinah Washington, Sarah Vaughn, Peggy Lee and more. Well organized chronologically, the production includes enough clear, informative narration and memorable anecdotes to make it more than just a collection of extraordinary performances.
While I particularly enjoy Peggy Lee with guitarist Dave Barbour's "I Cover the Waterfront" and Ethel Waters with Count Basie doing "Quicksand," there is a hidden diamond in this setting of 16 fine jewels. Billie Holiday's version of "Fine and Mellow" features a band line-up of legendary proportions with Coleman Hawkins, Lester Young and Ben Webster on tenors, a very young Gerry Mulligan on baritone and Roy Eldridge on trumpet. This extended version features solos for all of the above, and Billie sounds great, especially for this late in her career. That single cut is worth the entire tape -- even if it never mentions where it's from -- with all the others being icing on a delicious and tasty cake. (View Video, 34 East 23rd Street, NY, NY 10010, (212) 674-5550)
---
Alberta Hunter
My Castle's Rockin'
(60-minute VHS video)
---
If you enjoy good -- I mean really good -- female blues vocalists, you probably already know that Alberta Hunter blazed the trail for that gutsy, sometimes irreverent style you love. This excellent tape provides us with an impressive performance by Hunter at New York's Cookery at age 82 and enough detail about her long and amazing life to put that show into the right context.
Twenty years earlier, after 40 years of successful international touring, recording and Broadway shows, Hunter left show business, lied about her age and began a career as a nurse. She left that at 82 and embarked on an extremely successful comeback, dazzling audiences as she does here with her humor, vitality and presence. Narrator Dr. Billy Taylor treats us to some of her personal memories from her last interview prior to her death in 1984 at age 89. Imagine a great "feel-good" blues performance video. (View Video, 34 East 23rd St., NY, NY 10010 (212) 674-5550)
---
Blind Willie's Blues
(VHS video)
---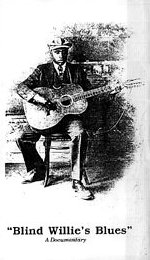 This presentation by historian and sometime BLUES ACCESS contributor David Fulmer of the life and times of Blind Willie McTell might be a bit slow and dry, but the subject matter simply overwhelms the monotone style.
McTell had a long and varied career, beginning in rural, turn-of-the-century Georgia and moving on to the big cities where he found success, then failure, then both again through the turbulent changes in the country's musical tastes in the '20s and '30s, and Fulmer has studied his subject perhaps more than anybody else. In addition to his unique 12-string guitar sound and high-pitched, almost female vocal style, McTell is also remembered as a prolific writer and recording artist, cutting many sides under his own name and numerous others to avoid contractual disputes. Commentary from Taj Mahal and Stefan Grossman round out the presentation and provide welcome breaks from the narrative presentation. If you like the music, you will come to appreciate it more by knowing about the man. (Missing Link Video, 2316 Kemp Drive, Lawrenceville, GA 30244)
---
Bob Brozman in Concert
(90 Minute VHS Video)
---
Wow!! Amazing!! Fun!! Come on, lets get out the thesaurus and use every word in those listings. This guy is hot, and I mean red-hot! Ninety minutes of Bob Brozman is a dose I can use as entertainment and inspiration on a regular basis, and that makes this tape well worn for such a new addition to my library. Hell, I put it on at a recent house party, and guests were actually applauding the TV!
Author and acknowledged expert on resonator instruments of all types and genealogies, Bob performs on a variety of those instruments with a polished and witty stage presence that makes his concerts unforgettable. Playing a range of solo acoustic numbers from "Highway 49" and "Phonograph Blues" to "Cinemascope Calypso" and "Minnie the Moocher," Brozman's interpretations are original, and it's certain he is having as much fun as his audience. Fingerpicking in styles from deep dark Delta, to Hawaiian and Caribbean, Brozman displays a remarkable facility that will make guitarists everywhere drool with envy. Do you like acoustic blues? Buy this tape, period.
(Vestapol Productions/Stefan Grossman's Guitar Workshop P.O. Box 802, Sparta, NJ 07871 201-729-5544)
---
Devil Got My Woman
Blues at Newport 1966
(VHS video)
---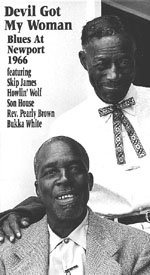 It's 1966 at the Newport Folk Festival, and producer Alan Lomax has a brilliant idea. Recreate the juke joint atmosphere of the 1920s with a fully stocked bar and cameraman, then invite festival performers Howlin' Wolf, Skip James, Son House, Bukka White and Rev. Pearly Brown in to make some music. The result is something I've never seen before. This is not a concert, but a time capsule documenting the legends of the blues smokin' and jokin', drinkin' and carryin' on in a natural way, and it is a gas. Imagine Howlin' Wolf taunting Bukka White during Bukka's tune, trying' to get him to mess up ... but no way! Bukka laughs him off and never drops a beat. The best segment has a rather inebriated Son House giving the Wolf some trouble, but he gets it back worse than he gave, as the Wolf puts him straight. There are no stellar performances here, but it's all good natured fun in this rare footage of these giants in the environment that my generation of blues fans has never seen, and never will. Concert footage is one thing, but this is something else altogether. Check it out.
(Vestapol Productions/Stefan Grossman's Guitar Workshop P.O. Box 802, Sparta, NJ 07871 201-729-5544)

---
This page and all contents are &copy 1997 by Blues Access, Boulder, CO, USA.