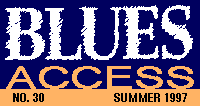 ---
Blue views from the Red Rooster Lounge

Managing Editor Leland Rucker's two cents worth... three if you're lucky.

They say you have to live the blues. Here it is from the musician's viewpoint.

Love the blues harp? This is the place for you.
---
This page and all contents are &copy 1997 by Blues Access, Boulder, CO, USA.