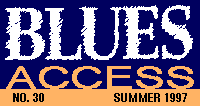 ---

Heard him when
A note on Jon Martinez's review of Luther Allison's CDs (BLUES ACCESS #29). Martinez is one of the few reviewers to accurately peg the chronically over-praised Love Me Mama. But in a writerly segue into his thoughts on one of Allison's more recent CDs, he says in reference to Allison's expatriation, "What an amazing growth period we missed out on."
Well, maybe he missed out on it, but let's not foist off any notion that it happened overseas! I, and a whole slew of Midwesterners, saw Allison mash the piss out of Cleveland's rock bastion, the Agora. We saw him crush the Smiling Dog Saloon in that city, with no less than Baldy Lockwood on second guitar. We saw him toast the Kove in Kent (band had horns, if I recall correctly), and we grooved to his mythic set at Ann Arbor in '72. Perhaps most memorable of all, when Youngstown's huge Tomorrow Club was 10 feet under snow and he didn't draw dick, we saw him play and play and play, a whirlwind of intensity and dedication, to a microdot of people as though it were a packed house.
Martinez is correct in saying that Allison's audience was too small in those days, but Rust Belters who heard him back then can assure you -- he was growed long before he hit Euro-land.
Tim Schuller
Dallas, Texas
---
All hail SRV
It kind of cracks me up that Stevie Ray Vaughan isn't listed in the Rooster's Ultimate List (Rooster Pickin's, #27 and #28).Yeah, I know you purists have a problem with Stevie Ray. Let's face some facts: If it wasn't for SRV, would the blues scene as we know it today be the same?
Also, would Buddy Guy, Jimmie Vaughan, Bonnie Raitt, Robert Cray etc. be enjoying their new found popularity? Would Clapton have ever recorded From the Cradle?
You guys should promote SRV by pointing out the references to Albert King, Albert Collins, Buddy Guy, etc. Maybe you could introduce a whole new generation to their music through SRV. Just a thought.
Larry Doolan
larry@www.geol.com
---
Radio memories
I absolutely loved your tribute to Maurice "Hot Rod" Hulbert (BLUES ACCESS #29). It brought back very fond memories of growing up in Baltimore in the '50s and '60s. Hot Rod and his contemporaries made radio come alive for all of us, although it didn't hurt that some really down-home music accompanied their raps. I'm reminded of when one of Hot Rod's competitors -- I think it was Fat Daddy -- was thrown off of the air for remarking "I cream in my jeans when I hear the Supremes!" A classic moment.
Your article was a very unexpected but welcome surprise -- which is what makes it such a fine magazine. I've been a subscriber since BLUES ACCESS #1 and look forward to receiving each issue. Keep up the good work -- and thanks again for the memories!
Steve Lesser
Steven.Lesser@internetmci.com
---
Error of omission
In part three of the Rooster's "Essential Blues" (BLUES ACCESS #28), I was pleased to see Blind Willie McTell -- his "Statesboro Blues" is one of the reasons I got involved in the first place. I would like to add the Atlantic CD as an even better example of latter-day McTell. Additionally, I think the Southeast should not be omitted (besides McTell). At least add in Blind Blake (on Indigo or Yazoo) and Blind Boy Fuller (Columbia/Legacy or Yazoo) as a bare minimum. The blues of that region were extremely popular with the black record-buying public of its day. Blake and Fuller were massively popular and both incredible musicians.
In Catfish Whitey's review of The Blues Album Cover Art book, he makes a few assumptions that don't hold up. First, that's not Arthur Crudup in the stereotypical shot on the Fire label, but a photo that label-owner Bobby Robinson (who was black) used long after the fact of the sessions of someone identifiable. The same goes for Bukka White's Memphis Hot Shots; that's surely not Mr. White in that suit. Additionally, the Crudup shot used on the 1972 RCA album is no throwback; that's a reissue of older recordings and that is a contemporary promo shot from back then.
Niggling little things, but I couldn't let them go. You are doing a good 'zine. Blues lives down here (white folks), and some of the most interesting stuff is acoustic.
Peter B. Lowry
Lougueville, Australia
---
That "rabid-dog" sound
I was happy to read Adam Gussow's "Journeyman's Road" column (BLUES ACCESS #29). In it, he compliments me on the tone that emits from my amplifier, describing it as a "re-issue Fender Bassman that barked, woofed and cawed like a rabid dog with a shrieking raven caught in its' throat. We'd never heard anything like it."
I had cut the speakers radically, putting three-inch-long slices at the 12, 3, 6 and 9 o'clock positions. I am highly in favor of "scientifically" cutting speaker cones for the sake of the amp sound. This gives the amp a raw, warm distortion.
However, the tone Adam and others admired comes from inside of me, with a little help from my equipment set-up and a life full of the blues.
Blues lovers from around the world sorely miss the Dan Lynch Blues Bar. Thanks to Adam Gussow for his writings, expletives and all.
Mason Casey
New York, New York
---
Make reviews consumer guide
As a reviewer of albums I did find certain elements of Pat Boyack's letter ("An Attack in Disguise," BLUES ACCESS #27) relevant to many reviewers in respect to their opinions upon albums they feel compelled to review.
It is my belief, mirrored by others, that few are interested in the personal opinion of the reviewer. They're not interested in whether or not the reviewer loves or loathes an album. They simply wish to read something that is well-written and does in fact give some clear and appropriate indications of the album's content. This information will assist in their decision to ascertain whether further pursuit of the album is warranted. It's difficult not to be overwhelmed by albums encountered that impress you to the nth degree and too easy to ignore those that fail to impress you at all.
Among the best reviews I've written are about albums I've not liked, and on one instance I failed to review an album as I ran out of superlatives in paragraph one. Its unfortunate that many reviews too closely resemble the personal opinions of the reviewer more than the album contents themselves.
Glenn Nelson
Highway 49
hwy49@ozemail.com
---
Spread the Butter
Congratulations on BLUES ACCESS #29. Just got it today and I've read half of it already. It looks as if there might be yet another installment of the Butterfield saga yet to come -- yes? For my money it's the first mag a blues lover should buy.
Bill Tufts
ip074.eug.cyberhighway.net
---
Mo' Butter, mo' better
I'm an unapologetic Butterfield fan and thoroughly enjoyed the articles by Tom Ellis III. They helped fill in some of the blanks on a number of topics concerning Butterfield and the various personalities in his bands.
However, I was disappointed that no mention was made of the reunion of the original Butterfield band (with Billy Mundi on drums due to the unavailability of Sam Lay) at a 1973 West Coast Better Days date. It may have been interesting to know the reaction of members of both bands as a result of the gig.
Also, the last piece begged the question as to whether there would be any more installments providing insight on matters after Better Days.
Rico Ferrara
Toronto, Ontario, Canada
---
[Ed. note: The final chapter of Tom Ellis' five-part Butterfield series will appear in BLUES ACCESS #31.]

We love mail. Write to:
---
This page and all contents are &copy 1997 by Blues Access, Boulder, CO, USA.