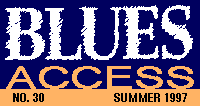 A House Full of Blues
The Neals' Family Affair
by Shannon H. Williford





---
The Neals


---

Baton Rouge's
First Family
of the Blues


---
Some musicians in the blues-rich city of Baton Rouge, Louisiana, claim the title of "King of the Blues," but the "Father of the Blues" -- literally -- can only be Raful Neal.
This gentle giant of a man has sired more great blues performers than anyone in the state capital, and perhaps more than anyone on the planet. Eight of his 11 children are excellent-to-world-class players, and the others can hang with the family (or anyone else) on stage for part of a blues show. The Neals are taking their place with the Nevilles or the Marsalises as a Louisiana musical dynasty.
Raful Neal, blessed with a powerful, soul-drenched voice and a harmonica style reminiscent of Little Walter, can get the well-dressed, middle-aged ladies that frequent his South Louisiana performances screaming when he belts out his tunes. Many have been his fans since he started playing at the age of 15.
"We would go to the Temple on North Boulevard and catch all the stars. White kids would sit on their cars outside and listen," reminisces the big man. "Little Walter was my favorite. I saw him one night, and the DJ asked me and my band to come up and do a number. I was a little scared so I said, 'I don't have any harmonicas.' Little Walter said, 'That's no problem, I got seven right here.' So we played -- and we rocked 'em, too. It was me and Buddy and Phillip Guy. We thought we was baaad. But we weren't as bad as Little Walter. I think we got him mad, 'cause he came back up and got his chromatic harp -- I had never seen one of those -- and blew us off the stage. I was 19 at the time."
Soon after that Buddy Guy left for Chicago. He wanted Raful to go with him. "I'd like to have gone," sighs the big man. "But I had just got married, so I stayed here."
And what a marriage it has been: Raful and Shirley are celebrating their 40th year as man and wife. "It seems like I'm the only one left of the fellas that got married in '57," he says. "Whenever I see one of the guys, it's always, 'We ain't together any more.' Our family is together, and we're real happy."
Though Shirley Neal is the least likely of the Neals to show up on stage, she loves the music and has been a major force in the development of the family tradition. "They all come to me and say, 'Momma, you never told us to stop all that noise,' " laughs Shirley. "It was loud, but I would just do my thing and tune them out. My days were always full. I'd be cooking for all of 'em and some others besides. They'd have friends over and everybody had an instrument. They'd play in the boys' room, and I'd ask 'em to shut the door."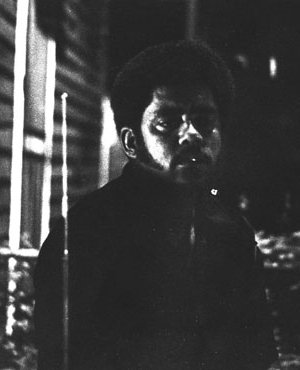 Raful Neal cut a single in 1957 but did not record again until 1968. The records weren't successful, yet he was able to support his family with music for 14 years, doing well in that time of Baton Rouge blues power alongside contemporaries like Slim Harpo (who gave Kenny his first harmonica), Lightnin' Slim, Mose "Whisperin' " Smith, Lonesome Sundown, Silas Hogan, Clarence Edwards, Robert Milburn, Robert Pete Williams, Arthur "Guitar" Kelly and Tabby Thomas.
"We played all over the Southeast," says Raful. "In those days, the blacks didn't have no money, so I played for them for little or no money and then play for the whites to pay my bills. We played regularly at the Club Carousel across the (Mississippi) river for three years. That's where I made my connections to play for the whites. We played LSU fraternities, clubs in Memphis, Jackson, Montgomery -- all around. And we were at Oxford at Ole Miss when Kennedy sent the National Guard in '63. We was afraid when we saw those soldiers with those rifles, but we had signed a contract, so we played. The show went off real nice."
In the early '70s, live music jobs dried up, and Neal went to work for the East Baton Rouge Housing Authority. The job kept food on the family table, and he was still able to work the occasional music gig. Meanwhile, the Neal sons were coming along, developing a righteous appreciation for Dad's music and improving as players themselves. In 1976, oldest son Kenny Ray (what his dad still often calls him) took off for Chicago to be under the care of his dad's old "Buddy," Mr. Guy.
"Kenny played bass with Buddy for awhile. One time they went to Toronto, and Kenny decided to stay. He liked it so much that he came back to Baton Rouge and got Noel, Larry and Little Ray," states the proud pop. The Neal Brothers Blues Band toured Canada for a year and a half before returning.
Kenny Neal had begun a family and stayed on to make a name for himself up North, returning for a short visit each year. However, the magic of the 1985 Baton Rouge Blues Festival caught him, and he now has a home in Red Stick. Between tours, he often stops in at Phil Brady's Bar or Tabby's Blues Box or at one of his brothers' gigs, prefacing his sit-in performances with a joyous, "I'm home now!"
Long before Kenny was a world-famous Alligator recording artist, he had the dynamic stage presence inherited and learned from his dad.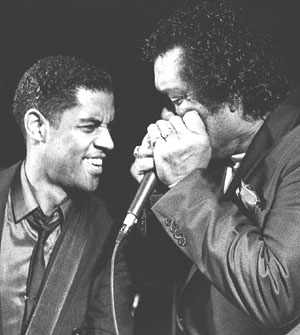 It is not lost on the son; any time Raful is near a Kenny Neal performance, he is invited to be the special guest. Kenny and his band (brothers Darnell Neal on bass, Fredrick Neal on keys and drummer Kennard Johnson) fall right in behind the older man as he performs a standard or two and maybe one of his originals. If the gig is outdoors and near Baton Rouge, chances are that the whole Neal family could wind up on stage together, often singing their signature version of "Down Home Blues."
At a recent Baton Rouge Festival performance, Larry Neal saw the huge smiles of his family as they swayed, sang and danced along to the Z.Z. Hill classic. He and each family member took a solo or a vocal turn, and then the whole Neal family choir sang round after round of the chorus. Raful, who had started the tune, ended with a blast from his harp to a roar of appreciation from the dancing Louisiana crowd, then stood beaming as the cheers washed over the family on stage.
"See that," mused Larry. "Coming off that stage, that's nothin' but love, nothin' but love."
---
This is an abridged version of the Neals article. For the complete article,
get the hard-copy version of BLUES ACCESS.

But do check out

---
This page &copy 1997 by Blues Access, Boulder, CO, USA.