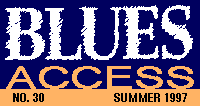 ---
Discs that have been given full reviews in this or previous issues of BLUES ACCESS
are quoted with the reviewers initials in brackets.

Red Rooster Pick

Catfish Pick
---
13 - Featuring Lester Butler

Harp player/vocalist Lester Butler brings the same youthful energy and excitement to this new band that he delivered with the Red Devils. Nice to hear a new generation of white bloozers who aren't stuck on being guitar-star bar heroes.
(Hightone)
---
LaVern Baker - Rock & Roll

(1957) Both sides of five of her top singles, with several bonus tracks, this is the heart of what made Baker special, that indomitable voice, pure power arrangements and some of the sweetest session players of the era.
(Sequel†)
---
Big Maceo - The Bluebird Recordings 1941-1942

Listen to Ray Charles' version of "Worried Life Blues" and you'll hear almost a direct remake of Maceo Merriweather's beautiful hit record from 1941. The great pianist is joined on 15 more tracks by Tampa Red's guitar.
(RCA)
---
James Booker - The Lost Paramount Tapes

Even playing a cheezy spinet piano, Booker's brilliance shines through. He's backed on this West Coast session by a host of New Orleans transplants.
(DJM Records)
---
Mary-Ann Brandon - If Love Hurts

Producer/guitarist Fred James heats up the oven for Brandon's sixth album, providing a rocking blues sound and plenty of his guitar skills, even sharing vocals on Lieber-Stoller's "I'm a Hog for You, Baby." Brandon's written songs for C.J. Chenier and Sapphire (including this disc's title track), and this great batch will probably find their way elsewhere.
(Taxim)
---
Solomon Burke - Rock 'n Soul

(1964) King Solomon's excellent third LP for Atlantic featured the usual twelve songs, augmented here by eight more from 1965.
(Sequel†)
---
Boozoo Chavis - Hey Do Right!

"Chavis pretty much puts his money where his mouth is with Hey Do Right!, an album that adheres closely to traditional bayou rhythms and riffs." [JB]
(Antone's)
---
Mick Clarke and Lon Martin - Happy Home

Both members of that legendary '70s blues-rock band Killing Floor, Clarke and Martin come up with, as Clarke calls it on the sleeve notes, "kind of a Otis Spann/Big Bill Broonzy type project," just like you might find over a room-temperature homebrew in a pub on a lonely London side street.
(Burnside)
---
The Clovers -

(1957) A killer set of '50s vocal R&B, containing the 14 sides that made up their first album, plus 8 terrific bonus tracks. Includes "Lovey Dovey," "Ting-A-Ling," "Devil or Angel," "One Mint Julep," "Your Cash Ain't Nothin' But Trash."
(Sequel†)
---
Deborah Coleman - I Can't Lose

If you've been wondering why everybody's been talking about this guitar-slinging former nurse and electrician, this is the place to find out. Let's just say she won't be going back to her day job. Coleman's own material matches her playing skills, and she really funks up Billie Holiday's "Fine and Mellow."
(Blind Pig)
---
Ike Cosse - The Lowdown Throwdown

Cosse's got a tight, funky band, a smoky, soft voice and a down-home style that reminds you of a jazzier Bobby Rush -- especially on bump-and-grinders like "Doggy Style" or drunken morality tales like "Bang-Bang Girls."
(JSP†)
---
Jimmy Dawkins - Feel the Blues

(1985) Dawkins' fans will love this session from a dozen years ago, with the guitar slinger hitting target time and again with his stinging blues. "Feel the Blues" and "Last Days" are among tracks that rank with Dawkins' best work.
(JSP†)
---
Roosevelt Dean - I Don't Wanna Leave You

High-octane, soul-blues sextet raise hell, generally following wherever Dean's rusty vocals lead. There's plenty of tasty originals, including a great lost soul song, "Love," and the standard "Fever" at double the normal speed.
(Z-K Records)
---
Willie Edwards - Everlastin' Tears

Whether evoking the ghost of Otis Redding on the stately "Been a Long Time" or questioning global economics ("Dollar In" and "Read Between the Lines"), there's a nice soul edge here that I haven't heard in a long time.
(JSP†)
---
The Fins - Bluesprint

Is this New Jersey's answer to Roomful of Blues? Not exactly, but when this trio is augmented by a full horn section you might think so. The 15 covers on their debut CD are done with style and soul. A homemade gem.
---
Peter Green - Green & Guitar: The Best of Peter Green 1977-81

Green's recent re-emergence makes this release particularly timely. It presents nearly 79 minutes of Green's solo work from an earlier resurrection some eight years after he left Fleetwood Mac. Though evolved beyond his blues roots, there's still plenty of feeling evident in this superb artist.
(Music Club†)
---
The Griswalds - All the Way Down

The Griswalds have been mesmerizing the Toledo, Ohio, area in one form or another for a couple decades now, and they're ready to take on the world on this set, their first to break outside local boundaries. Brother Art's stinging guitar and Roman's Hammond B-3 dominate the action.
(JSP†)
---
The Holmes Brothers - Promised Land

"This incredibly talented and soulful Virginia trio relies equally on both blues and gospel ... proving good and evil can co-exist in the same church. Or juke joint." [SK]
(Rounder)
---
Mark Hummel - Heart of Chicago

"There's not a dud among the 14 cuts, a good mix of rockin' originals from Hummel and cool covers that so refreshingly avoid the shopworn." [TS]
(Tone-Cool)
---
Etta James - Her Best

(1960-67) Beautifully remastered set of 20 of Etta's classic Chess/Argo sides. Her style was already well-developed when she went to work with Ralph Bass (producer of 13 of these tracks) at age 22 in 1960.
(MCA/Chess)
---
Etta James - Love's Been Rough On Me

At its best, this CD takes us to that remote area where blues and country music cross paths. She perfectly captures the sad resignation of Gretchen Peters' title song ("Have mercy, baby, love's been rough on me") like it was written specifically for a soul star whose life has become the stuff of legend.
(BMG)
---
Jelly Roll Kings - Off Yonder Wall

"There's an offhandedness about how they mesh and flesh these songs out, the offhandedness of musicians so sure of themselves that they have nothing to prove." [JM]
(Fat Possum)
---
Johnny Lang - Lie to Me

This youngster from Fargo moves to the head of the teenaged blues class with his much-hyped major label debut. (There's enough of a calculated rock feel here to garner maximum airplay.) Lang holds his own as a guitarist without excessive flash, but his singing is a wonder: At 16 he's got the voice old would-be blues-rockers like Paul Rodgers only wish they had. More to come from this quarter, for sure.
(A&M)
---
Little Beaver - The Very Best of Little Beaver

This kind of mid-'70s Miami soul-dance groove wouldn't normally be reviewed here, but Willie "Little Beaver" Hale's singing and playing is so soulful I was just knocked out. And there actually are a couple blues tunes among these 17 great tracks.
(Sequel†)
---
Billy McEwen and the Soul Invaders -

McEwen has the kind of smoky voice perfectly suited for the infectious, easy-going R&B that the Soul Invaders put out, able to encompass John Hiatt's "The Crush," "Fanny Mae" and their own songs without breaking stride.
---
Big Jay McNeely & Dana Gillespie - Cherry Pie

If, like me, you made out for the first time to "Cherry Pie," it's a song that always stops you dead. It's about time someone gave it some justice, and that's where sax-man supreme McNeely and veteran sultress Gillespie come in, turning the Marvin and Johnny hit, and the rest of this disc, into the sexual beast the song always implied. There are plenty more grooves on this overdue collaboration.
(Big J Records)
R. J. Mischo & the Teddy Morgan Blues Band - Ready to Go!

(1992) Originally released on Blue Moon, this features guitarist Teddy "Kid" Morgan before he joined the T-Birds and James Harman. Tough Chicago-style blues with Mischo on harp and Percy Strother joining him on vocals. Footnote: Pianist Bruce McCabe wrote the title track of Jonny Lang's Lie to Me disc.
(Atomic Theory)
---
John Mooney - Dealing With the Devil

As much as I enjoy Mooney in a band setting, hearing him play solo is another experience entirely. This 1995 set shows why Mooney is his own player, whether tearing off a searing hunk of "Junco Partner" or relocating Robert Johnson's "Travelin' Riverside Blues." And this version of "Sacred Ground" scorches the original.
(RufRecords)
---
Johnny B. Moore - Live at Blue Chicago

Moore sprays out covers like a machine gun over his Blue Chicago audience with the kind of spontaneity "Turn on Your Love Light," "Rollin' and Tumblin'" and "Boogie Chillen" deserve. This should whet the appetite for a disc of Moore originals.
(Delmark)
---
The New Birth Brass Band - D-Boy

Looking for a change of pace? Check out this fresh posse from New Orleans Treme district, the city's famed font of ghetto funk (and longtime home of Louis Armstrong). The vital brass band music on this disc is proof that hip-hop hasn't completely co-opted the next generation of urban youth.
(NYNO)
---
John Primer - Cold Blood Blues Man

What could be better than a set of blistering electric blues from one of Chicago's best-known guitar slingers? How about seven acoustic numbers after the band quits and you're winding down? That's what you get on John Primer's third Wolf† disc. Don't miss "Malted Milk" or "Mojo Hand."
(Wolf† Records)
---
Gary Primich - Company Man

Amiable harmonica blues that swing and rock at the same time; fine unaffected vocals; tasty guitar backing from Shorty Lenoir.
(Black Top)
---
Snooky Pryor - Mind Your Own Business

Producer Derek O'Brien and a sympathetic, kick-ass band mark Pryor's latest Antone's disc, with Pryor sounding much younger than his 75 years; when it comes to Chicago blues, he can still keep up with the kids, and then some.
(Antone's)
---
Kenny "Blue" Ray - Git It!

All-instrumental disc from prolific, top-notch Texas-style guitarist, covering a lot of bases in mood and tempo.
(Tone King)
---
Rock Bottom - Tone

Blues pilgrims in Europe and the juke joints of St. Petersburg, Florida, know Rock Bottom's burly voice and equally beefy harmonica. All those years on the streets come together on Tone, especially muscular originals with titles like "Frog Leg Man" and "Large Women (And Their Skinny Little Men)."
---
Roomful of Blues - Under One Roof

"Shuffles, slow blues, minor blues, swing tunes, etc., all done with the polish and panache of one of the blues world's most venerable ensembles." [BP]
(Bullseye Blues)
---
Little Mack Simmons - Come Back to Me Baby

(1994) These sessions, with harpman Simmons out front of John Primer, Detroit Jr., Nick Holt and Earl Howell, have all the gritty substance and endless variety of good old Chicago blues. And don't miss his duet with his wife, Georgia, who's no slouch herself.
(Wolf†)
---
Holland K Smith - Jungle Jane

Swinging jump-blues from a slightly-out-of-whack Dallas blues and rockabilly trio -- with the best Dallas sidemen in attendance and Anson Funderburgh on the boards.
(TopCat)
---
Super Chikan - Blues Come Home to Roost

A pleasant set of down-home blues reminiscent of Slim Harpo from this Mississippi farmer.
(Rooster Blues)
---
Irma Thomas - The Story of My Life

Thomas' voice should be in the Smithsonian, and this disc of new material is just another example why she's the best-kept secret in New Orleans. Don't miss her chill-down-the-back take on "Dr. Feelgood."
(Rounder)
---
Sonny Thompson - Jam Sonny Jam

Compiler Neil Slaven found some as-yet-unissued Thompson tracks to help create this nice overview of the career of what Slaven calls "the fixer." Fans of jump blues can't go wrong with swinging beat of tunes like "Uncle Sam Blues" or "Screaming Boogie."
(Sequel†)
---
Unidynes - Once in a Blue Room

There's a mighty hip vibe coming outta Junior's Motel in Otha, Iowa. In the long tradition of blues/rock Midwest powerhouses, the Unidynes are ready to get your feet on the dance floor and your head away from your own problems by reminding us of theirs. Pick hit: "Goodnight, Jesus," which sounds like a Sticky Fingers-period Rolling Stones.
(Motel Juniors)
---
Various - 15 Piano Blues and Boogie Classics

Before the electric guitar came to dominate, the piano was a major element in blues recordings. This disc celebrates that time with artists from the Arhoolie catalog, including Big Joe Duskin, Katie Webster, Mercy Dee, Alex Moore, Otis Spann, Pinetop Perkins, Omar Sharriff and more.
(Arhoolie)
---
Various - Jumpin' & Jivin'

(1947-54) Shoutin', voutin', honkin' and jabberin' R&B from the ultra-deep archives of Specialty Records. Joe Turner, Roy Milton, Bumble Bee Slim, Floyd Dixon, King Pleasure, Jimmy Liggins are the better-known names on these 25 tracks.
(Specialty)
---
Various - Sacred Steel

See Catfish Whitey's Pond in this issue. "The steel-guitar based music of these tiny Pentecostal sects resonates with a rich sense of history and a vitality that suggests it's growing still."
(Arhoolie)
---
Various - Southern Journey Vol. 1-6

See Blue Again/New Again in this issue. "The discs document Lomax's sojourns, from white Appalachia to the black Mississippi Delta, from churches to juke joints, porches to chain gangs." [WR]
(Rounder)
---
Various - The Best of Fat Possum

This tiny label is barely surviving, but not for lack of taste or style: Jr. Kimbrough, R.L. Burnside, Paul Jones, Cedell Davis and the Jelly Roll Kings serve up 11 compelling reasons why Delta blues, spooky and contemporary as ever, is alive and flourishing if you just know where to find it.
(Fat Possum)
---
Various - Too Hot for Me

JSP's John Stedman has gone on a signing tear the last few years, with the fruits of his labors on ample display on this smoking 17-track sampler: Louisiana preacher/soul man T-Bone Singleton; gospel/soul siblings the Holmes Brothers; Ft. Worth jukemeister U.P. Wilson; raunchmeister Ike Cosse, among many others. Cream of the crop.
(JSP†)
---
Various - Up Jumped the Blues

Selection of 18 uptempo tracks pulled from John Stedman's JSP (UK) label includes Buddy Guy, Carey Bell, Larry Garner, U.P. Wilson, Hubert Sumlin, Phillip Walker, Otis Grand, Guitar Shorty and lots more.
(Music Club†)
---
Johnny "Big Moose" Walker - Blue Love
®(1984) Evidence reissue adds five tracks and drops two from the Red Beans original. The sound is like you're getting a living-room show after midnight, and piano-man Walker seems to be having a ball, especially the four times he plays Ray Charles tunes, in particular a buoyant "Hallelujah, I Love You So."
(Evidence)
---
Joe Louis Walker - Great Guitars

An exceptional release featuring Joe and a few of his friends -- like Little Charlie, Gatemouth Brown, Robert Lockwood Jr., Ike Turner, Otis Rush, Buddy Guy and more. Scores high in every area, including Steve Cropper's airtight production.
(Verve)
---
Miss Lavelle White - It Haven't Been Easy

"Sizzles with finger-popping, house-rocking tunes." [DR]
(Antone's)
---
Artie White - Home Tonight

There's something familiar about every one of these retro tales of mostly failed romance, but White's husky, impetuous vocals and Muscle Shoals production carry this soul/R&B spectacular.
(Waldoxy)
---
Smokey Wilson - The Man From Mars

He may live in L.A. (no, he's not from Mars), but his playing is still rooted in his Mississippi upbringing. Fiery stuff, with able backing of Ron Levy, Andrew "Jr. Boy" Jones and friends.
(Bullseye Blues)
---
U. P. Wilson - Whirlwind

Wilson's third JSP disc joins him with Jordan Patterson and his band, and it's a good match, whether smokin' through "Roll Over" or reminding us that "acid jazz" ain't no more than groovy blues. The next best thing to catching what Tim Schuller calls a "blues anarchist" in one of his Ft. Worth, Texas, haunts.
(JSP†)
---
To be eligible for review in BLUES ACCESS, send two (2) copies of all new releases.
---
This page and all contents are &copy 1997 by Blues Access, Boulder, CO, USA.