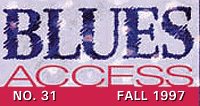 ---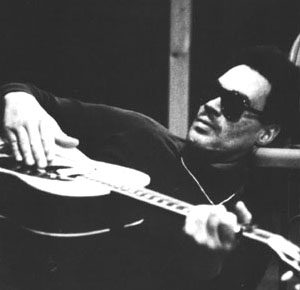 Hangin' With Red
Joel Slotnikoff writes: Bruce Bramoweth, the booking agent for the St. Louis Blues Heritage Festival, called to let me know that Louisiana Red had arrived in town too late on August 17 to play the festival due to mix-ups with his air travel arrangements. He had flown all the way from Germany, but the mix-up actually occurred between Chicago and St. Louis. Instead, Bramoweth arranged for him to sit in with the Soulard Blues Band at the Broadway Oyster Bar. He appeared on Tom Ray's radio program, so at least a few cognoscenti were present as well as SBB's regular Monday night crowd.

This was Red's first time on a U.S. stage in 15 years. For a three-dollar cover at the Oyster Bar! And what a show. Some of Red's older recordings may have been a bit lethargic, but his 1995 Sittin' Here Wonderin' on Earwig was hot, with slicing guitar work and strong, down-home vocals. And such was the case at the Oyster Bar. Red played sitting down, accompanied at first by the band and then in duet with Rich McDonough on guitar.

It could have been Robert Nighthawk, or Muddy Waters, or even Robert Johnson. He performed material by all three, often in open tunings, often with slide guitar. He wailed, he howled, he groaned the blues. The crowd knew they'd stumbled onto something very special. After playing his Telecaster for half an hour, he pulled out a Silvertone, the kind with the lipstick pick-up, and gave a phenomenal slide demonstration. McDonough, no slouch on slide himself, quickly retreated to a rhythm role. In one stretch Red switched tunings six times, on the fly -- playing in the same key, though -- with McDonough scratching a "Boogie Chillen" beat behind him. He even chanted Nigerian lyrics; he told me later these were tunings he'd learned from King Sunny Ade's slide player while in Africa several years ago.

We took him over to the 1860's Cafe where the sublime Jimmy Lee Kennett and his band were playing. Jimmy played Red a few numbers then turned the stage and his band over to him. Red once again tore things up, to the amazement and delight of Jimmy and the crowd. Jimmy's forceful drummer, Mike Saffron, and bassist Cornell gave Red superb rhythm support, and Red took off and wailed over it. At one point he was playing while lying on the floor on his back. He seemed to play slide in every position -- from guitar behind his head to upright to upside down. When he finally stopped for a rest, Jimmy played him the Hendrix version of "The Star Spangled Banner" by way of a welcome back to America and then a superb Chuck Berry "Reelin' and Rockin' " to welcome him to St. Louis. Red joined in on a borrowed harmonica and vocals on some Elmore James tunes. The audiences at both clubs gave Red standing ovations.

After the show Red quizzed Jimmy on some of his techniques and equipment, and I quizzed Red as to why he'd stayed in Germany and away from the States for so long. He replied that he couldn't make any money over here and could over there.

Record companies, booking agents, are you listening? This guy is powerful, authentic, mightily creative in his playing and singing and writing. The first several songs at the Oyster Bar were about the plane trip and how it went awry. A few very fortunate St. Louisans had a taste of what the real blues is all about tonight. (For contact information, email Slotnikoff at joelslot@inlink.com.)
---
Updating Jessie Mae Hemphill
Several people updated us with information about Jessie Mae Hemphill, who's pictured on the cover of BLUES ACCESS #30. First, she has a CD reissue out: Feelin' Good (HMG 6502), a vinyl album produced by Dr. David Evans for the University of Memphis label High Water, won her the Handy award in 1991 for traditional female artist.

Evans keeps in touch with Hemphill, who lives in a trailer court in Como, Mississippi, and says she's in general good health. Since a stroke in 1993, she's been unable to play guitar. Photographer David Stevens, whose work has appeared in these pages (see Photo Gallery in BA #28), has been in touch with her by phone and says she's in great spirits. At press time, Stevens was planning on visiting with her during a trip to Mississippi over Labor Day. Look for an update in the next BA. Her address is Jessie Mae Hemphill Brooks, Box 975, Senatobia, MS 38668.
---
Antone faces charges
Clifford Antone was indicted with five others by a federal grand jury in June on a 20-count indictment including charges of conspiracy to distribute marijuana, possession with intent to distribute marijuana, money laundering, witness tampering and aiding and abetting. If convicted, Antone faces between 10 years to life in federal prison.
The action won't affect Antone's, the popular Austin, Texas, blues bar that he started 20 years ago (see BLUES ACCESS #23 for more on the club), since most of the club's assets, including the liquor license, is in the name of his sister, Susan Antone. The club, which reopened at a new downtown location on March 12, is running its regular schedule.
The government case, built over a two-year period, alleges that Antone was part of a multi-million-dollar drug ring that stretched from El Paso, Texas, to Austin, San Diego, Albuquerque, Kansas City, Oklahoma City, Chicago and Atlanta. Clifford's lawyer told The Austin American-Statesman that it's the last remnants of a case of a two-time loser in El Paso who falsely named several people like Clifford in an attempt to avoid a third fall that would have resulted in a life sentence.
Antone, who served 14 months for marijuana smuggling in the mid-1980s, pleaded not guilty to the charges and remains free on bail until the trial, which is not expected to begin until later in the fall.
---
Who was that Welding guy?
If you're reading this magazine, you already have or will run across the name of the late Pete Welding, founder, producer and head of Testament Records, astute music critic and behind-the-scenes enthusiast. In case you missed our interview (with lots of his personal collection of photos) with Welding in BLUES ACCESS #21, tune your browser to
http://www.bluesworld.com/TESTPW.html
to find out more about one of the most important characters in blues history. The page includes an interview, Welding's essay on the Testament label, remembrances by Bruce Bromberg (whose HighTone label is re-releasing the Testament catalog), a link to a Welding tribute page and information on how to order from the amazing Testament catalog itself.
---
Send information for this column to ACCESS, c/o BLUES ACCESS, 340 S. 42nd, Boulder, CO 80303, fax to (303) 494-1127 or e-mail Lrucker@aol.com.
---
This page and all contents are &copy 1997 by Blues Access, Boulder, CO, USA.