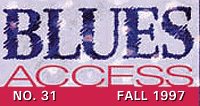 ---
The last few columns we have been dealing with "major event" reissues, boxed sets and the like. This time around we'll take a needed rest from such monuments and go over some of the more down-to-earth laser-etched grooves that have come our way the last few months.
---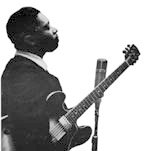 Listening to the reissue of B.B. King's watershed Live at the Regal (MCA 11646) makes you realize just how long B.B. and his lovely Lucille have been among us. Recorded in 1964 (and originally released on the ABC/Paramount label), a high point of this brief but brilliant show occurs when King "reminisces" with a medley of what were even then oldies, such as "Sweet Little Angel."
King denies that this long-acclaimed show and album represented any kind of "pinnacle," according to new liner notes by Dick Shurman, and B.B. may be right: He and his band were probably this good just about every night, whether at the Regal, Chicago's famed chitlin' circuit showplace, or at the Towatchee County Fair.
But Live at the Regal, with quintessential versions of "Everyday I Have the Blues," "How Blue Can You Get?" and other King classics, was an immensely important album for us, his audience. The album gave King's music wide exposure to teenagers, rock'n'rollers, folkies and other varieties of white folks. Soon, groups from the Bluesbreakers to the Blues Project, Butterfield's Band to the Rolling Stones would make this music part of our daily nutritional requirement, but for many of us, Live At the Regal was our first real taste of the blues.
The controlled exuberance of King's guitar playing is especially evident during "It's My Own Fault." The selection of notes is economical, yet the impact is grandiose. And King's singing conveys the bounteous optimism that allowed his mode of transportation to evolve from farm mule to Lear jet in a singular lifetime. Live at the Regal may have been just another very good gig for B.B. King, but that's all right: The epiphany was all ours.
---

One of the happiest sights in the blues world is the slobbering, red-tongued, green-sunglasses wearing swine that is the logo of Blind Pig Records. Formed in Ann Arbor, Michigan, in 1977 as an offshoot of the stubbornly open-minded blues club of the same name, the label is celebrating its fortitude with Blind Pig Records' 20th Anniversary Collection (Blind Pig 2001), a two-CDs-for-the-price of one set.
As you would expect from the hardest-rocking college town in the country, Blind Pig's most interesting tracks lean towards the uptempo and heavy bottom. Studebaker John and the Hawks ("Two Time Boogie") and Jimmy Thackery and the Drivers ("Drive to Survive") play their rocking blues with a metal edge that will hurt you if you're not careful.
Blind Pig has also had the opportunity to record many of the Great Ones: John Lee Hooker, Otis Rush, James Cotton, Luther Allison, Buddy Guy & Junior Wells, and they are all represented here. (And sensibly, as well: If you want a Buddy & Junior track, you want "Messin' With the Kid," and you've got it).
But Blind Pig's definition of blues is as far-reaching as it ought to be. There's very traditional-sounding zydeco from the young Al Rapone ("La Vierge"), down-home soul from Otis Clay on "If I Could Reach Out (And Help Somebody)" and gospel from the Gospel Hummingbirds ("Don't Move the Mountain"). There seems also to be a commitment to contemporary women who are blues artists, such as Debbie Davies, Joanna Connor, Sarah Brown and Deborah Coleman.
Coleman, whose "My Heart Bleeds Blue" stands out from the pack, is one of the few younger African-American women playing lead guitar, singing and writing blues these days. But it's not political correctness that drives Blind Pig as much as it is a commitment to good times. The last of these 36 tracks is Commander Cody's "Let It Rock," featuring original members of his Lost Planet Airmen. It's a wondrous moment, a visceral reminder of why that Blind Pig cartoon looks so blissful.
---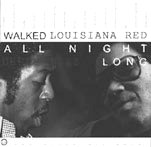 I don't think I've heard a more cliché-free blues album than Walked All Night Long (Blues Alliance 13011-2) by Louisiana Red and Lefty Dizz, originally recorded in White Plains, New York, in 1975 for something called Blue Labor Records.
Peculiarities abound. Red and Dizz scrounged to survive in the then-moribund New York City blues scene, according to producer Kent Cooper. In his notes, Cooper laments that neither the artists nor the label could afford to record with a band at the time. In retrospect, that turns out to be a blessing, since Red and Dizz's two-guitar dynamic is one of the most unusual in the blues annals. When they perform Red's eccentric original "Too Poor to Die," there's no credibility gap at all.
This was such a low-budget project that nobody bothered to tell Dizz, for example, how out of tune his guitar was on "Going Train Blues"; it is the bizarre genius of Dizz that this didn't matter. Some tracks thrived on such downward mobility: On "I'm a King Bee," Red hums, Dizz buzzes, no lyrics are actually sung. It's a wonderful rendition.
"Bring Me My Machine Gun" is more conventionally structured, with Dizz in a kind of demented Mike Bloomfield mode. Lyrically, Red anticipates the subject matter of Snoop Doggy Dogg and company. If he were born around the year this was recorded, I'm sure Red would be shouting "I need a microphone!" with a turntable jockey behind him.
---
Rounder and its subsidiary Bullseye Blues Records have baseball on their minds with the anthology New Blues Hits (Bullseye AN 27). You've got a ballplayer hitting the ball out of the park on the cover, and the first track is the Persuasions' gospel a cappella "Life Is a Ballgame," featuring "Jesus is standing at home plate/He's waiting for you." (But I'm not sure: Is Jesus the umpire? The opposing catcher? Your applauding teammate?)
Considering the theme, I was slightly disappointed to hear Smokin' Joe Kubek's rock-solid "Can't See for Lookin' ": I was expecting Tony Kubek. There are tracks by Irma Thomas, but not Frank Thomas; Smokey Wilson, not Mookie Wilson, or Smokey Burgess; Porky Cohen, not David Cone. At least Marcia Ball ("Let Me Play With Your Poodle") is definitely the right call.
---
Solomon Burke is one of the more underrated of Atlantic's 1960s soul men, perhaps because he came too soon. (Nothing Freudian intended.) The English label Sequel has released a number of classic Atlantic R&B albums with their original artwork (the Coasters, the Clovers, LaVern Baker among them). But I've always been fascinated by Burke, who was the most down-home of all the early soul singers, yet whose style and material was so comfortably covered by the early Rolling Stones.
But "covered" may be too strong a word: It's a testament to just what a terrific R&B band the Rolling Stones were that their versions of Burke's "If You Need Me," "Cry to Me" and "Everybody Needs Somebody to Love" were so original and compelling.

(Much of Burke's material was co-written with producers Bert Berns and Jerry Wexler.)
All three of those songs are performed by Burke on Rock 'N Soul (RSA 861). Burke's tracks often featured female gospel backgrounds ("Goodbye Baby, Baby Goodbye"), regular dips into Ben E. King-style mini-mariachi ("You Can't Love 'Em All") and casual arrangements. The Rock 'N Soul CD also has eight bonus tracks, among them Burke's strange but irresistible rendition of Bob Dylan's "Maggie's Farm."
The King Solomon CD on Sequel (RSA 862) is also a good bet, featuring the towering, well-arranged ballad, "Keep a Light in the Window," the deliciously funky, paranoid "Someone Is Watching" and the original version of "Detroit City," later a hit for Tom Jones.
---
Johnny Winter has been a genius, a joke and a journeyman in a recording career that now spans (catch your breath) 28 years. White Hot Blues (Columbia/Legacy 65213) is part of the label's "Mojo Workin' " anthology series, an attempt to be "a bridge from the current rock and blues scene to traditional artists and songs." That may or may not justify the fourth or fifth Columbia compilation of Robert Johnson's material this decade: Other releases this fall include CDs of Memphis Minnie and Muddy Waters (his strong Blue Sky recordings of the late 1970s).
But the Winter disc may be the most interesting, because his reputation is currently so unsettled. Looking back at this compilation of material from 1969, when he was first signed to Columbia amid much hype for big bucks (in 1969, $100,000 was considered Steinbrenner money), you have to recognize Winter's eminence as a guitar player, as creative and energetic as any of his fellow Texans.
For some the guitar playing is too busy -- you know, too much like rock and roll. Winter was never out to impress you with his good taste or restraint: His motive was to bowl you over, and that he could do with high style and consistency. Check out his "Rollin' and Tumblin' " or "Messin' With the Kid": As a guitarist, Johnny Winter tells the truth.
It's Winter's singing that sticks in many craws, an exaggerated guttural screech that too often calls to mind the unfortunate sound of Bobcat Goldwaithe overwhelming a punch line. So, you takes what you gets: Passion, dedication, craft, insanity and Bobcat Goldwaithe imitations. You still have one of the best post-Berry versions of "Johnny B. Goode" and a rendition of Dylan's "Highway 61 Revisited" that fits Winter the way Jamie Lee Curtis fits pantyhose.
---
More Stuff: Having a party? Get With Jumpin' Like Mad (Capitol 7243), compiled and annotated by musician/connoisseur/wildman Billy Vera. Before Elvis Presley and Leiber & Stoller invented white teenage culture, there was a vibrant hipster culture in the late '40s and early '50s, and this uptempo two-CD set sounds as refreshing as the shudder of ice in a martini shaker. Vera goes all over the map, bringing in Ella Mae Morse and Johnny Mercer, Peggy Lee and Lester Young, Harry "the Hipster" Gibson and T-Bone Walker, among the many, the proud, the hep. Favorite track of the moment: "Wrong Neighborhood" by the Cootie Williams Orchestra. The line "You got a bad habit/And you live in the wrong neighborhood" offers the bottom line on the first go-round for heroin chic, nearly 50 years ago ... For more romantic moments, check out the seductive Jimmy Witherspoon with the Junior Mance Trio (Stony Plain 1231), recorded live in France in 1969. Pick hit: "I'm Gonna Move to the Outskirts of Town" ...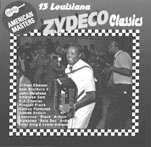 Widely-respected Arhoolie Records goes looking for market share with a budget-priced American Masters series of compilations. 15 Louisiana Zydeco Classics (Arhoolie 105) is deeply traditional, so rootsy that just holding the CD case makes your fingernails turn black. Clifton Chenier pumps his accordion like a space ghost on "I'm a Wonder" (hello?), while tracks by various members of the Ardoin family will have you brushing up on your Lafayette French. Also fabulous: 15 Piano Blues and Boogie Woogie Classics (Arhoolie 108), with an adventurous array of performers and tunes: Big Joe Duskin, Whistling Alex Moore, Katie Webster, and some inspired duos, including Clifton Chenier & Elmore Nixon, Johnny Young & Otis Spann, Charlie Musselwhite & Lafayette Leake -- all in all a pretty good bunch to have over for a boogie-woogie blues brunch.
---
This page and all contents are &copy 1997 by Blues Access, Boulder, CO, USA.