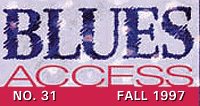 ---
Blues Guitar Legends: In the Styles of Lightnin' Hopkins and Blind Blake
Kenny Sultan
---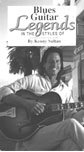 I've watched dozens of videos taught by some of the best pickers in the biz. Typically these guitar greats go to painstaking trouble to capture every nuance of the "legends" they emulate. Each trademark lick and technique is carefully analyzed and worked out until some time (days, months, years) later, we finally achieve a performance level that is recognizable as inspired by some particular "legendary" guitarist.
That is what I expected when I came across Blues Guitar Legends, but I was in for a pleasant surprise. Instructor Kenny Sultan takes a different road, leading to gratification for the casual student as well as the serious amateur. Instead of a lesson plan designed to learn the music lick-for-lick, Sultan starts by laying down some ground rules:
1) Have Fun: A point I've been stressing for years. Why can't we have fun in the learning process?
2) Play Loose: Relax, and your music will sound that way too!
3) Play with Feeling: Sultan recognizes that while blues may have some complexity technically and musically, it is primarily about emotions, and any technical or musical shortcomings that any artist has ever had can always be overcome by a performance filled with feeling.
4) Don't Worry About Mistakes: That's right. You can always go back and practice the tunes until the mistakes go away. But you should never worry about them, because that puts you in direct violation of Rule #1, and can limit your ability to abide by #2.
Sultan examines the music and techniques of Lightnin' Hopkins and Blind Blake, emphasizing that nobody will ever sound exactly like those guys, so why kill yourself trying? Capture the feel of the music and the emotional intent of the artist, blend those with your own set of guitar/vocal skills and develop an interpretation inspired by the original artist, instead of merely covering their version. His approach reminds me of the way Bob Brozman or Rory Block play Delta blues. There's no question that it's, say, a Charlie Patton tune, but they offer a fresh version with contemporary influences and technique that make it more accessible to today's audiences.
Another pleasant surprise: This 60 minute video retails for about $20. (Centerstream Productions, Box 17878 Anaheim Hills, CA 92807; (714) 779-9390.)
---
Introducing Acoustic Blues Guitar -- Beyond Basics
Keith Wyatt
---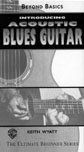 Last year I reviewed an excellent CD-ROM instructional package by guitarist/instructor Keith Wyatt called Play Blues Guitar. Wyatt is now producing videos for Warner Brothers (sorry, no Animaniacs or Pinky and the Brain). A member of the staff at L.A.'s Guitar Institute of Technology since 1978, and director of the curriculum since 1987, Wyatt's experience assembling videos and instructional programs is considerable -- both in production quality (split screen, etc.) and his obvious comfort in the role of instructor.
Introducing Blues Guitar is part of Warner's Ultimate Beginner Series, but it really assumes some knowledge of guitar basics. Wyatt runs through a well-organized lesson plan, starting with a review of basic chord forms, strum patterns and bass lines, the all-important turnaround, and a mini-focus on regular and quick-change versions of the standard 12-bar shuffle. Wyatt stresses basic good playing habits like thumb on the back of the neck and how to grip your pick. This video lays a basic foundation for acoustic blues guitarists to build on. A great value at only about $20 for a one-hour lesson.
If you like the style and feel you need more, there's also Beyond Basics, a follow-up tape, a continuation of a well-thought-out lesson plan. Wyatt moves on to more interesting chord voicings, some nifty walking bass lines and instruction in the all-important soloing techniques of bends, hammer-ons, pull-offs and some cool fingerpicking ideas that will add considerable spice to your playing and liven up your repertoire. While not specifically aimed at any artist's style, Wyatt does make reference to certain licks that were made famous by the likes of Lightnin' Hopkins, Muddy and Lonnie Johnson. Buy both at a further discount. (Warner Brothers Publications, 15800 NW 48th Avenue, Miami, FL 33014).
---
Blues Harmonica Basics - Steps One and Two
Jimmie Woods
---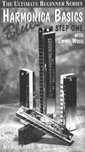 Jimmie Woods' resumé is quite impressive. From the gritty blues of Hollywood Fats and Mike Bloomfield, he has moved through the big-time rock bands of Bruce Springsteen and Bruce Hornsby, recorded with Megadeth (sorry, but true) and returns to blues now as the front man for the House of Blues All-Star Band.
This two-tape series really is for the total beginner. Woods starts out teaching the differences between chromatic and diatonic harps, and how to buy one. I loved the on-screen graphics showing the actual harp and which hole to play, and whether to blow or draw. I was a bit confused, though, since Woods teaches in the "do what I say, not what I do" mode because he actually plays upside down and backwards. After I got over that, I felt that the progressive nature of the lesson plan was appropriate, as were the occasionally inserted band segments demonstrating the technique or concept.
In tape one, Woods goes on to explain first position and cross harp, modifying mouth position to progress from chords to single notes, bending and blues phrasing. In tape two Woods helps develop vibrato and trills, octaves and chords and some classic phrases from the repertoires of Little Walter and Sonny Boy Williamson. Overall, one of the better bargains in beginner blues harp tape sets I've seen. (Can you say that three times fast?). (Warner Brothers Publications, 15800 NW 48th Avenue, Miami, FL 33014).
---
Get Bluesed!
Volume 1
---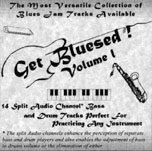 I found this unit cruising the Blues Highway on the Internet. Mike Morris decided if he took the trouble to put together a CD full of blues jam tracks and marketed it for a reasonable price, lots of aspiring blues amateurs would pick up a copy. He could be right.
Morris built 14 tracks of generic bass and drums for a full spectrum of blues formats, with names like "Slow Blues in C," "Muddy Blues in A," "Jumpin' Blues in C," "Minor Blues in A," "Atmospheric Blues in D" and more. The bass and drum tracks are discreetly recorded left and right so the student can play with the balance or even cut out one or the other depending on what you are working on.
A 22-page booklet, which charts out each tune and tabs the main lick (even referencing the artist & tune he was aiming for), is included with the CD. While it is all synth/sequencer produced, and therefore a bit dry, you'll find it a quick guide for warming up before serious practicing or simply an enjoyable way to spend some time jamming along with a CD without having to compete with your favorite artist for the solo instrument parts. I ran it through my recording set-up, added a bit of reverb to warm it up and really started to have some fun.
Recommended for anyone who likes to play along with recordings, no matter what your instrument. Lessons are available on CD, cassette or Midi diskette. And Morris is flexible -- his pricing sheet indicates that he'll even make custom CDs based on what you want. Check him out by mail (Bluesed Inc., 1111 10th St. #315, Alamogordo, New Mexico 88310) or email: blueser@wayfarer1.com, Bluesed1@aol.com, or MKM39@aol.com.
---
Send materials for review to: Kiernan Music Services, 1239 Lakeshore Drive, Boulder, CO 80302.
---
This page and all contents are &copy 1997 by Blues Access, Boulder, CO, USA.