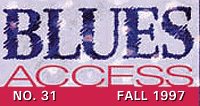 Middle-Age Blues
The Ups and Downs of Chris Cain
by Niles Frantz





---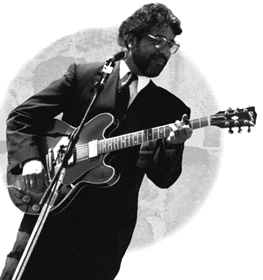 Some music has the power, the elegance, the full-throated roar of the big cats. Graceful, luxurious and powerful, it entices you and draws you in with the hypnotic power of a tiger's eyes.
Chris Cain is like that. His monster guitar chops, big bass voice and huge stash of original songs place him in the vanguard of contemporary blues. His work is solidly within the tradition yet pulls and stretches the form by including elements of jazz, R&B, funk and pop.
Cain, a San Jose, California, native, is the third son of an African-American/Greek family headed by Georgia Cain and Walter Fields. Fields, a product of Beale Street in Memphis, introduced his son to Ray Charles, Guitar Slim and B.B. King. Mom turned him on to Michael Bloomfield. Now 42, Cain has been a professional musician for 20 years. He has expanded beyond the San Francisco Bay Area blues scene, his original stomping grounds, to tour the U.S., Canada and Europe supporting four critically-acclaimed albums.
Cain's impressive debut, Late Night City Blues, released in 1987 on the Blue Rock'It label, remains his definitive statement. It showcased his fine original songs and fat-toned guitar work, along with the top-notch sax playing of friend and former partner, Noel Catura.
"Noel [was] like my other half," Cain told the Metro newspaper. "We met at an improvisation class ... (and) worked on a lot of fusion stuff, mostly without a drummer."
On the strength of his debut album, Cain and his band were nominated for four W.C. Handy awards, including "Best Instrumentalist -- Guitar" and "Blues Band of the Year." Invitations to play festivals all over the country soon followed. Festival gigs enabled Cain to play on the same stage with some of his boyhood heroes and musical influences, including B.B. King and Ray Charles.
Cuttin' Loose was the Chris Cain Band's 1990 follow-up, the first of three releases for Blind Pig Records. Chicago-based writer Bill Dahl noted that the album "goes down smooth as a blast of Southern Comfort (and kicks just as hard)." The songs on Cuttin' Loose spotlight Cain's tough time with relationships, usually focusing on love gone sour. Titles like "Real Bad Fall," "Just Ain't My Plan" and "Middle Name Is Trouble" tell the stories.
Two more albums, Can't Buy a Break and Somewhere Along the Way, solidified Cain's position as a modern bluesman -- a virtuosic yet tasteful guitarist and an interesting and diverse songwriter. A new album is scheduled for release on Blue Rock'It Records in the fall.

---
When did you start playing guitar?

When I was maybe nine or 10. My dad showed me "Baby, Please Don't Go" in the key of E. Then I got records and started copying. My dad had a guitar. He plays a little bit. A little piano, too. Both my parents had tons of records. I got to hear Muddy, Sonny Boy, Leadbelly, Bobby "Blue" Bland, Elmore James, lots of that kind of stuff. We never missed B.B. [King] or Ray Charles when they came to town -- we would always be there. Johnny Otis, too.

Now you've shared stages with those guys.

It was like a dream come true to have B.B. call me in the room and say, "Hey, can I have your pick?" "Hey, you can have the guitar!" Albert Collins, he was so kind. And Albert King. It's beyond anything I would have imagined. These guys were on my wall; now they're coming to my gigs. Here comes Albert into the gig with Otis Clay. I just thought, "Wow." It blows my mind.

Did you actually get to play with them?

I played with Albert Collins. I played with Albert King. I backed up Cleanhead [Vinson] on a gig. Those tapes are the prize of my life. Charles Brown, I backed him up a couple times. Me and my girlfriend, Rita, went through so much stuff when Albert King died. For a long time we couldn't even listen to the records. Still, even now ... That really knocked us out of the box. The funeral and everything. Rita worked with him a lot. So when I met her, it was, like, I knew him, and then I met her, and she knew him, too. And [Albert] said to me, "You just stole the only woman I ever loved. But that's all right, I'm gonna go buy some shoes." Just fuckin' with me.

One time when she came out to California, we were driving and at the same time we looked off on the side of the road and saw Albert. I mean we saw him. It was not like we saw a guy that looked like him. This was Albert. And we didn't say anything. Then we drove about two miles, and I finally looked at her, and she looked at me, and I said, "Did you just see what I saw?" And she said, "I think he's watching us. He's keeping an eye on us." It was heavy. Albert is all over Somewhere Along the Way. It was something I had to get out of my system. There was no way around it.

You're known as a guitarist, but you play other instruments, right?

I play sax and piano and guitar and bass. It always came to me naturally. I'd just pick up something, and the next thing you know I had figured out a tune. It's always been like that. Except when it comes to drums or harmonica. No chance. When I pick up harmonica, Neil Young's gonna call and say, "Don't do that."

Did you play in high school bands, cover bands, things like that?

First band I ever had was the band that I had for 10 years. I used to just play in my room. I'd do these guitar impressions. I used to copy records. If you could play it without the record, and nail it, and have everybody know exactly what you are playing, that's the shit. Then from that, I said, if you can do that in any key, and just spew that shit out any time you want, then that's the gig. But if you try to do it in a different key and you get lost, then you're limited there.

When I first heard Robben [Ford] play it was like somebody was talking Martian. I had never heard patterns like that come out of a guitar. I went home and said, "I quit. I don't even know what he's talking about, but it's cool as hell." It was a sound I had never heard on a guitar. I thought, "I got to know more about that." That led me to saxophones. I found that the patterns that saxophone players play are different than guitar players play. Because guitar players get in that one box, and that's a handcuff to my way of thinking. There's so much out there to learn.

What happened with singing? Where did that voice come from?

It just came out. I had some cold ones, and I got real comfortable, and this big old noise came out of me. I was listening to Jimmy Witherspoon and Joe Turner and B.B. I didn't really develop it -- it just came out. I just went with it. People say, "I don't really expect that kind of sound to come out of you." I kind of like that, too. That's been a good thing.

Why did you put a band together?

I just wanted to work around town, where I lived. I just wanted to play in some clubs. This was about 1982. I was just out of City College. I had gotten to a place where I really dug to play with other guys.

How did the first album happen?

I wanted to get some jobs around town. If you took [club owners] a tape ... (scoffs). But if you took them an album, they went, "OK, this guy's gotta be some shit, 'cause he's got a record." So I borrowed the money and made the disc. That was the record where I did what I wanted to do. My other records, I like them, but I couldn't do what I wanted to do. I had to do what they wanted me to do and sneak in my own shit. On the first one, it was just "blow." Solos were flying. The tequila was flying. It was just like we would do it at the gig. That's the way I heard it in my mind.

What happened then?

We hooked up with Tom Gold, and he started booking us. He had these connections, and right away we started playing festivals. It was like night and day. The next thing you know I was in Belgium. I wasn't really ready for that. I was very inexperienced with anything outside of my little room.

And the boy from the bedroom, what happens to him?

Not a clue about anything. Just totally having a blast. Not really even thinking about what could happen if you get hammered and you might be out somewhere where people are checking you out. It's just one big party. After a while, maybe you develop a reputation for being just a little too cuckoo. And that was kind of the beginning of the end -- when that whole thing got out of control. The band -- everybody was drinking. And that just seemed like the norm. Drink 'til you bleed. Just go. But it was all just fun-loving characters not really hurting anybody but themselves. But not seeing that at the time. Until it was way after, seeing "Oh, man, damage has been done."

What do you think about life on the road?

I learned that you have to sleep and you have to eat. But you learn through doing it the wrong way. And, we took it way too far -- just plain wildness.

Were you able to break up before you started hating each other?

That's where it was going. I was just so caught up in what I wanted to hear that I was a pain in the ass. Close quarters. It's a human thing. I miss those guys. I hope we'll play together again.
---
This version is an abridged version of the Chris Cain interview. For the complete article,

get the hard-copy version of BLUES ACCESS.
---
This page and all contents are &copy 1997 by Blues Access, Boulder, CO, USA.