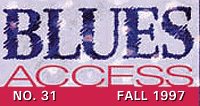 ---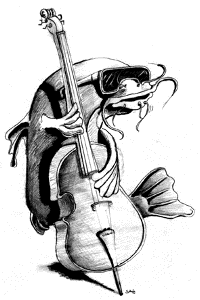 Hangin' With Hootie
Pinch me or something: That's really Jay "Hootie" McShann up there on the stage.
We're in Penn Valley Park, Saturday night edition of the Kansas City Blues & Jazz Festival, ankle-deep in mid-July humidity and chiggers on a grassy knoll in the shadow of the decaying World War I memorial. The fading sunlight is twinkling off the old Power and Light building downtown, which changes colors every few seconds, just as it did when I was growing up here. About a mile-and-a-half east, beyond the Crown Center complex and the huge, now out-of-date neon Western Auto sign, is the infamous 18th and Vine area, home to the speakeasies of the Pendergast era in the 1930s and now in the final stages of renovation after decades of neglect and indecision.
It's encouraging that the city, which looks mighty old and plenty run-down to this expatriate, has gotten around to officially recognizing its rich musical heritage -- it's been chatted up without any action for at least 30 years. And there's nobody more important to that period than the man up there at the piano.
McShann's been busy lately. Hootie's Jumpin' Blues (Stony Plain 1237), a swinging, bluesy set recorded with the Duke Robillard Band around McShann's appearance at the Edmonton Folk Festival in August of 1996, has just been released. (It's a dream-come-true project for Stony Plain owner Holger Peterson, who put together the sessions and interviewed McShann for a 20-minute segment that closes the disc.)
McShann is a prominent figure -- as singer, bandleader and pianist/sideman -- all over the tracks on Kansas City Blues 1944-48 (Capitol Blues Collection 8-52047 2), a three-disc retrospective that posits McShann at the center of a swinging, bluesy Kansas City scene in the years after Count Basie and Andy Kirk went nationwide. And just as McShann was setting the stage for future small-combo blues on the reissue, with Hootie's Swingin' Blues the man who is perhaps best known for hiring the teenage Charlie Parker almost 60 years ago is making some of the best music of his life.
Photographer Geoff Rollert had grabbed me an hour earlier, and we found ourselves in one of those little air-conditioned trailers that house bands before and after they go on at these kinds of affairs. It's hot enough outside for Jimmy Smith to complain at the end of his late-afternoon set: "This is our last song, and don't clap for more, cause it's too goddam hot to come back out," but it's cozy inside the little trailer where McShann is sitting on a small blue couch with a few friends. A fascinating cross-section of people files in and out of the trailer during the next hour. McShann is in a jovial, jocular mood, whether telling an old Charlie Parker story or discussing the fine points of that hot sauce that still comes back on you the day after you eat it at Arthur Bryant's, a prized local barbecue restaurant.
Jimmy Smith climbs in after his set. The dapper Smith is soon in conversation with McShann, making the point that he and Jay are really contemporaries, age-wise. He came up with "Bird" Parker, too, he says, and all those guys. Someone asks the inevitable question: "Jay, how old are you?" Jay grins, says he's 82, and suddenly Smith's jaw drops out, his eyes roll around and he shakes his head like he can't believe it. "82? Man, I'm 69, and I feel every year in my body every day. Help me up," he jokes. "Jay, watch your step on the way out," he warns as he steps out of the trailer.
It's obvious that Robillard's band is primed for the upcoming onstage encounter. Drummer Marty Richards steps in and gets Jay's attention, reminding him to watch him at the beginning of one of the songs they'll be playing later. "Can't wait," he says as he leaves the trailer for the stage. Bassist Marty Ballou also yells encouragement as he heads out the door for the Robillard band's set.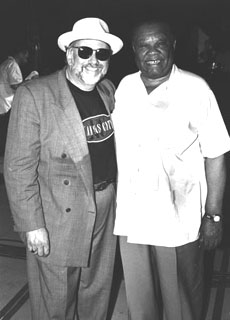 If McShann isn't the big fella in the old photos anymore, you would still recognize that smile and voice immediately. His eyes are still full of mischief, but he seems pretty fragile, too, sitting there. He's pretty hard of hearing, and he explains at one point that diabetes and other ailments sidelined him for a few years, These days he picks and chooses a couple dates a month from his Kansas City base. Tonight is the first appearance together for Robillard and McShann since their recording 11 months ago, and the atmosphere backstage is building toward a big night for all involved.
He's talking about the last time he saw Bird (in Chicago in late 1945, when Parker was on his way to California to his infamous dates at Billy Berg's L.A. club with Dizzy Gillespie). Two charming 10-year-old girls enter the trailer. They're Jay's granddaughters, and one of the twins is interested in piano, which leads to the obvious question: Is Jay teaching her? Jay's wife, Mary Ann, tells a story on him: He tried, but he doesn't have the patience to deal with a 10-year-old on the keys.
We're out the door to catch the last half of the Robillard set, and a while later I watch McShann being helped along from the trailer over to the stage, where he sits in a folding chair for the last part of Robillard's set before gingerly striding over to the piano at stage left.
He settles in at the keyboard, and his demeanor, presence, body language -- everything -- changes dramatically. No longer the frail octogenarian, suddenly he's Hootie again, off and leading a wild and willing ensemble through its paces, everybody onstage pinning their eyes and ears on the bandleader. It would be easy enough at this point for McShann to coast, let the band play around him and sing a couple favorites. But McShann isn't ready to rest on his considerable laurels just yet. (Holger Peterson says that during the recording session, when Robillard suggested the instrumental "Profoundly Blue," a song not in the McShann book, Jay was game anyway, and they played a lovely duet.)
"Hello little girl, do you remember me?" McShann croons as he tickles out the familiar melody of his famous "Hootie Blues" to the gentle applause of audience recognition. The sun is down, the fireflies flickering, a soft chorus of cicadas, the faint hint of medicinal marijuana mixing with the smoke of the various festival 'cues, and Penn Valley Park, in the gathering twilight, is as close as I'll probably ever come to squatting in the balcony of the Reno Club to catch the mighty Jay McShann and his driving band.
Hey, I know it's a stretch, but at this point I take my kicks where I can get them. For 45 minutes the entire hillside, it seems, is lost in one giant collective, swingin' dream of an era not quite forgotten yet. A friend of McShann's from Las Vegas, Chris Post, intermittently joins the band to sing a couple of songs. Post doesn't have a bad voice, just not a blues voice, and he's got an annoying habit of clipping the end of each line Elvis-Presley style. With his hands clasped behind his back most of the time, he seems genuinely embarrassed to be up there standing amidst such distinguished company, let alone actually singing with them.
Still, I'm buying into the mythology. If this is really the closest sidelong glance into K.C.'s golden era as I'm likely to have, a jam session would have its share of guests, not all of whom would fit right in. Not every solo would be perfectly formed and choreographed, every singer suited to the rest of the band, not every rhythm section tuned to the atomic clock.
And, ultimately, who cares? Everybody's having a great time, and there's a nice jam-session informality to the way Jay calls out the key before kicking into the songs. He stamps "Tain't Nobody's Business" as his own, his thick, nasal voice making me wonder why, short of saving his vocal chords for nights like these, he ever let anybody else sing in his territory bands in the old days.
But perhaps it's McShann's willingness to share his immense talents with others that is his particular genius. It's why he hired Parker all those years ago, why he invited Post to join him, why he's playing with Robillard's band again and why we're all gathered around close on this summer evening, hanging on his every phrase. It's another great night with "Hootie."
-- Leland Rucker
---
This page and all contents are &copy 1997 by Blues Access, Boulder, CO, USA.