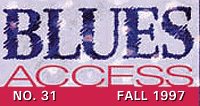 ---
Homebrew incorporates a ratings system specifically for independents. If you'd like to contact the artists you read about here, check out our "Where To Find 'Em" page.

| | |
| --- | --- |
| Excellent | |
| Good | |
| Average | |
| Fair | |
| Poor | |
---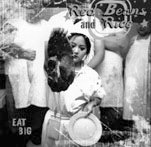 Eat Big (6528) is a curious little disc from Red Beans and Rice, with lead vocals by a four-foot, nine-inch Asian-American woman, Yun Hui, and a lead-guitarist, Darren Stroud, out of the power-solo, barroom, blues-rock scene. This brief, 10-track CD features some of the best (and most disturbing) graphics and well-laid out text, including full lyrics, that I've ever seen accompanying an independent release. The recording is pretty versatile with a torch-song ballad here, upbeat pop and a blues-rock, kind of Doobie Brotheresque tune there. The experimental track "Fear" owes little to blues, but is an entertaining and unsettling addition to the package. Hui's voice reminds me a little of Heart's Ann Wilson but with more gruff and guts. Nice arrangements and production by this Indianapolis band that has owned the "Best Blues" title there for years. As they readily admit in their promotional material though, they are more of a "jazz-pop-rock-funk-fusion-kinda-rhythm and blues thing with a touch of world beat." I did say "curious," didn't I?




---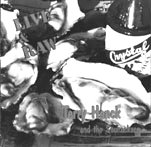 Hearing Terry Hanck and the Soulrockers' Live and Raw (L&R101), I almost expected Rod Serling's sonorous voice at the beginning: "You've just found yourself in a small, friendly roadhouse on the other side of the tourist section of town. The place is packed, the lights are low and everything seems normal, but you soon feel a decided difference. Up on the bandstand is a tall tenor saxophone player leading a band that is playing with enough intensity to call up both angels and devils and performing as if it's their last night on earth. Ladies and Gentlemen, as you make your way to the dance-floor, you'll find you've just crossed over into ... The Twilight Zone." I wish I heard records this funky and fun more often. Live and Raw is a grinding live recording featuring terrific side-men, including retro-blues guitarist Mike Schermer, Robert Cray-keyboardist Jimmy Pugh and sax-man, vocalist and Monterey R&B Godfather Terry Hanck (who is having more fun on stage than anyone should have and still be getting paid). Songs are chosen with care for the silver-haired Hanck's '50s style, and he and his band hit the groove perfectly on each one: A little Lee Dorsey N'Awlins "Ya-Ya" here, a little Arlester Christian funky blues there and four good-time, upbeat originals help create a live CD that holds up after repeated listenings and carries its rhythm & blues mettle as a badge of honor. Who says they don't make records like they used to?





---
Now we're talking. Deluxe Duos (HBS 4001) is a generous 16-track hodge-podge instrumental aggregation featuring a truly sweet, toe-tapping, hurricane-and-fire series of pairings between Professor Washboard and five musical friends. Recorded in such separate areas as Hamburg, Germany, Cumbria, England, Lafayette, Louisiana and New York City, this rootsy, straight from-the-heart recording features five different vocalists and on one-track, a youthful-looking, gutsy accordionist in Jo Jo Reed, who bravely but effectively tackles Clifton Chenier's familiar oldie, "Zydeco Boogaleaux." Besides picking great amigos, Professor Washboard also got it going on a -- get this -- self-built, shoulder-carried, foot-, finger- and mouth-played instrument with "washboard, dadburn, contraption, drums and percussion." And hey, it works marvelously. Simple, joyous, ingenious and worth tracking down.





---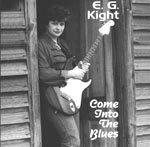 Singer/songwriter/guitarist and Dublin, Georgia-born Ms. E.G. Kight made the trip over to Macon to record Come Into the Blues (Blue South 297). With four albums of country music behind her, the blues kept calling and the "Georgia Songbird" finally answered. This Phoebe Snow sound-alike, Lou Ann Barton phrase-alike, honky-tonk, 12-bar and R&B music mistress drawls, struts, croons and torches effectively through 11 well-produced tracks that cover just about as many tempos. Ms. Kight never oversings and effortlessly gets inside each of her songs like a hound dog chewing through a soup-bone to reach the marrow. Deep-throated, believable crooning, along with break-the-fiber-of-your-resistance lyrics, combined with an excellent and deeply supportive (and large) hired-gun band make this a really pleasant Southern night surprise. Here's hoping she makes more blues noise soon.




---
Some of the sweetest, most sultry doo-wop you'll ever hear comes from an all-male gospel sextet of gifted African-American a cappella vocalists called the Mighty Prince Singers. People Get Ready (MPS 9701), their debut disc, comes some 25-years after they started singing together in high-school -- and what happiness results. Twelve soulful and smokin' songs of sparkling originals, pop standards (Lou Reed, Curtis Mayfield, Sam Cooke) and traditional glory. All of the individual members, great friends in life as well as on stage, take solo spots throughout the 12 tracks, and picking one to stand out would be impossible. The majesty of the human voice, singing in joy and earnestness about redemption and the straight but long road to Heaven is all here. (MPS can also change hats and transform into a standout R&B a cappella alter-ego group, Talk of Da Town.) The delight they obviously feel in singing together carries through every track. Kudos to producer Ken Malucelli for capturing the holy spirit in the men in just the right way.





---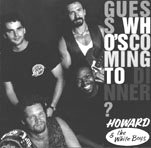 Politically-correct band name? Maybe not, but Chicago-based Howard and the White Boys don't seem to have much time for anything but their heavily rock'n'roll-based blues. For their 12-track, self-produced Guess Who's Coming to Dinner (Mighty Tiger 6005) they brought their funk to the table with 'em. Bass-player, songwriter, band-namesake Howard McCullum handles all the vocals adequately, has a fine voice and an in-the-pocket feel for the band's song styles, but doesn't sing with huge, from-the-gut conviction. But that just means the vocals don't detract from the considerable contributions of hip harmonicat (and BLUES ACCESS contributor) Dan Bellini and the versatile Strat work of Detroit guitarist Rocco Calipari. Although a Chicago blues band, they don't play in the style you might think of when you think Chess, Earwig or Delmark. Nothing to fault about this effort at all, and if it won't necessarily rock your world, I'll bet it'll get your feet to shakin' just the same.




---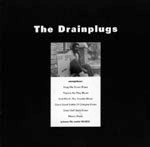 Even at less than 20-minutes long, The Drainplugs manage to cover six, band-penned tunes in their self-titled Drainplugs. Loping along easily enough, with throwaway "They're Coming to Take Me Away" meets "Alley Oop" vocals, this has a "let's get together and jam" feel to it. Unfortunately, that feel is not serviced well by leader (and harmonica player/guitarist) Mike Malloy's singing ability or the rudimentary-not-rootsy, effect-free lead guitar and hanging-on-by-his-fingernails vocal work of Ryan Bullock. The homemade quality includes charming band miscues left intact and some of the most inane lyrics I've ever heard. If the legendary '60s band the Shaggs have daughters of dating age, they're going out with these guys.


---

Larry Hunt's self-produced, self-written, eight-song Soul Survivor (Blue Fire 1874) features his strong organ and acoustic grand piano work and gruff, fairly unmelodic, late night vocals in an outing that is much stronger in its instrumental moments than when it's telling its verbal tales. Imposing ex-Texan Hunt works with some good players who cover blues, rock and 12-bar boogie with ease. If you can get past Hunt's limited vocal abilities, you're in for some pretty tasty treats -- and I'm delighted to read it's dedicated to Dorothy Hoogerhyde, a woman I don't know but with whose name I'm in love.



---
Contact number for Lori Davidson, whose Slow Traffic Keep Right was reviewed in this space in issue #29: (415) 280-0786.
---
See Where to Find 'Em for label information.
---
BLUES ACCESS encourages blues musicians to send us independent releases. And blues fans, if there's a band or musician you've heard, seen or followed, and think they're deserving of wider recognition, send us, or have them send us their releases as well. With your help, we'll find out and hopefully be able to help spread the word about some great new music.
We need two copies of each release, preferably on CD. Written promotional material regarding the music and the player(s) is also welcome and helpful.
Please address to:
Homebrew
c/o: Blues Access
1455 Chestnut Place
Boulder, CO 80304-3153
---
This page and all contents are &copy 1997 by Blues Access, Boulder, CO, USA.