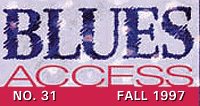 The King Biscuit Blues Festival
The Sonny Boy Legacy in Helena
by Nadine Cohodas





The fortunes of Helena
are tied to

Like so many other small American cities, Helena, Arkansas, looks at first glance like a place well past its prime, empty storefronts and boarded-up warehouses clues to what was once a thriving hub for trade along the Mississippi river.

But Helena is luckier than many places: The town is home to a proud tradition of blues that for the last decade has served as the town's savior. The story begins in December 1941, when blues great Sonny Boy Williamson had the idea of a live radio blues program and pitched it to Sam Anderson, a white businessman and co-founder of Helena's new radio station, KFFA.

Anderson realized that his station broadcast to a largely black audience -- roughly 70 percent -- and so did Max Moore, the owner of a grocery company that manufactured King Biscuit flour. A blues show, as writer Robert Palmer once put it, made "dollars and sense" to these men. Moore agreed to sponsor the show, and King Biscuit Time was born. Williamson and Robert Jr. Lockwood, his blues buddy, went on the air every day at 12:15 p.m. with programs completely of their own choosing: "Pass the biscuits" and "It's King Biscuit time!" became the way lunch hours started. Soon it was tradition to stop work, sit down and tune in. Among the many who did were McKinley Morganfield, Riley B. King and Chester Burnett, picking up tips via radio before fame and fortune on the road as Muddy Waters, B.B. King and Howlin' Wolf. Sales of King Biscuit flour skyrocketed.

Fast forward more than 40 years: The economy has changed; river trade has dropped off dramatically, and with it Helena's fortunes. KFFA had long since stopped live blues broadcasts (in 1967). But when city patrons brainstormed for ways to revive the dying center of town, it seemed only natural that a blues festival connecting Helena to its heritage would be a good way to bring people back. It had to be called King Biscuit.

What began in 1986 as a way to revive Helena has turned into one of the largest festivals in the South -- the budget for the 1997 event is $300,000 -- with a top-notch musical line-up over four days.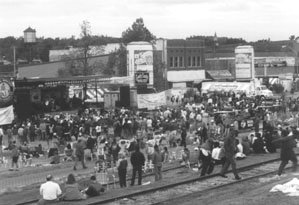 It is one of the few major festivals that is still free. But what makes King Biscuit special is the sense of place: This is a festival tied literally and figuratively to its roots. Take the blues festival out of Chicago and San Francisco, and these cities would hardly notice. Take King Biscuit out of Helena, and you have struck at the city's identity and wounded its pride.
"When we started the festival in 1986, we didn't know how many people would show up," recalls Bubba Sullivan, a wonderfully appropriate name for one of the major domos behind the event. (Technically he is "Berbon," but he's been "Bubba" since he was a baby.) He grew up in the countryside not far from Helena listening to farmhands play the blues and now runs an antique store in the old downtown with its own "blues corner." "I didn't know what I was listening to," Sullivan says of his childhood years, "but I liked it."
His love for the music and his belief that it could still draw a crowd helped him and his co-founders keep going in the worrisome days before that first festival. An hour or so into the music, he knew all would be well. The first visitor he spoke to said he had come from London for the event. Then he saw a reporter from The New York Times -- an Arkansas native to boot -- who had come to listen and write a story. "We gotta be doing something right," he told one of his friends.
That first festival was a one-day affair held on a hillside by the Mississippi River levee. The stage had been rented from a traveling evangelist. Hand-lettered cardboard signs listed festival sponsors. The musicians, who included Pinetop Perkins, Sam Myers, Johnny Shines and Lockwood, came on faith, booked before money was in the bank. "We did it backwards," says Jerry Pillow, another of the founders and the one who has been in charge of booking the talent since the beginning. "We put on the festival and then figured out how to pay for it."
In those early years the festival layout changed regularly while the sponsors figured out what made the most sense. One year the stage was built on the steps of the old railroad station at one end of the main street. Another time it was at the far end of a park across from the station, which was renovated in 1990 and reopened as the well-received Delta Cultural Center.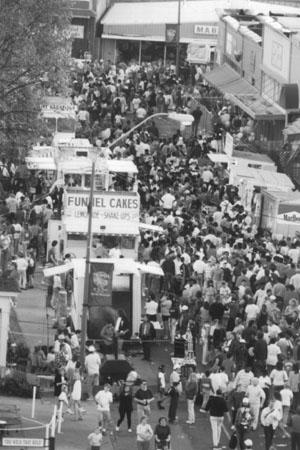 The big blues stage is now permanently in the park across from the station and faces out toward an audience that fills up a natural hillside. Behind the stage the main street is packed with vendors and revelers. The smoky hue from the many barbecue stands turns the town into an outdoor blues club.
The first festival was an October day in 1986, and since then it has always been held on the weekend before Columbus Day. Funding in the first several years was dicey, always a year-to-year proposition. But the founders were determined to keep the festival free. They were both heartened and appreciative of performers like Anson Funderburgh, who played "when no one else would," says Sullivan. Adds Pillow: "He took a chance and helped us by committing to come." Funderburgh is guaranteed a spot at every festival.
By the early 1990s, King Biscuit had expanded to two days, and attendance was growing. Sullivan and Pillow, among others in the Sonny Boy Blues Society, the group of core supporters, realized they needed help to get the event on more sound footing. Enter one dynamo and a business: Munnie Jordan, a lifelong Helena resident long on energy and ideas, and the Lady Luck casino, just over the Mississippi River from downtown Helena.
"I don't know a thing about music," Jordan says with some hyperbole. "What I know about is raising money." And in her mind blues and Lady Luck were a good match. Fortunately there were some Helena residents already working at the casino who had a passion for the music and loyalty to the city. They thought it was a perfect fit for the casino to become one of the festival's major sponsors, pointing out that it was not only good public relations but good for the business it would bring to the hotel and gaming tables during the weekend of music.
Jordan made her pitch to the casino management, and what resulted was a commitment providing $100,000 a year over three years. It enabled the festival to expand to four days in 1995 and to add a "heritage" music stage to the other three stages: the main blues venue, a gospel stage and another for acoustic blues.
"Munnie convinced us that this is the one thing a year that the whole community gets involved in," says Neal Miller, the general manager of Lady Luck. He called it "our way" of participating in Helena's civic life. Says marketing director Penny Poore: "It is one of the largest free festivals left. For that alone you want to be connected to it. And it's in our backyard. So why not support it?"
This is the second of the three-year commitment for sponsorship, and festival organizers are hoping to secure another agreement to keep Lady Luck on board. Though there are several other casinos a few miles up the famed Highway 61 from Helena, none has responded like Lady Luck. Sullivan remembers when the first ones opened a few years ago after gambling on the river became legal. "We must have made a hundred phone calls and never got a penny," he says.
While Lady Luck is the festival's major sponsor, the local Anheuser-Busch distributor is the other major contributor, though at a lesser level than the casino. Joe Murphy, who runs the Helena operation, says the festival is not a money maker for him despite the copious amounts of beer and water consumed. He calls it "strictly being a good citizen." The remaining money for festival operations, which must be raised every year, comes from local businesses and individuals, collectively known as "King Biscuit Boosters."
The beer and water, food and souvenirs sales enable King Biscuit to turn a profit. Some of that money is earmarked for the next year's start-up costs, but the majority is shoveled back into rebuilding the old center city. This is because of Helena's participation in the Main Street program, founded 20 years ago by the National Trust for Historic Preservation to help local communities around the country revitalize their downtowns. King Biscuit is a major piece of the city's promotional effort.
Slightly less than half the money raised for the festival this year -- $120,000 -- covers the entertainment, according to executive director Elizabeth Matera. This pays for musicians on the four stages over four days. The top dollar given to the biggest name acts is $10,000 -- and that amount is reserved for a very few; most come for far less, between $1,000 and $3,000.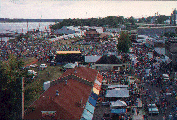 With the festival's growing reputation and special sense of history, Sullivan says it is rarely a hard sell to get good acts. He likes to tell the story of how upset Charlie Musselwhite was when his then manager turned down an invitation to the great harmonica player because, he said, Musselwhite would never play for so little. When Musselwhite heard about it, Sullivan says, "He was furious. This place has so much history that the musicians just want to be part of it," he says, chuckling as he tells of one Chicago bluesman booked for the 1997 event who has called him three times, delight in his voice, to make sure it's really true that he's playing King Biscuit!
Pillow, the main booker, smiles when he repeats the entreaties from managers wanting to book their talent. They promise him someone who sounds just like Koko Taylor. "Why would we want someone who sounds like her, when we have had Koko Taylor?" he tells them.
Ora Quarles has been running the gospel stage since the first festival in 1986. She never has trouble filling the bill, getting calls from groups all over who want to come to Helena for the exposure and cachet of being a part of King Biscuit. Some of the attraction, she believes, is the spirit of "fellowship" that envelops the town, not always present during the other 51 weeks of the year.
Like many Southern cities and towns in the blues belt, Helena and its neighboring town, West Helena, have had their share of racial tensions. For more than a year the racially divided city council of West Helena has been feuding over municipal services, the black alderman arguing that their community does not get its fair share and boycotting council meetings. The acrimony has spilled over to Helena. One state representative allied with the alderman threatened a boycott of the blues festival, calling it "a rip-off of black culture."
The accusation wounds the white sponsors and the many white volunteers. Fortunately, they say, his sentiments are not shared by many in the black community. Houston Stackhouse Jr., a federal housing official in Helena whose father was one of the regular King Biscuit Time musicians, is a strong supporter of the festival and a member of its advisory council. The festival is a special time for the city, Stackhouse explains. "It brings out the best in people. It brings about a sense of harmony."
Most of the key festival organizers and a large percentage of the volunteers are white, but King Biscuit attracts a very integrated audience. This is noteworthy given that blues in recent times continues to have a larger white audience than black.
While the sense of community during King Biscuit is a great positive, the music is central. Stackhouse credits the festival with giving exposure to his father and other King Biscuit greats in their home community. For a long time they "were not recognized locally," he says. "They always had to get recognition abroad."
Such thoughts are a gift to Pillow. "We want to put the music out," he explains, "so the people of Helena know their heritage."
---
This page and all contents are &copy 1997 by Blues Access, Boulder, CO, USA.