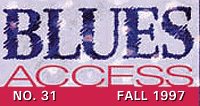 ---

Our pleasure
No matter "my writing style," I must admit that I'm finding it hard to find words to express my thanks for the Birthday Greetings (BLUES ACCESS #30), from you and the readers and Mary Katherine Aldin. I try to forget birthdays and age -- brooding on them doesn't help. But on this occasion I greatly appreciated the kind words and personal memoirs from so many friends and fellow devotees to blues.
As for my ringing banjo (or guitar, mandolin), the less said about them, the better. The adjective "mean" was more appropriate in its original usage.
Re: Dick Shurman's observations, a new edition of Story of the Blues has just been published here, and a new one of Conversation comes out later this year -- now the work on the encyclopedia is completed. Very many thanks again to you all.
Paul Oliver
Oxford, England
---
Remember the Piedmont!
I must go along with Elijah Crews' letter (BLUES ACCESS #29) with regard to the lack of Piedmont artists in the Rooster's "Essential Recordings." The South-central Chicago axis is, as usual, overly emphasized, with Southwest/California next. The Southeast/North Carolina gets short shrift, even though the various recorded artists from that region were often very successful selling to the Black audience of the time. He mentions Fuller, but Blind Blake, Buddy Moss and Josh White are essential names in the Southeast, too.
Wayne Robins' comment in his column that the Southeast blues approach traveled well is timely and to the point. While he mentions Gary Davis in his review of the acoustic white guys, he fails to mention Davis' primary black student, Larry Johnson, in the review of the Carolina compilation. Additionally, Pink Anderson was involved in medicine shows in '61 (traveling with Chief Thundercloud's show with Peg Leg Sam and Chilly Wind). I recorded the remnants of that show in 1972, its last year out. The Indian died that winter, so at least one medicine show was going on for more than another decade. It was probably the last "organic" one -- there have been some revivals and recreations since then, but Chief's had been going out since the '50s.
Finally, Baby Tate's guitar riffing on "Dupree Blues" owes itself to Willie Walker, the unsung prime influence in South Carolina (he was the only guitarist that Gary Davis met that he said good things about). He was from Greenville, recorded around 1930 and was a main input into early, developing Josh White. So Willie Walker, through Josh White (a folk circuit mainstay post-war) is a more likely influence on developing Dylan. And so it goes.
Also, the last sentence is incorrect, for it doesn't go back far enough. "Eldorado Cadillac" is a re-titling of Arnold's own record, "I Ain't Got You," which was covered by the Yardbirds. That's his own song, done for Vee-Jay in 1955. While not as well-known today as "I Wish You Would," it's a great song and performance that all should hear.
I realize I'm getting a bit preachy, but the Southeast should not be ignored in today's preponderance of SRV clones. The blues from the Piedmont was massively successful (comparatively speaking) as a black recorded music selling mainly to black record buyers. Remember that Fuller's "Step It Up and Go" sold more than 500,000 copies in 1940-'41. That the style was supplanted in the tastes of black audiences after a quarter of a century in the commercial front lines is not surprising. It still lived on local levels into the '70s, when I was doing my field work in the Southeast (see much of the Trix catalogue for evidence of this). That, plus Robins' observation, is what happened to that musical tradition. A long and successful run indeed. I don't disagree with most of the choices he made as "essential," but a whole tradition was woefully under-represented.
In spite of my critical tone, I do think the magazine is still doing well, and I like it. I just wish it weren't so damned hard to locate down here! Keep up the good work, and don't mind the soft brickbats I hurl from time-to-time. Although, if I'm not too careful, I'll become one of those boring old farts, if I haven't done so already.
Peter B. Lowry
Longueville, Australia
---
The Review Question
I take issue with Mr. Nelson calling himself a reviewer. From his definition of that role as expressed in his letter (BLUES ACCESS #30) I would call him a catalogue writer instead. Judging from his preferences, we would probably find him writing about music in the same manner one might describe draperies for Sears: That is, point out the color, material and ease of cleaning and then let the buyer decide. So a typical Nelson-approved review might go something like: "The band consists of two guitars, one drummer, a bass player and pianist. The songs are "Nobody Loves Me But This Hand," etc. Included in the mix are three slow shuffles, three fast boogies, etc. The vocalist sings in a soft tenor, the drummer keeps a steady beat (or is that too much opinion?) and the music is easy to dance to. If this sounds like what you're shopping for, then Bluesin' for a Bruisin' is just the thing."
If, as Mr. Nelson indicates, there's a big market for this kind of neutral (neutered?) review, he might do well to consider his own publication. It certainly would present a unique product in this upside-down world where critics and reviewers have the cheek to express opinions.
Jack Oudiz
Carmichael, California
---
Give me opinions, or give me ...
In BLUES ACCESS #30, Glenn Nelson writes: "It is my belief, mirrored by others, that few are interested in the personal opinion of the reviewer. They're not interested in whether or not the reviewer loves or loathes an album."
Well, damn, I guess I'm one of the few. I enjoy reading the personal insights of the reviewers, even when I disagree with them. Let's not turn BLUES ACCESS into "A Consumer's Guide to Blues Recordings." Hey, feelings is what the blues is all about.
Gary Spray
gspray@cjnetworks.com
---
It's in the Throat, Doc
must take issue with Dr. Harpo's answer to the Ontario reader who asked how Butterfield got that "throaty vibrato." Dr. Harpo replied that he got it by saying "yo-yo-yo" on the draw notes.
In fact, I believe that our friend from Ontario was on the right track in the first place: The vibrato is produced by using the throat as a valve with the power coming from the diaphragm. Many players use this effect, and I have to say that there's quite a difference in the way it sounds between doing it with your throat and doing it by saying "yo-yo." In fact, doing the latter is simply impossible if you're going to produce vibrato and tongue-block at the same time.
Listen to Butterfield's playing on the live version of "Everything's Gonna Be Alright." In the beginning and ending harp solos you can hear him producing vibrato on the #2 and #5 draw notes -- clearly, the vibrato is produced in his throat while blocking #3 and #4. At a point not quite in the middle of the song during a sustained #5 draw note you can hear a knocking or clicking sound, which I believe is his throat intermittently closing and opening.
I won't claim that no one uses a different technique, however, a careful listening to all Paul Butterfield's records leads me to believe it's all in the throat.
George Macy
Littleton, New Hampshire
---
Horwitz kudos
The candid pictures in David Horwitz's "Oh Dem Blues Women" (BLUES ACCESS #30) were among the best I've ever seen. It was interesting to read the photographer's insight regarding his prints, but with all due respect, these shots needed no explanation. He was expertly able to communicate the feeling with his camera! I would love to see more of these types of pictorials in your magazine.
Lori Bowling
lbowling@webslnger.com
---
Steel away
Please give my thanks to Catfish for his article on the "Sacred Steel" tradition (BLUES ACCESS #30). I had heard about the compact disc a few months ago, finally found it and, wow, I have worn it out and told all my blues buddies about it and that it's a must-have for their blues collection. Catfish's article gave me even more insight to this great musical gift. A fine job. I look forward to each new issue.
Be well and happy and always hum a blues tune.
Cat
New Jersey
cgremes@aol.com
---
Talk About Missing the Point
I know that all reviews are subjective, but who is the all-but-dead reviewer who dared trash the James Cotton Band's newly reissued Live & On the Move (BLUES ACCESS #30)?
First, the "strange" Buddah Records, then One Way Records, and now the import label Sequel, have all understood that this is a classic album that deserves to be heard. (It always served as a great warm-up for those three-hour "sign-up" shows I'd do as a college DJ, filling the airways with out-of-hand blues while I would select the show's tunes.).
Featuring not only what is perhaps Cotton's most cooking band ever, "Mr. Superharp's" voice and harp are captured at their peak. It's hard to ever go wrong with this still-underappreciated legend, but this album surely deserves a spin at any party worth its salt. (Especially if, like myself, you were too young to see the real thing during the mid-1970s.
Christopher Burger
Northampton, Massachusetts
---
We love mail. Write to:
---
This page and all contents are &copy 1997 by Blues Access, Boulder, CO, USA.