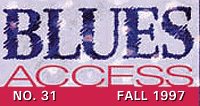 ---
Discs that have been given full reviews in this or previous issues of BLUES ACCESS
are quoted with the reviewers initials in brackets.

Red Rooster Pick

Catfish Pick
---
Bernard Allison - Keepin' the Blues Alive

Ron Levy's new Cannonball label comes out blazing with its first release. With his father Luther's passing, 32-year-old Bernard has been left quite a load to carry and appears ready and able to shoulder it. (Cannonball)

Marcia Ball - Let Me Play With Your Poodle

"Ball comes across as a hard-headed-but-soft-hearted gal, hitting a just-right balance between ribald double entendres and proudly sappy fare." [DM] (Rounder)

Marla BB - Mercy

Marla BB puts herself out there as a belter, but I tend to prefer the fragility in her voice on the quieter stuff like "Sugar in My Bowl" and the lengthy "Stand by Me" over the more obvious faster numbers on this live-in-New-York recording. (Ascending Productions)

Lurrie Bell - 700 Blues

Guitarist Lurrie Bell is a man obviously embattled with his personal demons. It is no small feat that he is able to harness them for an album of this high quality and intensity. (Delmark)

Blues Kats - Funja

An impressive pianistic tour-de-force, made even more so by the realization that Arthur Migliazza is just 16. He's joined by 17-year-old percussionist Joe Martinez on a half-dozen originals and covers that range from Mr. B to Benny Golson to Meade Lux Lewis. A good'un! (Blues Kats)

Bo Diddley - His Best

This gets the Catfish Seal of Approval only if you don't already have these 20 essential tracks in your collection. If you don't --what are you waiting for? (MCA/Chess)

Tommy Castro - Can't Keep a Good Man Down

Castro's sophomore Blind Pig disc follows in the tracks of its predecessor, with the same kind of personable, guitar-heavy, Southern-style blues that has turned heads in the Bay Area the last few years. Add some nice production touches by Jim Gaines and you've got a full package. (Blind Pig)

Bill Coday - Can't Get Enough

Coday follows 1995's Sneakin' Back with another solid collection of soul/blues material. Don't miss the aching duet with Barbara Carr on the exquisite cheating ballad, "Not a Word." (Ecko)

Andy Cohen - Oh Glory, How Happy I Am

Andy Cohen humbly picked 18 of the Rev. Gary Davis' religious songs, from the familiar ("Samson and Delilah") to the obscure ("Crucifixion") and recorded them with the kind of respect and conviction they deserve. With copious liner notes about the songs and Davis' spiritual side. (Riverlark)

Ronnie Earl and the Broadcasters - The Colour of Love

Ronnie stretches from blues to jazz to a Santana-esque blend of the two, all played with his usual passion. Greg Allman, Jaimoe and Hank Crawford guest. (Verve)

Terry Evans - Come to the River

While the song selection is just a notch below that on his superb Puttin' It Down, Evans' rich baritone injects a gospel soul sound into any material. Ry Cooder and Juke Logan (on two songs) are the best known members of the top-notch band. (Audioquest)

Deitra Farr - The Search Is Over

This is Deitra's first solo release, though she's no stranger to the Chicago faithful from her work with Dave Spector and Mississippi Heat, among others. Guitarist Johnny Rawls leads the band thru a nice mix of straight-ahead and soul blues. (JSP†)

Lowell Fulson - Think Twice Before You Speak

(1984) Recorded with Lowell's touring band while he was on a European swing. Perfectly understated as usual, it's a welcome addition to the Fulson canon on CD. (JSP†)

Gene Harris - In His Hands

The accomplished jazz pianist attempts to bridge the gap between gospel and blues on a dozen spirituals. The results are truly inspirational. The various vocalists pour on the soul and Brother Jack McDuff makes his churchly presence known on organ. (Concord Jazz)

Homesick James - Words of Wisdom

Another set of boozy, Fred James-produced slide guitar masterworks from one of the last of the first generation of bluesmen, as unrepentant and rascally as ever. (Priority)

Howlin' Wolf - His Best

The Howlin' Wolf hit parade: If you don't have these already, something is wrong with you, but here they are on one disc with great remastered sound. Willie Dixon wrote half the 20 tunes. (MCA/Chess)

Eddie King - Another Cow's Dead

If you like your guitar playing in-your-face Chicago-style and your songs wild and woolly, slightly out of control with a good dose of soul, this former Koko Taylor guitarist's latest is just the place to find it. (Roesch)

Louisiana Red/Lefty Dizz - Walked All Night Long

"Red and Dizz's two-guitar dynamic is one of the most unusual in the blues annals on this cliché-free album." [WR] (Blues Alliance)

Tony Mathews - Condition: Blue

This former guitar sideman for Ray Charles and Little Richard knows his way around a riff, and he smokes his way through these 10 tracks. Pick hits: "Comin' Home to You." (HMG/High Tone)

Jay McShann - Hootie's Jumpin' Blues

See Catfish Whitey's Pond page 10. "The legendary bandleader, with the eager and able help of the Duke Robillard Band, is making some of the best music of his life, and it's not just a nostalgia trip, either." (Stony Plain)

Nuno Mindelis - Texas Bound

True to its title, this Euro-bred Johnny Winter sound-alike and trio is in an Austin, Derek-O'Brien-inspired groove from beginning to end, with guests like Lou Ann Barton and Steve James stepping in for a song or two. (Eldorado)

Barbara Morrison - I'm Gettin' 'Long All Right

Classic big-band, soul-blues-jazz arrangements from a classic singer (ex- of the Johnny Otis Band) and some of L.A.'s finest. As she explains during "I'm Getting 'Long All Right," she's not Jim Morrison's sister and she's not doing bad, either; she's easily able to turn from the big band "That Old Black Magic" to Bill Withers' "Use Me" without breaking a sweat. (Chartmaker)

Paula and the Pontiacs - 30 By 90

In the liner notes, Paula Rangell admits that these songs mark the passage of a period of her life, and there's a certain mature blues perspective to much of 30 By 90, not hurt one bit by her brothers' saxophone guest shots. (Pontiac Productions)

Rod Piazza and the Mighty Flyers - Tough and Tender

What else can you say that hasn't already been said about Piazza? Great harp tone, terrific songs (skip to the title track or "Scary Boogie"), nice production touches, drum-tight Mighty Flyers and sassy Miss Honey on the keys. Turn it up. (Tone Cool)

Raw Hide With Gary Sloan - Gypsy Moon

A Serbian blues band who got hooked up with Gary Sloan gets down-home, up-front and dirty. Pick hit: "Doin' My Thing," which laments not finding real blues in Arkansas, but finding it in instead in their own backyard. (Commerce)

Kenny "Blue" Ray - In All My Life

"This bearded blues boy has it all: phrasing, chops, musical ideas that stretch forever -- and tone." [JJ] (JSP†)

JT Red - Smokin' Cat Blues

Pop soul/blues/rock from what appears to be a teenage band with good instincts is better than I would have been ready to admit. They're definitely green, but their naivete works in their favor most of the time, especially the faux soul of "Cryan' Shame," the earnest acoustic Delta-style introduction to "River's Flow" and their decidedly blue-collar lyrics ("Too Broke to Pay Attention"). (Gem Tam)

Knut Reiersrud - Tramp

Stunningly recorded disc of original compositions (all African derived) by the Swedish acoustic guitarist with three traditional blues (one featuring the Blind Boys). Reminiscent of the kind of project Ry Cooder would do in both concept and execution. Highly recommended for the adventurous, but probably pretty hard to find. (Kirkelig Kulturverksted†)

Roy Roberts - Every Shade of Blue

This former sideman for Solomon Burke, Eddie Floyd and Otis Redding has the same kind of vocal chops and a guitar style that matches the passion of these 12 original songs. (King Snake)

Jimmy Rogers - Complete Chess Recordings

Quietly slipped in with all the Chess 50th anniversary "Best of" collections is this long-awaited gem. Here are all 51 recordings made between 1950 and 1959 (including 10 seeing the light of day for the first time) by this superb guitarist/vocalist. Jimmy (who still tours) is the real deal. (MCA/Chess)

Billy Sheets - Please Tell Me Why

Sheets -- who is practically a Roy Brown soundalike -- breathes fresh life into eight '50s and '60s jumpin' R&B classics. (Big Clock)

Little Mack Simmons - High & Lonesome

Veteran South Side harp man shows what serious Chicago blues is all about. Tuff backing includes Studebaker John, Big Mojo Elem, Erwin Helfer and Twist Turner. (St. George)

Fillmore Sims - It's Going to Be My Time After While

Sims (a k a Clarence "Guitar" Sims, formerly Fillmore Slim) will most likely never be the kind of superstar that he envisions himself, but he's still the kind of bluesman you wish you could go hear in your hometown. He was a vocalist for L.C. "Good Rockin' " Robinson before doing some federal time in the early '80s. (Uptown Video)

Jo-El Sonnier - Cajun Pride

Bookended by the "Lake Arthur Special" and a chugging, swamp version of Chuck Berry's "Johnnie Fais Bien," Cajun Pride lives up to its ambitious title, a platter of fiddle tunes, blues and waltzes with plenty of hot sauce, all tributes to his musical role models. (Rounder)

Otis Spann With Muddy Waters and His Band - Live the Life

This addition to the Spann catalogue is a good 'un, six songs recorded during a Martin Luther King tribute in 1968 with Muddy and Willie Dixon, a handful of others with Muddy and a band and a couple odd tracks mixed in from the same period. As Dick Shurman notes on the sleeve, Spann reminds us "great blues is as much about giving the music and beat a chance to breathe as it is about in-your-face high energy." For pure blues, you can't beat this. (Testament)

Gary Rex Tanner - Feel the Heat

Easy-going, smart blues duo doing their thing with a sly sense of humor from the far edges of the music business. Inspirational verses: "Hey headshrinker, analyze this song," and" "I've got my timing and my lines down, just to get a good review." (Little Frog)

Hans Theesink - Crazy Moon

Theesink recorded the basic tracks in Vienna and ferried the tapes to musicians he wanted to work with in Austin, Dublin and L.A.. Despite the hard traveling, most of this has the feel of a late-night acoustic jam session, anchored by Theesink's bass vocals and guitar playing. Can't have much of a better time than this, from the accordion-charged "Paint the Town" to the J.J. Cale-sounding title track. (Ruf†)

Tre and the Blue Knights - Blues Knock'n Baby

Trying to keep your music in a traditional vein without being labeled retro is a tricky business, but Tre manages to walk the fine line of his ancestry (his father is L.V. Banks) from the opening ballad "Heart and Soul" to the boogie instrumental that shuts this thang down. (BMI/Spoonful)

Various - Working on a Building: A Collection of Resonator & Bottleneck Gospel Blues

The disc's title refers not only to the spiritual of the same name, but to the fact that it is a benefit CD for Habitat for Humanity. Nine musicians -- led by producer Michael Hakanson-Stacy -- work out on the type of "sacred blues" you might have heard from Blind Willie Johnson or Gary Davis. (Time & Strike Inc.)

Various - A Tribute to Leadbelly

This recording of friends gathered together on a night in 1975 to remember the great songwriter and performer, among them, Arlo Guthrie, Pete Seeger, Brownie McGhee and Sonny Terry, is a good addition to the Leadbelly legacy. (Blues Alliance)

Various - Songs of Janis Joplin: Blues Down Deep

In a few months, Janis will have been gone for as long as she was alive (27 years). Scary thought, huh? Gone, but not forgotten, as the numerous stellar performances prove on a tribute disc that really works. Etta James gets the plum of "Ball and Chain," but Tracy Nelson, Otis Clay, Lou Ann Barton, Willie Kent are standouts among an outstanding cast -- although Koko Taylor can't find the melody of "Get It While You Can." (House Of Blues)

Junior Wells - Live at Buddy Guy's Legends

Highly charged stage set of nothin' but blues (i.e., no JB funk imitations) from the 62-year-old harp master. His reptilian band ("Fingers" Iguana on organ, Stevie Lizard on guitar!) features a punchy horn section. (Telarc Blues)

Andre Williams Chicago Blues & Rhythm Band With the El Dorados - Fat Back & Corn Liquor

Andre Williams proclaims the Gospel of the Salacious on this wild and woolly ride through the land of Double Entendre ("Mother Fuyer") and Excess ("Put a Chain on It"). Or as Williams puts it so succinctly, "Fuck the orange juice, just give me the gin." (St. George)

Mighty Joe Young - Mighty Man

" What he has achieved at this juncture of his career is a thoroughly updated and complementary musical style." [JO] (Blind Pig)

---
To be eligible for review in BLUES ACCESS, send two (2) copies of all new releases.
---
This page and all contents are &copy 1997 by Blues Access, Boulder, CO, USA.