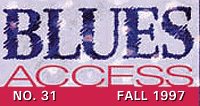 ---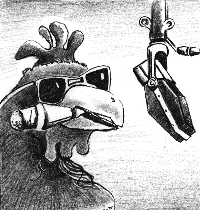 Uncommon Ground
"Them white people down there always did like the blues. They just didn't like the people that created the blues."
-- Robert Jr. Lockwood
In 1968, I graduated from a small school called Western Maryland College. I received what is known as a liberal arts education, although the school and the town and county it is located in were anything but liberal. Carroll County, Maryland (now becoming, thanks to urban exodus, quite the fashionable address) was a renowned Ku Klux Klan hub. When Martin Luther King was assassinated, we organized a march through downtown Westminster, the county seat where the college is located. The Dean of Men was appalled: "Don't you know some cracker could just stick a rifle out a window and pick you off?"
Although the town did have a black population, it was concentrated in an area of less-than-stately homes (most of them owned by the college) called Union Street, close by but generally invisible from College Hill. It was a convenient arrangement. Quite a few Union Street residents had menial jobs at the school, mostly in the kitchen.
I was a member of the college's 100th anniversary class. It wasn't until the 101st class that an African-American would actually be handed a diploma. It was not uncommon to hear the "N-word" tossed about in routine dormitory conversation. A note written about one fraternity in my yearbook: "Finally integrated with a 'colored' TV." Coming from a big-city public high school, where my friends and classmates were a mix of racial and ethnic backgrounds, this was all pretty incomprehensible to me.
Walt Michael was my senior year roommate and one of my closest friends. He was the son of a Methodist minister with a penchant toward social justice. The Rev. Ira Zepp was the Dean of the Chapel (at the time WMC had an affiliation with the Methodist Church). Ira had marched with Martin Luther King in Alabama and it changed his life. That experience and the commitment it gave him helped warm him to people like us, but it made him a relative outcast among his peers on the faculty and the college administration. When a group of students created an outreach program to the Union Street community, Ira was their faculty adviser.
Meanwhile, we and the rest of our circle of friends did all the things that students do: partied, got drunk, got high, acted stupid, tried to bed the opposite sex and occasionally did enough bookwork to pass our classes. Some of us also got very heavily into rhythm and blues. Little Royal and the Swingmasters, a hot R&B combo from Annapolis, played regularly at our beer bashes. In 1967, a few of us had our little white brains scrambled by seeing James Brown at the Howard Theater in Washington, D.C. Yours truly even requested that the administration help us start a radio station with the idea of playing as much soul music as possible. (Request denied, incidentally, mainly because they were afraid we'd use it to spew radical political ideas.)
Flash forward 30 years. Ira Zepp has become a professor emeritus. ("Getting used to retirement took me, roughly, about 10 minutes.")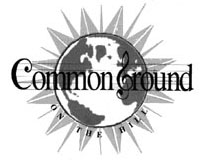 I, of course, have long ago moved out West and seen the blues become a central focus of my life in both radio and writing. Walt Michael has become a highly-respected bluegrass/new-acoustic musician and one of the foremost hammered-dulcimer players in the country. After many years living in upstate New York, he has relocated to ... Westminster, Maryland, where by sheer force of will he created Common Ground on the Hill in 1995, an annual summer program held in early July featuring performance and education in music and arts, importantly subtitled "Traditions: Black, White and Native American."
Walt and I have stayed in regular touch over the years. As he described the Common Ground concept to me (which I understood to be something like the Augusta Heritage Workshop with some "social relevance" thrown in), my usual response was, "Sounds cool, but why beat your head against the wall at Western Maryland?" His usual retort was "Because they need it here."
This year Walt called me to say that Common Ground wanted to put more emphasis on blues. Bluesman Guy Davis and effervescent Baltimore singer Lea Gilmore had been on the faculty last year, and this time 'round slide guitarist Scott Ainslie (author of Robert Johnson/At the Crossroads, a book of definitive transcriptions of all the master's recordings) would be there, along with some area players. Would the Red Rooster come to teach a course and emcee a blues night?
Not really sure what I was getting myself in for, I agreed and even offered to have BLUES ACCESS sponsor the event. I agonized over my course description. With artists like Guy and Scott there doing guitar instruction, what kind of class could a non-musician like myself teach? I finally came up with something called "Free Range Blues" which would allow me to free-associate and play CDs for an hour or so each day.
I arrived late on Sunday, direct from three tiring days at the Mississippi Valley Blues Festival in Iowa, and barely in time for a meeting of the more than 50 instructors. Fatigued as I was, the buzz in the room was palpable and instantaneous. It didn't take long to realize that I was in the company of some seriously talented, articulate, open-hearted folks who were broadcasting a lot of creative energy. And the fact that I was immediately acknowledged as one of them buoyed my spirits no end. This, clearly, was going to be an interesting week.
Only two students had signed up for my class, but an intimate classroom setting is part of the appeal of most summer workshops. (The fact that I was scheduled at the same time as a dozen instrumental instruction classes didn't help.) Meanwhile, I had to track down the performers and organize a batting order for Blues Night.
The first one I located was Shelly Dorsey Ensor, who grew up on Union Street and was teaching "Gospel and Jazz Singing." As soon as I walked into her classroom I thought, "This is the class I want to teach." Here was this beautiful woman animatedly waving her arms around while vaguely orchestrating the 15 or 20 students laughing and yelling back at her. In the span of four days she would coalesce this group into a unit that delivered a stunning pop gospel production on open mike night. (And I would get my wish: I presented my gospel unit to them on Friday.)
Blues Night came off with only minor glitches in front of an enthusiastic audience and a local cable TV camera crew. Guy Davis gave a typically energized performance; Ainslie showed his chops on a flashy National Steel from the '30s; Lea and Shelly got to barrelhouse; and guitarist Chris Shump put things to rockin' with the evening's only electric set.
Needless to say, there was way more going on than any four or five people could absorb. Want to build a mountain dulcimer or a didgeridoo? Improve your harp playing -- blues or Celtic? Sing in a gospel choir? Learn Seminole or Appalachian basketry, African drumming or dancing, humorous songwriting or Native American shell carving? On and on it all went, all the time.
Underlying it all, Common Ground's beating heart and unifying influence was Ira Zepp and Lea Gilmore's "Martin and Malcolm, Their Nightmares and Dreams: An Opportunity for Dialogue." Here's how Lea describes it: "Facilitating the 'Malcolm and Martin' class irreversibly changed my life. Using the social philosophies of Martin Luther King Jr. and Malcolm X as a foundation, 30 people sat in a room together to do the virtually impossible: talk honestly about what it means to be black, white or whatever and how we react to that and each other. Damn, it was hard. Here I am this young black woman daring to take the lead and having to not only confront but confess my own demons. It was a five-day emotional roller coaster ride -- and a ride I am so glad I took. Through our anger, frustration, joy and laughter we did indeed find common ground. How many people ever get that opportunity?"
This is the theme that elevates Common Ground to an uncommon level and gives it a spiritual force. For one brief week members of races and cultures so often in conflict are able to live the truth -- that we can indeed bring to and share with each other the most elemental part of our selves: our collective creative soul.
Arguments about who has a "right" to sing or play or appreciate the blues never seem to die. I personally find them tedious and meaningless; they also hold within them plenty of racism going in both directions. I love blues because of its delicious power of expression. It's hard for me now not to see in it a possibility -- even a responsibility -- to embrace our differences, to establish communication and deal with our own demons. Perhaps we can use what we learn to create even higher degrees of expression -- not only musically, but on a very basic human level.
On the other hand, we could just go have another beer and be entertained. It's all in how we choose to view the blues.
To be placed on the Common Ground mailing list, call (410) 857-2771 or write to Common Ground, WMC Box 1296, c/o Western Maryland College, Westminster, MD 21157 or e-mail cground@qis.net.
---
Blues from the Red Rooster Lounge originates on Boulder's KBCO 97.3 FM (where it can be heard Sundays at 9 p.m.) and airs weekly on 15 radio stations around the U.S.. Check with your local station for availability. (Station program directors can receive a sample copy of the program by calling the Longhorn Radio Network at 1-800-457-6576.) The Rooster also consults for the MusicChoice digital cable radio service, a 24-hour commercial-free, all-blues channel available from hundreds of cable providers nationwide.
---
This page and all contents are &copy 1997 by Blues Access, Boulder, CO, USA.