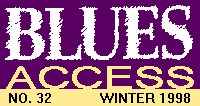 ---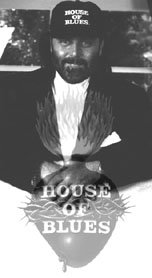 Change at the top of the House of Blues
The founder of the House of Blues Entertainment Company has stepped down as CEO of the company. According to an October 27, 1997, press release, Isaac Tigrett will assume the role of chairman emeritus, maintain his seat on the company's board of directors and continue advising the company on future development and projects.
He is replaced by Greg Trojan, who called the move "a natural corporate evolution" and said that the transition had been planned for some time. "This change in role is not in response to the company's spending under Isaac's leadership or historical financial status," the release quotes Trojan.
According to articles in the Boston Globe and Los Angeles Times, Tigrett's change in status followed a September meeting in which the board expressed displeasure with the performance of the company, which was founded in Cambridge, Massachusetts, by Tigrett with backing from the Harvard Management Company.
Business Week magazine reported that the company's latest figures showed a $16 million loss on sales of $60 million, enough to displace Tigrett, who has been widely known for his free-spending leadership. Tigrett founded the Hard Rock Cafe chain before selling his partnership and starting House of Blues in 1992 (see BLUES ACCESS #22 for more about the company's beginnings).
There are now six House of Blues clubs open, in Cambridge, Los Angeles, New Orleans, Chicago, Myrtle Beach, South Carolina, and most recently as part of the Walt Disney complex in Orlando, Florida, with more on the drawing boards.
The Globe also quoted sources close to the company that say Tigrett lost support of the board last year when the company took a big hit in the wake of a $15 million extravaganza at last year's Summer Olympics after the event fizzled because of the bombing that rocked the games.
---
Boom Boom Boom Room
David Feld writes: It was boom-boom time in San Francisco October 2 as musicians, politicos and party people jammed the opening night of John Lee Hooker's Boom Boom Room. Hooker has lent his name and prestige to the Fillmore district club, f ormerly the site of Jack's, a neighborhood blues bar for more than 50 years. The Fillmore was once the center of San Francisco's live music scene, with clubs like Jimbo's Bop City presenting jazz and blues.
Hooker, dressed in a brown suit with matching fedora, took in the festivities from his front-row, red vinyl booth as television crews and luminaries vied for his attention. With his hat pulled low and his dark shades on, he displayed his customary cool impassivity.
Providing the music was an all-star band culled from the Robert Cray and Charles Brown groups and fronted by vocalist Brenda Boykin of the Johnny Nocturne Band. Joe Louis Walker joined in for the second set. Other great guitarists in attendance included Cray and Roy "Chops, Not Chaps" Rogers.
---
Health updates:
More on what has been a punishing year on the blues medical front: As we went to press we learned from manager Tom Radai that Jimmy Rogers has been diagnosed with cancer of the colon. Surgery was set for early November. Get well cards, etc., can be sent to Jay Lane (his birth name), 6314 S. Honore, Chicago, IL 60636 or c/o Thomas Radai, 2613 S. 51, Milwaukee, WI 53219 … New Orleans singer Johnny Adams is resting at home after surgery in Baton Rouge for prostate cancer, which has metastasized beyond its original location. He began chemotherapy in late October. While insurance will cover some medical bills, Adams is unable to work and in need of aid to pay his day-to-day living expenses for his family. Donations: Johnny Adams Benefit Fund, Hancock Bank, PO Box 591, Baton Rouge, LA 70821, Account #91 888 98 … After being diagnosed with lymphatic cancer and suffering a heart attack in September that has left him in a coma, manager Marty Salzman reports that Junior Wells remains in serious condition. Though Wells slips in and out of consciousness and sometimes recognizes visitors, the heart attack weakened the harpist enough so that, at press time, he wasn't able to begin chemotherapy … Journalist Robert Palmer, long-time New York Times and Rolling Stone writer, author of Deep Blues, producer of R.L. Burnside and Jr. Kimbrough and erstwhile blues supporter, is in a New York hospital in need of a liver/kidney transplant. Palmer's insurance won't pay for the enormous bill. Send tax-deductible donations and get well cards to: Giorno Poetry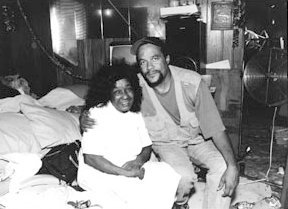 Systems/Robert Palmer Fund, 222 Bowery, New York, NY 10012 … Singer Jessie Mae Hemphill is still recovering from a stroke at her home near Como, Mississippi. Photographer David Stevens visited her in August and found her in good spirits. And New York blues singer Marla BB reports that Hemphill said during a telephone conversation that she was progressing. "I'm coming back this way more and more every day, and I thank God. I miss my fans." She isn't working and can't play the guitar, but she is driving her car a little bit. If you're passing through Como on a Sunday, she says, you can sometimes find her singing at the Rev. Frank Wart's church. "Goin' this way is more better for me than any other way, goin' with God. I'm full of the Holy Ghost." Contact her at Box 975, Senatobia, MS 38668.
---
Common Ground 1998
If you read the Rooster's column last issue, you'll know a little about what's behind the Common Ground program, a week-long series of classes, workshops and concerts focusing on music and the arts, with an underlying theme of facilitating better communication among races. A partial schedule for the program's fourth summer has been announced: "Traditions: Native American, Black and White" takes place July 5–10 at Western Maryland College. New this year is Common Ground's American Music and Arts Festival July 11 & 12 at the Carroll County Farm Museum, Westminster, Maryland, featuring regional and national performers. The Blues Week section of the program is sponsored by BLUES ACCESS, with Sparky Rucker, Scott Ainslie, the Red Rooster, Lea Gilmore, Sankofa Dance Theater, Eric Byrd, Shelly Ensor, Harry Orlove and many others TBA. The event is held in cooperation with the Baltimore Blues Society. Write, call or e-mail for free catalog: Common Ground on the Hill, Western Maryland College, Westminster, MD 21157, (410) 857-2771. Email: cground@qis.net, website: http://www.mojoworkin.com/cg
---
• • •
An item in last issue's Access section referred to a performance by Louisiana Red as his first American show in 15 years. Though Red said that, the singer and guitarist has appeared on these shores during that period.
---
Send information for this column to ACCESS, c/o BLUES ACCESS, 340 S. 42nd, Boulder, CO 80303, fax to (303) 494-1127 or e-mail Lrucker@aol.com.
---
This page and all contents are &copy 1998 by Blues Access, Boulder, CO, USA.