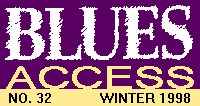 ---

Hibernation ruminations: Get out my life, El Niño! That's the would-be song lyric that was rambling through my brain as I shoveled my way out of our igloo in prematurely frozen Boulder this morning. Wasn't it just the other day that I was watching the World Series? Come to think of it, it was pretty chilly there in Cleveland, too.
If you're chillin' just a bit more than you'd care to be, we hope this issue will warm up your soul a bit. With that in mind, we travel to South America (where it's currently summer, or so they tell me) to take a reading on the burgeoning blues scene there. As Tom Moon points out, the strong affinity for blues in Argentina is based in political reality.
When I had the rare opportunity to drive through Mississippi with Alan Lomax a few years ago, the folk researcher emphasized numerous times that what he called "the land where the blues began" was a de facto fascist state for the first half of this century (at least). In the preface to his book of that title, Lomax laments the life of Southern working-class blacks in that era, trapped under the thumb of a "decadent planter class (who) knew how to exploit them and, when they felt it necessary, resorted to the most savage exemplary violence to keep these vigorous and ambitious people in line." Music as an outlet was a response to that repression, and it was often suppressed as well.
In Argentina, the repression hasn't been racially motivated, but it has been every bit as brutal. And it has also been not only state-sanctioned, but — through successive dictatorships, military and otherwise — state-sponsored. As Moon points, not only were those who used the blues to sing out against the violence subject to arrest and worse, so too were their audiences! Nonetheless, the music has flourished there, and we even provide you with some album titles for the adventurous to check out.
Interwoven threads: Blues' influence on rock music is well-documented and something nearly all of us are aware of, particularly as it pertains to bands who came up in the '60s. Without the blues, what the Beatles, the Stones, Fleetwood Mac, the Dead, Santana, Dylan, Led Zeppelin, Savoy Brown, etc., were playing would have been radically different, if it had existed at all.
While most blues fans of a certain age readily accept rock as their music of alternate choice when they're not listening to the roots, my experience (and that of contributor John Douglas) has been that these same fans aren't nearly as ready to embrace jazz. Granted it first took place during an earlier generation and the beat can be a bit harder to follow for the rhythm impaired, but the development of jazz is just as dependent as — if not more so than — rock'n'roll upon its blues influences. Even a John Coltrane, whose later interstellar improvisations can be daunting even to the die-hard jazz lover, started out firmly entrenched in blues and R&B and followed a fascinating progression into the nether reaches that the intrepid listener can follow as far as he or she cares to go.
Starting on page 38, John (Douglas, that is) sheds some light on the points where the distinction between jazz and blues becomes murky. Amply illustrated with vintage album covers, the article details a myriad of options for the novice to experience one of the blues' grandest descendants. And bringing it down to specifics, the Rooster serves up an accompanying septet of scrumptious suggestions culled from the recesses of his own jazz vault.
Catfish Whitey also gets into the musical miscegenation business (being a musical purist is just too, too impossible) as he dives back into Harry Smith's Anthology of American Folk Music and Mr. Lomax's 12-disc Southern Journey. The Catfish finds that spending some time with America's folk traditions gives valuable perspective on and added richness to our understanding of the blues.
And then, speaking of having a handle on the wide-screen view of American musical sources, there is Ray Charles. Both the Red Rooster and reissue specialist Wayne Robins dove into the new box set that celebrates the five-decade career of just your average blues-jazz-R&B-country-gospel alto-sax playing vocalist-pianist and came up with fresh appreciation for the progenitor of soul. If you only know Mr. Charles from those Pepsi commercials, you've got some serious revaluating to do (especially when the set's producers sneak in an unlisted, ironic version of Ray singing, "Things go better with Coke"!).
Fear not, though, for in this musical melange there is still plenty of straight-ahead blues nitty gritty: One of B.B. King's favorite guitarists, Lonnie Johnson is profiled here, along with St. Louis singer Clara McDaniel, plus our expanded reviews section and plenty more. So until the spring thaw comes, dig in … and let's hope you don't spend too much time this winter digging out.
-- Cary Wolfson
---
This page and all contents are &copy 1998 by Blues Access, Boulder, CO, USA.