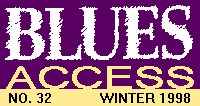 ---

Electric Country Blues
Jim Weider
(Two 90-minute VHS tapes)
---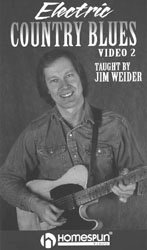 Just what the heck is Electric Country Blues, you ask? In my opinion, it's the genre of Nashville Cats -- you know, the Telecaster masters. Like Muddy Waters meets Chet Atkins, which resulted in the blues styles of Carl Perkins, Lonnie Mack, James Burton, Roy Buchanan and Jerry Reed. Jim Weider turns out to be a competent instructor and an excellent guitarist, a real Tele-master in his own right (he's also the current version of Robbie Robertson in the Band -- and he fills his shoes well).
That is what it's all about here; if you want to learn a lot of cool, double-string bends, pedal-steel sounds, hammer-ons, pull-offs and open-string licks, this is the place. Weider starts out on open-string licks and drone string sounds using flat 3rds and 7ths. With each lick transcribed in the accompanying booklet, Homespun does a good job of supporting the lesson plan. The split screen is particularly valuable here: the right hand Travis picking style is what makes it all work, using a flatpick and the second and third fingers of the right hand to pluck counterpoint. Playing a '54 Esquire on tape one, Weider gives us a non-stop 90 minutes of some of the coolest licks in the styles of James Burton, Jerry Reed and Scotty Moore, as well as a number of guitarists lesser known outside of Memphis and Nashville.
The lesson plan could be a bit more organized, but the tape is well produced and Weider's presentation infects the student with the Nashville feel, covering techniques like right hand muting, use of amp tremolo and even some dropped D runs you won't find anywhere else. While not normally associated with this guitar style, you can hear that John Fogerty obviously dipped into this same well.
On tape two, Weider picks up right where he left off (without even changing shirts!), and starts slinging some great Lonnie Mack riffs your way -- whoa, did that sound like SRV? He's even got the same Magnatone amp Lonnie used on his classic hit, "Memphis." Weider then moves on to focus on sliding double stops using 6th triads (6-9 and 6-7), and he runs us all the way up and down the neck, leaving no fret untouched.
Especially useful are the regular breaks in the one-on-one lessons to have the material played with a band so the student can really understand the material in context. I only wish they had elected to use recognizable songs that we could then add to our repertoire. (Apparently once that happens royalties must be paid and the price of the tape goes up.)
Weider provides a great segment on how to explore and utilize various inversions of standard triads to make your rhythm playing more interesting in blues or rock'n'roll styles. He closes out tape two with a fun segment on chicken-pickin', string snapping and chord bending a la James Burton. If you're an intermediate to advanced guitarist and want to really play the hell out of your Telecaster, these tapes will fill up a lot of time. (Homespun Tapes, Box 694, Woodstock, NY 12498; (800) 33-TAPES)
---
150 Hot Licks
Arlen Roth
(VHS tape)
---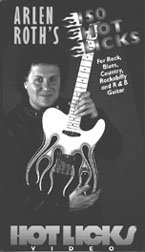 Continuing our Telecaster theme, Hot Licks founder Arlen Roth brings us his 10th video, this one strictly designed to provide grist for the guitar mill. It's like someone said, "Hey Arlen, sit down and show us a few of your coolest licks for the camera, OK?" And that's just what he does.
Roth starts out by saying he's got maybe 100 licks to run through -- I guess they named the tape after they were done and actually had 150 -- and he groups them loosely into blues, rock, country and rockabilly, with the majority usable in any or all of these categories.
Each riff is played a few times with a handy on-screen counter denoting which transcription to refer to in the accompanying booklet. It's fast and furious, utilizing the video teaching medium to its most advantageous -- 150 licks in 64 minutes. Whew! I was pleased when we got to lick 50 and were still in the "blues" section! As he moves on to rock licks, Roth dates himself a bit -- his first few rock licks are old Clapton and Page runs from the '60s and '70s -- but they're all good blues licks. Roth moves on to country and rockabilly, the official stomping grounds of the Fender Telecaster.
Having just finished viewing the Jim Weider tape, I found it interesting that a Tele-master like Roth didn't have a whole lot more to offer here other than some great b-bender licks without the b-bender! Don't get me wrong; he covers a lot of the same ground as Weider, but not in the depth you might expect. Both are for intermediate to advanced guitarists only. So if you're looking to spice up your playing with a few new ideas, here are 150 presented in a quick, no-nonsense, split-screen format with tab. (Hot Licks Video, Box 337, Pound Ridge, NY 10576; (914) 763-8013).
---
Electric Blues and Slide Guitar
Warren Haynes
(VHS tape)
---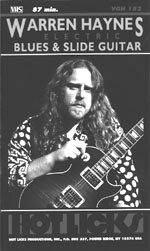 Guitarist for the Allman Brothers Band (as well as Gov't Mule and occasionally Blues Traveler), Haynes starts with a focus on string attack, vibrato and note bending. Rather than running off a huge number of licks, he concentrates on the more subtle differences in how a few standard licks can be played/interpreted in a more expressive fashion.
I think it's refreshing to hear a guitarist/instructor tell you in the opening minutes that often it's the notes you don't play that are the most important. Leaving spaces is critical to personal expression, and Haynes talks about this in several contexts, from phrasing and punctuation to dynamics and attack. One of his overriding concerns seems to be convincing the student that playing the blues is about expressing the emotions you are feeling at the moment of performance. How often have you heard guitarists described as "never playing it the same way twice"? Haynes explains that often they are playing exactly the same notes every time, but how they play them is what changes.
Haynes talks about some valuable soloing concerns, such as playing minors over majors but not majors over minors and listening carefully to what the overall tone of the band is as the solo unfolds. Playing a Les Paul Standard (what do you expect from an Allman?), he regularly goes to the band to demonstrate a concept in context, but no songs are taught here, so don't expect to learn any tunes!
He does move on eventually to electric slide, providing the only lesson in standard tuning I've seen on video, especially useful for guitarists who'd like to slip in a few slide licks without switching guitars. Haynes' bare-fingered, right-hand technique and his tips on muting, damping and using a lighter touch are really valuable as you start to turn up the volume. His focus here is on controlling your electric slide sound and tone using those techniques as well as left hand vibrato and damping.
There is a wealth of practical, easy-to-understand material presented in Hot Licks' clear, split-screen fashion, more valuable here because it clearly illustrates how Haynes' right hand smoothly switches from bare fingers to flatpick without missing a beat. His credo? "Don't think about it, just play what you feel!" Good advice, Warren. (Hot Licks Video, Box 337, Pound Ridge, NY 10576; (914) 763-8013).
---
Acoustic Slide and the Art of Improvising
Warren Haynes
(VHS tape)
---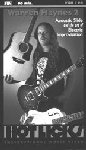 After viewing his first video, I was expecting a bit more from Haynes. He starts us out in open G tuning on a National steel body using a large ceramic slide, but he doesn't tell us how to tune to open G (it's in the fine print of the accompanying booklet) or even tune us up to his guitar. After some discussion about the differences between electric and acoustic slide, Haynes runs through a few open G chords and a small sampling of licks from Son House and Muddy Waters before moving on to part two: the art of improvisation. This is mostly philosophical rather than instructional, and the last portion of the tape is simply an improv jam that did nothing for me. Leave this one on the shelf. (Hot Licks Video, Box 337, Pound Ridge, NY 10576; (914) 763-8013).
---
Guitar Shop: Setup and Maintenance
Mark Arnquist
(VHS tape)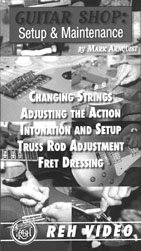 Now here is a great value for almost any guitarist; for a mere $20, you get an easy-to-understand lesson in how to save hundreds of dollars in minor adjustments for electric and acoustic (both steel and nylon string) guitars. Arnquist is clear and the camera work is just right as he takes us through changing strings, tuning, adjusting action and intonation, set-up, the often frightening but simple truss rod adjustment and even fret dressing.
I found myself wishing I had thought of making this video -- until I learned a few new tricks from Arnquist, who studied instrument technology at Five Towns College and apprenticed with New York builders and repairmen back in the '70s (the early days of the school that now hosts the famous annual Great American Guitar Show).
If you play guitar and are at all inclined to do some of your own work, this tape is well worth the investment, and it will even make a valued gift for that guitarist in your life. (REH Video/Warner Bros. Publications, 15800 NW 48th Avenue, Miami, FL 33014)
---
Send materials for review to:
Kiernan Music Services, 1239 Lakeshore Drive, Boulder, CO 80302.
---
This page and all contents are &copy 1998 by Blues Access, Boulder, CO, USA.