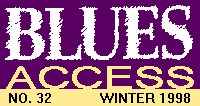 ---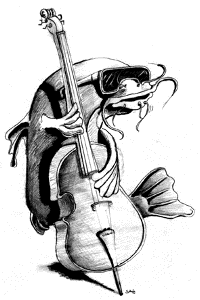 The real alternative music
The Anthology of American Folk Music was on the player the other night, when a verse from one of the tracks, Bascom Lamar Lunsford's "I Wish I Was a Mole in the Ground," reached out and grabbed me by the throat. Besides being one of the strangest songs I've ever heard, a halting, jumbled set of schizophrenic verses accompanied by an equally jumpy banjo lick, "I Wish I Was a Mole in the Ground" includes a verse that reads in part: "I don't like a railroad man … they'll kill you when they can and drink up your blood like wine." I had heard those lyrics before, somewhere, and it took the synapses a short while to hook up with a favorite couplet in Bob Dylan's "Memphis Blues Again": "She said that all the railroad men just drink up your blood like wine." It was one of those moments of epiphany that keeps music lovers like me searching for more. Making those kinds of connections, hearing how songs, melodies and ideas shift and move through the hands and voices of different generations is one of the primary joys I get listening to music. Despite the tendencies by marketers and radio stations to pigeonhole every kind of music into ever-tinier genres and categories, I'm constantly struck by how much the recorded music of this century remains contrary to categorization. I've been making more than my share of those connections while slowly digesting the six discs of The Anthology of American Folk Music (Smithsonian Folkways), along with Alan Lomax's 12-part Southern Journey Series and two volumes of Prison Songs recorded at Parchman Farm in the late '40s.
The new version of the Anthology remains every bit as eccentric as avant-garde filmmaker Harry Smith's original 1952 package (which was wrapped in a grab-bag of metaphysical mumbo-jumbo and symbols), and the new medium has added a wrinkle even Smith couldn't have anticipated: the chance to play it like a juke box, quashing his carefully planned sequential order and further clouding the categories.
Finding links like the one between Lunsford and Dylan is exactly what Smith had in mind when he assembled the Anthology from his collection of shellac 78s. A self-taught musical scholar, Smith sprinkled his notations and observations with his own perverse sense of humor. For instance, he created headlines for each song: for G.B. Grayson's "Ommie Wise," based on a true story of a young man drowning his sweetheart, Smith writes: "Greedy Girl Goes to Adams Spring With Liar; Lives Just Long Enough to Regret It." By not taking everything too seriously, Smith created a record of disparate voices from a place that writer Greil Marcus calls "the Old Weird America" in the main essay.
Commercial recordings from the years 1927–1932 that by 1952 had been all but lost and forgotten (especially after millions of 78s were melted down for the war effort), the Anthology helped put an enormous, just-emerging musical generation in touch with its spiritual forebears. Issued only five years after the invention of the vinyl LP in a case that was almost like a giant jewel box with 12 carefully arranged vinyl albums, the set swept through the emerging leftist folk and blues movement of the '50s and '60s like a match to tinder, lighting flares and flames in the minds of adherents and musicians. The reissue's accompanying booklet includes exhaustive discographies for every song (updating Smith's 40-year-old scholarship) and several essays about the set's importance that, while offering a lot of good information, sometimes sink under the weight of their own gravity. But you don't have to read a word to enjoy the curious, edgy and crazy music gathered inside; it weaves its own context for each listener.
Dylan has listened to it a lot since he apparently first came across it in 1959 or 1960 in Minneapolis' Dinkytown. Besides the aforementioned nod to Lunsford that appears on Blonde on Blonde, he covered Blind Lemon Jefferson's "See That My Grave Is Kept Clean" on his 1961 debut. The Bently Boys' hard-hitting sharecroppers' lament of 1929, "Down on Penny's Farm," turns up as the melody of Dylan's "Down in New York Town" (it was left off Bob Dylan) and the underlying sentiment behind his snarling, up-yours blues, "Maggie's Farm." He still occasionally includes "Little Moses," a moving Carter Family track from the Anthology, in his concerts, and he recorded a version of Frank Hutchinson's "Stackalee" and reinvented Dick Justice's "Henry Lee" as "Love Henry" on his recent World Gone Wrong.
Dylan was rebuked by the leftist folk establishment for eschewing social and political commentary in his songwriting and again when he showed up in 1965 at the Newport Folk Festival with a Telecaster and Paul Butterfield and Mike Bloomfield in tow. But listening to the Anthology today, it's more obvious than ever that Dylan, not those who scorned him, has carried on the intent and spirit of Smith's original concept.
Where Smith's collection consisted of commercial, 78-rpm discs, Alan Lomax's 1959 and 1960 work included only field recordings, the harvest of one of Lomax's far-reaching journeys to document the songs of people away from commercial centers and record contracts. Like the Anthology, it has been mostly unavailable for many years, and Rounder's reissue, with lots of added tracks never before in circulation, offers the chance today to get in touch with a reality that just doesn't exist anymore.
In a sense, in re-release in 1997, the Lomax recordings are like the ones on the Anthology were to its audience in 1952, almost forgotten except on scratchy vinyl, homemade tapes and in the dimming memories of those who had sung or heard them. Many of the songs had been passed down orally throughout the generations, and one of Lomax's primary intentions was to record what music perhaps sounded like in the 19th century.
The connections and links present on the Anthology continue to multiply and become richer on the Lomax set. The Anthology includes William and Versey Smith's "When That Great Ship Went Down," a wild, rhythmic proto-blues song/shout about the sinking of the Titanic. That cataclysmic 1912 event resonated deeply in the poor South, a perfect metaphor for man's hubris. Mess with God too much, the morality tale went, and you pay the consequences — in this case, death by iceberg — for your arrogance. It's a sentiment Lomax also found in Almeda Riddle's quiet a cappella rendition of "Titanic" that ends with her voice sinking slowly beneath the waves as she utters the final line, "Nearer my god to thee," and in the cautionary religious allegory of "The Titanic," as interpreted by Bessie Jones, guitarist Hobart Smith and the Georgia Sea Island singers, both included on Southern Journey.
There are thousands more connections to be made, and this is the first chance in a long time that we've actually been able to do it. Southern Journey will be followed by Lomax's field recordings from the Caribbean, England, Scotland, Spain, Italy and elsewhere, which will lead you to ever more links. If history is an indicator, it's a good time to invest in these recordings: They won't stay in print forever.
While waiting for the Muddy Waters biography: Both get carried away in places and are almost impenetrable in others, but two books that deal with the contributions of Smith and Lomax still come highly recommended. Greil Marcus' Invisible Republic (Henry Holt, New York, hardbound, $22.50) reads better after you've digested the Anthology rather than as an appetite whetter and reaches many of the same conclusions as Robert Cantwell in When We Were Good (Harvard University Press, Cambridge, Massachusetts, hardbound, $24.95). Marcus and Cantwell have spent more time thinking about this stuff than they probably should have, and some of their writing heads off into uncharted realms of their own imaginations, but both also offer genuine insights and a relevant context for the folk/blues revival period … I'm ambivalent about the talking style of David Ritz and B.B. King's Blues All Around Me: The Autobiography of B.B. King (Avon Books, New York, softbound, $23, http;//www.AvonBooks.com), but it makes up in candor what it lacks in specifics and offers the occasional glimpse behind the facade of one of the blues' best-known/least-known legends … The best reference book I have found recently is The New Blackwell Guide to Recorded Blues (Blackwell Publishers, Cambridge, England, softbound, $19.95, http://www.blackwellpublishers.co.uk). Edited and updated by John Cowley and Paul Oliver, it includes a number of contextual essays by noted scholars and a selective discography that will keep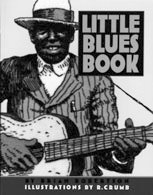 any fan searching the used bins for years … Brian Robertson's Little Blues Book (Algonquin Books of Chapel Hill/Workman, New York, softbound, $9.95) is just that, a compact volume that brings together couplets and verses of blues songs under chapter headings like "Blues Ain't Nothin' But Sex Misspelled," "Mojos, Goofer Dust and the Root of the Blues," and "Men Are From Louisiana, Women Are From Georgia." If not totally original, it's an interesting angle on blues lyrics, and you can't beat the illustrations of Robert Crumb, either … Robert Crumb fans will be happy to hear that the cartoonist's many blues panels have been gathered together into one volume, R. Crumb Draws the Blues (Last Gasp, softbound, $7.95), including "Patton," a history of the Delta singer based on Robert Palmer's research in Deep Blues, "The Old Songs Are the Best Songs," "Jelly Roll Morton's Voodoo Curse," the psychedelic "Cubist Be Bop Comics" and my own favorite, "Where Has It Gone? All the Beautiful Music of Our Grandparents?" … Besides his musical and artistic accomplishments, add chef to Johnny Otis' eclectic resumé. Red Beans & Rice and Other Rock'n'Roll Recipes (Pomegranate, San Francisco, softbound, $16), a grits-behind-the-hits recipe collection from Johnny and his friends that has already found a place on my cookbook shelf. Otis' own contributions include everything from down-home (Neck Bones and Beans) to exotic (Sichuan Peanut Sauce for Noodles) among his 20 recipes of the more than 108 total creations. How does Esquerita's Chocolate-Bourbon Cake with Mocha-Bourbon Frosting hit you? And though you need to add more pepper than the recipe calls for, Billie and I can vouch for the Tamale Pie Johnny's mom used to fix for the boys in the band in the '40s … Finally available in the United States, Portrait of the Blues (Da Capo Press, New York, softbound, $25) is a sterling volume in which blues legends tells their stories to writer Paul Trynka surrounded by the evocative photos of Val Wilmer … The stunning design, color and period photos, album covers, posters and fashion that fill Heart & Soul: A Celebration of Black Music Style in America 1930–1975 (Stewart, Tabori and Chang, New York, hardbound, $40) overwhelm Bob Merlis and Davin Seay's accompanying essay on the influence of African-American style … A proliferation of tomes on equipment. Among them: The Hammond Organ: Beauty in the B (Miller-Freeman Books, San Francisco, softbound, $24.95), in which Mark Vail explores every facet of the instrument preferred by Booker T. Jones, Jimmy McGriff, Jimmy Smith, Sly Stone and Billy Preston, among many others, and explains where the keyboard sound of "Green Onions" and so many other hits came from; Mary Osborne's 1000 Great Guitarists (Miller Freeman, softbound, $24.95) profiles, yes, a millennium of guitarists, most just quickie bios with choice of instrument and place and date of birth when available and lengthier, color pull-out, chronological sections on the big names like B.B. King, Buddy Guy, Steve Cropper, Jeff Beck and Steve Vai (huh?) … Fans of Dave Alvin, the songwriter for the Blasters with a recent string of bluesy albums for Hightone, will find his first book of poems, Any Rough Times Are Now Behind You: Selected Poems & Writings, 1979–1995 (incommunicado press, San Diego, California, softbound, $12), with many observations of a life spent growing up with blues, as incisive as his songwriting and music style … And, last but not least, an unabashed plug: The Catfish spent a good portion of 1997 editing a blues record guide, with more than 40 writers (many of them BLUES ACCESS contributors) creating entries for almost 600 artists, and we worked on it too hard to let it pass without at least this mention: Musichound Blues: The Essential Guide (Visible Ink Press, Detroit, softbound, $24.95) will be on the shelves by the time you read this. 'Nuff said.
-- Leland Rucker
---
This page and all contents are &copy 1998 by Blues Access, Boulder, CO, USA.