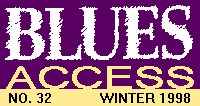 ---
Homebrew incorporates a ratings system specifically for independents. If you'd like to contact the artists you read about here, check out our "Where To Find 'Em" page.

| | |
| --- | --- |
| Excellent | |
| Good | |
| Average | |
| Fair | |
| Poor | |
---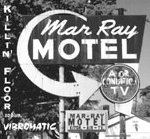 Killin' Floor -- So Blue is a powerhouse-blues trio led by energetic guitarist and paper-cut-sharp vocalist Frank Giovanni. With 11 fun and funky originals and one gritty cover, "Reap What You Sow" (composed by their late pal Brownie McGhee), the boys run, roll and rip through an hour's worth of fine blues on their self-produced Vibromatic (So Blue 1097), which is as ferocious as stomach acid dissolving that piece of pepperoni you ate for dinner last night. Slide into this one -- it's got the goods.




---
Life is a Nightmare (Huggins) is a cassette-only release of the Eugene Huggins Blues Band. Recorded live, it features some massively-talented sidemen in Black Top artist Rusty Zinn on guitar and the superlative drumming of the Dynatones' Walter Shufflesworth. With its traditional '50s Chicago style, this tape should be a revelation to blues fans tired of sifting through blues-rock albums for the most meager bit of blues. Huggins is not a gifted singer, but he knows his limitations and never forces it -- he just sings the song and tells the story. His Little Walter-inspired harmonica work, if not inspirational, is just outstanding. Life Is a Nightmare is well-produced for a remote recording, and the guys just kill on cut after cut, but the lack of a crowd mike makes it sound like there are only four or five people in the audience. Here's your chance to make it inside the saloon doors that special night.




---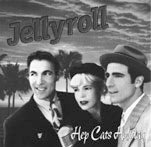 Vocalist Belinda Blair of Jellyroll has one of the cutest, coyest voices in the retro-swing blues craze, and listening to her coo and croon, you just want to squeeze her 'til she giggles. She's also a skilled jazz singer whose remarkable phrasing and intonation makes well-known tunes by Louis Jordan, Slim Gaillard and Sleepy John Estes resolutely her own. She's backed by some superb colleagues like Django Reinhardt-influenced guitarist Paul Mehling and cool-breeze pianist John Rosenberg on the group's debut, Hep Cats Holiday (Checker 8065). Short, sweet and swingin'.




---
Deception in Your Eyes (Bahoomba 1370) is the title of a formulaic but effective recording by East Coast vocalist Robert Charels and his Blues Band. Very rock'n'roll in feel (due primarily to the strong guitar work of Jim Moran and relentless drumming of Mario Richard Staiano), the songs nevertheless are all blues-based. "Deep Red Days" features the excellent acoustic slide work of producer Rhett Tyler and is a stand-out. There are good hooks, funky tunes and some impassioned vocals by Charels, but Deception in Your Eyes could use stronger material. The group's interpretation of others' works (B.B. King, Son House, E. Miller) are probably the most fun.



---
The great blues state of Illinois produced modern blues-rock guitarist & vocalist Greg Pasenko, and his Cold Night in Chicago (Blu Jazz 3301) is the fairly-impressive result. You'll hear a lot of influences here, and Pasenko hired at least seven other musicians to round out the sound. Fans of Coco Montoya and even the jazzy side of Steely Dan will enjoy this one. "Overtaken" is one of three instrumentals and is pleasing for its spareness and individual voice. Pasenko's original tunes are not going to land him in the Blues Songwriter's Hall of Fame yet and his vocals won't set the recording industry on fire, but the album is sincere, musically varied and worth a listen.




---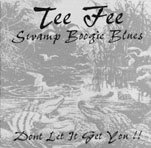 Originating partly from the jazz of New Orleans and folk music of French settlers and firmly entrenched in the sounds and rhythm of the swamps and bayous of Louisiana, zydeco music is known for its infectious, head-bopping rhythm and dance beat. A lilting and gentle release of listening pleasure arrives from the Tee Fee Swamp Boogie Band in the form of Don't Let It Get You Down (Tee Fee 2479). Songwriter, lead singer, violinist and accordionist Annie Marie Howard is a talented musician who leads her band through 11 sparkling tunes, backed ably by guitarist Leonard Gill (ex-B.B. King and Little Milton) and drummer Kelvin Dixon (formerly with Otis Rush and John Lee Hooker) as well as female cohorts Linda Schmidt on bass and Maureen Coyle on rub board and vocals. Not as raucous as other modern-day zydeco players like C.J. Chenier or Beau Jocque, but this goes down as easy as a mint julep on a hot summer day. Iko Iko ... Ah ha!




---
North Carolina can boast being home state to 67-year old, Greensboro-raised Johnnie Whitlock who -- along with the Amazing Blues Caucus -- has produced a pleasant little platter in Ooh, Ahh (Wolftone 001). Sounding remarkably like big band singer Joe Williams in a fairly tough blues groove, Whitlock surrounds himself with a competent band with a lot of '50s R&B and jazz inflections. Pretty straightforward 12-bar, with some nice horn arrangements by Steve Blake, and Johnnie and his Caucus repeatedly get the job done.



---
After collaborating with fiery retro-guitarist Teddy Morgan, harmonicist and former long-time Minneapolis vocalist R.J. Mischo has struck out on his own along with his Red Hot Blues Band for Cool Disposition (Crosscut 11055). Recorded live in the studio in Chicago and featuring the clean lead-guitar work of Jeremy Johnson and the marvelous Windy City piano-prowess of Barrelhouse Chuck, this effort, as produced by Lynwood Slim and Jerry Hall, is a real throwback to the tough sound of '50s Chicago Blues. Mischo is an expressive harp player who plays with urgency but determination in that Little Walter style. Some cool originals and some extremely well-chosen covers (Rice Miller's "Little Village," Junior Parker's "Love My Baby"), nice-packaging and a killer guest guitar shot by Nick Moss will have you making tracks to the door of your local music import store.




---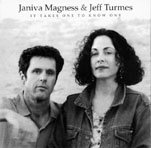 Yeah, you can have the blues in Los Angeles, and It Takes One to Know One (Fat Heat 1001), by the remarkably copacetic team of assured singer Janiva Magness and her guitar-playing, saxophone-blowing, bass-thumpin' and singing partner Jeff Turmes, proves it. Turmes' songwriting prowess and his gift for clever, insightful lyrics is sometimes staggering. It Takes One to Know One features such heavyweight guests as Kid Ramos (returning the favor of Janiva's guest shot on Kid's Two Hands, One Heart disc) and Junior Watson, is well-produced and fun besides. If their stage show is as strong, I think we'll be hearing much more of this duo real soon. I love L.A.





---
If you're going to make music, you might as well have some big fun doing it. That would have to be the philosophy of pianist Steve Lucky and the Rhumba Bums, featuring the sassy Ms. Carmen Getit, 'cause listening to their retro-jump-swing debut, Rumpus Room Honeymoon (Rumpus Room), will have you jumping and jiving to the hoopty-doo in no time. If their publicity still is any indication, this good-looking band is as frolicsome as this disc. Both Lucky's and Getit's lead vocals nail their decidedly "little big band" sound just perfectly, and when they share vocals on a tune or two, their delightful interplay will have you thinking you're eavesdropping on an intimate but juicy lover's spat. One element that really makes this work is the effective support the horns give to the mix. Carmen's T-Bone Walker-flavored guitar work and Steve's piano pounding should help push them to the forefront of the huge West Coast retro craze.




---
Gary Smith is one of the best harmonica players you've never heard, and one member of a terrific quartet of dedicated bluesmen that has just released Mountain Top West Coast Blues Session (Mountain Top.) All of the guys (guitarist Paris Slim, bassist Johnny Ace and drummer Big Walter) share lead vocals on the 15 tracks, which is made up of more than an hour's worth of gritty Chicago-style blues. No pretenders here.




---
See Where to Find 'Em for label information.
---
BLUES ACCESS encourages blues musicians to send us independent releases. And blues fans, if there's a band or musician you've heard, seen or followed, and think they're deserving of wider recognition, send us, or have them send us their releases as well. With your help, we'll find out and hopefully be able to help spread the word about some great new music.
We need two copies of each release, preferably on CD. Written promotional material regarding the music and the player(s) is also welcome and helpful.
Please address to:
Homebrew
c/o: Blues Access
1455 Chestnut Place
Boulder, CO 80304-3153
---
This page and all contents are &copy 1998 by Blues Access, Boulder, CO, USA.