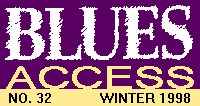 ---
Discs that have been given full reviews in this or previous issues of BLUES ACCESS
are quoted with the reviewers initials in brackets.

Red Rooster Pick

Catfish Pick
---
The Asylum Street Spankers - Live

These electricity-shy Austin musicians play good-time, jug-band folk blues, revue-style in local clubs. They're smart enough to avoid the cliches, and stringy versions of "Lullaby of the Leaves," "Sittin' on Top of the World" and "Last Kind Word Blues" are done with just the right amount of reverence without sounding hoary.
(Watermelon)
---
Tab Benoit - Live: Swampland Jam

Just blues guys havin' a good time down in Louisiana. Tab is engaging, and so are guest pals Henry Gray, Raful Neal, Jumpin' Johnny Sansone, Tabby Thomas and Chubby Carrier.
(Justice)
---
Michael Bloomfield - The Best of Michael Bloomfield

"Offers an eclectic listen to the master -- delving into ragtime, gospel hymns, country, soul and straight-ahead, burn-down-the-house blues." [Robble]
(Takoma)
---
Blue Mama - Saturday Night Suburbia

Given the rowdy atmosphere here, you would not do wrong to plunk down the cover charge for a night with these guys. The 18 (count 'em) tracks pretty much cover every blues/rock foundation, from the country honk of "Only in My Dreams" to the Jerry-Jeff Walkerish "Who's Been Pissin' in the Beer." And they score big points for the first rockabilly song about painter Peter Paul Rubens' famous nudes. ("Back in the 1600s he chose his models right," singer Dennis Reed observes wryly. "I may not know much about art, but I know what I like.") Huzzah.
(Plastic Meltdown)
---
R.L. Burnside - Acoustic Stories

"Hair-raising artistry and depth in these acoustic blues; it's the closest to Robert Johnson and Son House any of us will ever get." [Oudiz]
(MC)
---
R.L. Burnside - Sound Machine Groove

"The youthful band members doubtless helped expand Burnside's musical lexicon: funky bass grooves, upbeat tempos, stinging guitar and a driving backbeat." [Oudiz]
(HMG/High Tone)
---
The Campbell Brothers: Sacred Steel Guitars Vol. 2 - Pass Me Not

This absolutely stupendous disc features brothers Chuck (pedal steel) and Phillip Campbell (electric guitar and bass) with soulful vocalist Katie Jackson on 14 spiritual tunes. You've never heard anything quite like this ... the closest analogy I can come up with is Roy Buchanan. Check it out!
(Arhoolie)
---
Sandy Carroll - Memphis Rain

If a couple of these numbers seem familiar, it's because "Blues Thang" and "Just As I Am," Carroll's collaboration with producer James Solberg and Luther Allison, appeared on the latter's final studio album, Reckless. Elsewhere, Carroll is in fine voice, and Solberg's expressive guitar playing and up-front production touches put a shine on the whole affair.
(Inside Memphis)
---
Clifton Chenier - Zydeco Sont Pas Sale

Compilation of 15 tracks drawn from Arhoolie's exceptional archives documenting the forever-King of Zydeco.
(Arhoolie)
---
Chicago Bob and the Shadows - Just Your Fool

(1987) All but one of these 13 raspy tracks come from an album that precedes his records on Ichiban, Planisphere and Kingsnake. Produced by Dr. David Evans (see Last Chance Jug Band) in a style that falls somewhere between Muddy Waters and Slim Harpo.
(HMG/High Tone)
---
Steve Cohen - Duo Personality

Harpist/guitarist/singer Steve Cohen's first recording in a decade is a series of duets, some with electric, others with acoustic guitar. He's got a good feel for the material that's not his, especially "Billy the Kid" and the Taj Mahal covers, and sings and plays harp with a lot of feeling. He saves the best for last: "Soon Gone" isn't blues, but it's a lovely instrumental finale.
(Kanie)
---
Wallace Coleman - Wallace Coleman

Robert Jr. Lockwood's harp player steps out for his debut as a leader. He's a Little Walter disciple who has developed his own rich tone. Jimmy Thackery guests on two cuts.
(Wilberts Blues)
---
Johnny Copeland - Live in Australia

First U.S. release of 10-song set from Johnny's 1990 Australian tour. While not quite at the peak of intensity he would reach with his mid-'90s band, there's plenty of fine music from this much-mourned great.
(Black Top)
---
Al Copley & the Fabulous Thunderbirds - Good Understanding

(1992)Al Copley is the strongest link of many between Roomful of Blues and the Fabulous Thunderbirds, and this disc, recorded in 1992 in Europe, offers the best of both worlds: Duke Robillard is along on guitar with Kim Wilson, Preston Hubbard, Fran Christina and Jose Avilla for nine primo grooves.
(Bullseye Blues)
---
Jimmy Dawkins - Me, My Guitar and the Blues

"Dawkins' bare thumb fingerpick and buzzsaw tone, as well as the tortured vocal exorcisms, remain oblivious to the flow of time." [Oudiz]
(Ichiban)
---
Prince Dixon - The Best of Prince Dixon and the Jackson Southernaires

(1973, 1981) Combines two LPs by this piano-playing vocalist whose hard-driving music is gospel right on the edge of becoming soul music. Fans of Solomon Burke ought to love this! Phillip Walker plays guitar on 10 tracks.
(HMG/High Tone)

Robert Ealey - I Like Music When I Party

Listen to the four decades of experience pour out of the bottle of Ealey's single malt scotch voice as he pleads his way through "Don't I Love You," Tone Sommer's guitar matching him note for note. He even pulls off a capable Bob Marley imitation on "Christena." As the man says, he likes music when he parties, and as long as he's up there making it, I wanna be there with him.
(Black Top)
---
David "Honeyboy" Edwards - Crawling Kingsnake

Tracks done in 1964 and 1967 by singer who is still a vital elder statesman of the blues at age 82. Includes an 18-minute conversation with Pete Welding about legends Robert Johnson and Tommy Johnson.
(Testament)
---
Lowell Fulson - My First Recordings

"With few exceptions, this disc, 74 minutes long, presents Fulson as a rural blues musician, playing the acoustic (or barely amplified electric over accompanying acoustic) guitar, singing Texas-style sharecropper blues." [Feld]
(Arhoolie)
---
Nick Gravenites & Animal Mind - Don't Feed the Animals

(1994) Re-release of a live set originally on Nick's own Waddling Dog label. It includes most of the vocalist (ex- of Electric Flag, Mike Bloomfield and Friends) and blues poet's best songs.
(Taxim)
---
Jessie Mae Hemphill - Feelin' Good

(1990) First time on CD for fine debut album of this down-home performer with a sound all her own. Not a lot of chord changes, but plenty of insistent rhythm.
(HMG/High Tone)
---
Michael "Hawkeye" Herman - Blues Alive

The only thing better than hearing this live album, recorded in Ft. Collins, Colorado, is seeing Hawkeye Herman in the flesh. Whether adding his own spin to blues classics, paying tribute to Oakland bluesman L.C. Robinson or offering his own songs like "The Great Flood of '93," Herman is a one-man history of blues, noteworthy guitar player and inimitable communicator. Miss him at your peril.
(Topaz)
---
John Lee Hooker - His Best Chess Sides

John Lee Hooker is still the epitome of cool. These recordings, from the most prolific of artists, come from when he was even cooler. Primeval stuff; the breakfast of champions.
(MCA/Chess)
---
Long John Hunter - Swinging From the Rafters

Hunter's belated resurrection continues. Good songwriting and guitar playing that exhibits both swing and bite.
(Alligator)
---
Luther Kent & Trick Bag - Live

"Kent has a deep, brawny voice that's as Southern as the Mississippi and similarly forceful and this band sure excels as an ensemble." [Schuller]
(Renegade)
---
Big Daddy Kinsey & the Kinsey Report - Bad Situation

(1985) Debut disc of Gary, Indiana's finest, backed by his soon-to-be-acclaimed sons and lots of Chicago guests.
(Rooster Blues)
---
Last Chance Jug Band - Shake That Thing

Producer/author/historian/educator David Evans has been playing jug music in the style of Cannon's Jug Stompers and the Memphis Jug Band in the Memphis area for many years, and this snapshot of his band in action is anything but stuffy and academic; these guys are kickin' some serious butt here. Besides, where else you gonna hear a noted blues scholar asking "Who Pumped the Wind in My Doughnut?" or pleading "Let Me Squeeze Your Lemon."
(Inside Memphis)
---
Little Milton - Greatest Hits

Unless you're a completist, this collection of 16 tracks from the '60s makes a better choice than the 1994 2-disc retrospective Welcome to the Club. Milton has had plenty of hits since he left Chess, but these are good 'uns.
(MCA/Chess)
---
Little Walter - His Best

Like all the remastered releases in the Chess 50th Anniversary "Best of" series, these 20 sides by the man who virtually invented amplified blues harmonica sound better than they ever have. You've probably got all these, but if you don't ...
(MCA/Chess)
---
Magic Sam - The Magic Sam Legacy

(1989) First CD release of the leftovers from the 1966-'68 sessions that produced West Side Soul and Black Magic. It should go without saying that just about anything by Sam is essential to your collection.
(Delmark)
---
Clara McDaniel - Unwanted Child

A strong debut CD by a singer we're going to hear more from. See feature on page 20 in this issue.
(HMG/Hightone)
---
Fred McDowell - First Recordings

(1959) For someone who wasn't pursuing a "career" in music at the time, the original recordings of Fred McDowell are immaculately arranged and performed masterfully -- the very essence of understated acoustic slide-guitar blues. They are also classic examples of how closely associated the blues and religious music really are.
(Rounder)
---
Mel Melton & the Wicked Mojos - Swamp Slinger

When he isn't blowing his harp onstage, Mel Melton is known as a formidable cook, after years moonlighting in Lafayette Cajun restaurants. Needless to say, this smokes like a plate of hot crawfish drenched in cayenne pepper. Former bandmate Sonny Landreth joins for a couple of tunes on this sweaty, swamp romp.
(New Moon)
---
Jim Mesi Band - Blues for Christopher

Guitarist Jim Mesi is smart enough to know better than to copy, so his covers of "Rumble," "Time Is Tight" and "C.C. Rider" (with a nice pedal-steel lick) come off refreshing instead of derivative. Elsewhere, special guest Curtis Salgado does his best B.B. King imitation alongside Mesa's smoking guitar on "Waitin' on You."
(Just Ducky)
---
Mofo Party Band - Ten Dynamite Hits

They may be based in Fresno, California, but the Clifton Brothers, former members of Luther Tucker's back-up band, have Chicago blues down cold. They never let up on their debut album, from the groovy '50s LP cover to the fingernails-down-the-chalkboard instrumental finale, "Psycho Blues." And dig those crazy shirts!
(Trac)
---
Coco Montoya - Just Let Go

"Coco Montoya's third album for Blind Pig in as many years shows a great artist who's getting a good feel for his own strengths and skills and how to show them to best advantage." [Zogott]
(Blind Pig)
---
Dorothy Moore - More Moore

Since the 22-year-old "Misty Blue" got wings again after turning up in the John Travolta film, "Phenomenon," Dorothy Moore has been keeping a higher profile, and this fine collection of ballads, led by "You Should Have Been Good to Me" and "Our Favorite Song," should help keep her up there.
(Malaco)
---
Paul Oscher - The Deep Blues of Paul Oscher

Oscher pays tribute to his roots with a rough-hewn, stark collection of Chicago blues that would do Otis Spann and Muddy Waters proud.
(Blues Planet)
---
James "Snooky" Pryor - Snooky Pryor and the Country Blues

(1973) Originally released on the Today imprint, this was Pryor's first album after a seven-year off lay-off from music, and it shows he was ready for bidness again. With Homesick James, Louis and David Myers, Mighty Joe Young and Fred Below, this sounds like the great lost Chess session. Invigorating.
(Sequel†)
---
Doug Quattlebaum - If You've Ever Been Mistreated

(1961) Quattlebaum drove an ice cream truck in Philadelphia and warmed up the crowd with his singing and guitar playing. His powerful voice is reminiscent of Ted Hawkins and, like Ted, he drew on Ray Charles and Sam Cooke for inspiration. Listening to this disc is like spending an evening in the living room of an undiscovered acoustic blues and soul great.
(HMG/Testament)
---
Johnny Rawls - Louisiana Woman

If you can't find anything to get excited about here, you're missing some of the best Southern soul music of this or any year. Shades of Otis, Bobby Bland, Johnny Taylor and Z.Z. Hill.
(JSP†)
---
Sonny Rhodes - Born to Be Blue

Rhodes -- playing both lap steel and standard lead guitar -- has been making solid discs like this one (featuring, once again, the backing of the King Snake studio crew) for years. One of these days he'll be acknowledged as the top echelon bluesman he is.
(King Snake)
---
Roomful of Blues - Roomful of Christmas

It'll be a wild and woolly Christmas with this bunch under your tree!
(Bullseye Blues)
---
Roosevelt Sykes - Feel Like Blowing My Horn

(1970) King Kolax, Sax Mallard, Robert Junior Lockwood, Dave Myers and Fred Below add their inestimable talents to this jazz/blues synthesis (with four previously unreleased tracks) that drips with honey.
(Delmark)
---
Sonny Treadway - Jesus Will Fix It

Sonny Treadway was one of the stars first heard outside of his local Pentecostal church on Volume 1 in the Sacred Steel series, and he shows the same kind of eclectic spontaneity on Jesus Will Fix It's 12 hymns. If you like steel guitar, DO NOT miss this one.
(Arhoolie)
---
Various - American Folk Blues Festival '62-'65

More than an hour of choice selections from the acclaimed five-CD set documenting the tours that turned Europe and the U.K. on to the blues.
(Evidence)
---
Various - Best of ECKO Records, Vol. 1

Excellent 14-track compilation from the contemporary soul label out of Memphis, mostly tales of love and heartbreak from the late Ollie Nightingale ("I'll Drink Your Bath Water, Baby"), Bill Coday ("Her Love Is Good Enough to Put in Collard Greens"), Lee "Shot" Williams, Charles Wilson, Chuck Roberson and Barbara Carr.
(ECKO)
---
Various - Chess Blues Piano Greats

Two-disc set featuring Eddie Boyd and Willie Mabon, with additional tracks by Otis Spann and Lafayette Leake. Essential artists at their peaks.
(MCA/Chess)
---
Various - Chicago Blues Live, Vol. 1

A nice introductory collection of live Chicago blues from the best -- Muddy, Willie D., Wolf, Snooky, Homesick -- with (rare for Wolf Records) full recording information and excellent liner notes from Brett Bonner.
(Wolf†)
---
Various - Jumpin' Like Mad: Cool Cats & Hip Chicks Non-stop Dancin'

Toss this into a drab party situation and watch the dance floor tremble with the weight. Don't miss Ella Mae Morse's "Cow Cow Boogie" or "House of Blue Lights" among these swinging classics.
(Capitol)
---
Various - Kansas City Blues

(See Catfish Whitey's Pond in BA #31) "Jay McShann is the dominant figure -- as singer, bandleader and sideman -- all over this retrospective that posits McShann at the center of a swinging, bluesy Kansas City scene after Count Basie and Andy Kirk went nationwide, setting the standard for future small-combo blues when the big bands wound down." [Rucker]
(Capitol)
---
Various - Paint It Blue: Songs of the Rolling Stones

"Instead of the usual formula (grunge/punk acts trotting out speed-metal tributes), someone was inspired enough to get blues artists to perform the songs of Mick Jagger and Keith Richards. Hearing them again through the eyes of some of the artists the nascent Stones were listening to loosens the words and riffs from the mausoleums of repetition." [Rucker]
(House Of Blues)
---
Various - Southern Country Blues, Vol. 1: Down in Boogie Alley

Three discs of prewar blues (1924-'41) licensed from Document Records and organized by geographical region. Contains plenty of both the familiar and the obscure among these 48 tracks and the sound is surprisingly good on the earliest recordings.
(Star Sounds)
---
Various - The Cocktail Combos

There's lounge music and there's lounge music, and these three discs of the King Cole Trio, Charles Brown solo and with Johnny Moore's Three Blazers, and crooner Floyd Dixon are the real thing, cats and kitties.
(Capitol)
---
Various - The Music of Prohibition

Lovely collection of tunes for the PBS documentary "Prohibition: The 13 Years That Changed America," including seminal work from Cab Calloway ("Minnie the Moocher"), Louis Armstrong, Fletcher Henderson, Don Redman, Duke Ellington ("Black and Tan Fantasy") with prohibition themes. Ends, with (what else?) "Happy Days Are Here Again," from the Casa Loma Orchestra.
(Columbia/Legacy)
---
Stevie Ray Vaughan and Double Trouble - Live at Carnegie Hall

Stevie with horns? Is that Roomful in those matador suits? Uh-huh. Does it work? You betcha! If you can't get enough SRV, get this.
(Epic)
---
Toni Lynn Washington - It's My Turn Now

Toni's big-voiced, big band-styled vocals get the perfect complement from a group of musicians who can both swing and solo.
(Tone-Cool)
---
Muddy Waters - His Best, 1956 to 1964

If you already own these sides on other discs, you might think twice about buying this collection. If you don't, with all tracks digitally remastered, what are you waiting for?
(MCA/Chess)
---
Carl Weathersby - Looking Out My Window

After years in the middle ground behind Albert King, Carl Weathersby has been moving out on his own. His stinging guitar is all over the place, his songs are his best and he's even open enough to tackle John Hiatt's "Right As Rain."
(Evidence)
---
Sheila Wilcoxson - Backwater Blues

Terry Robb's understated production keeps Wilcoxson's quiet presence and wonderful instrumentation at the forefront. Her voice is oh so effective, whether interpreting "John the Revelator" or the more contemporary "Testosterone Poisoning."
(Burnside)
---
Big Joe Williams - Piney Wood Blues

(1960) These sessions, Joe's first as a leader (some augmented by J.D. Short on harmonica and guitar), feature stark, taut versions of Williams' classic Delta blues recorded on his unique, jerry-rigged nine-string acoustic guitar.
(Delmark)
---
Sonny Boy Williamson - His Best

These 20 Chess/Checker tracks in chronological order (1955-'64) feature Chicago all-star support. If you're wondering why so many feel Sonny Boy's the best harp player ever, here's the place to start.
(MCA/Chess)
---
To be eligible for review in BLUES ACCESS, send two (2) copies of all new releases.
---
This page and all contents are &copy 1998 by Blues Access, Boulder, CO, USA.