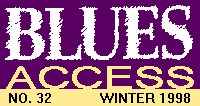 ---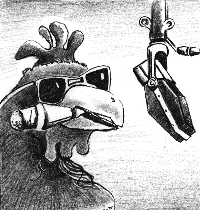 Soul Boxing
In the late 1940s, a black man named Robinson set about using courage, grit, determination and awesome talent to revolutionize his art and win the respect (albeit sometimes grudging) of white America. This summer Major League Baseball saluted the groundbreaking achievements of Jackie Robinson 50 years ago. Now Rhino Records has chosen to pay tribute to another man who fits that description, one Ray Charles Robinson, who made his first commercial recording in 1949 at the age of 18. Brother Ray (who long ago dropped his absentee father's surname) is feted with a five-CD career-spanning box set simply titled Genius & Soul: The 50th Anniversary Collection (but abbreviated throughout the collection as just RC).
White folks didn't pay much mind to that initial single, "Confession Blues," but it rose to #2 on the R&B charts (which measured the popularity of what were then known as "race records"). Two years later "Baby Let Me Hold Your Hand," with Ray leading a trio that included Oscar Moore, guitarist for Ray's hero and primary influence at the time, Nat King Cole, went to #5 R&B and caught the attention of Ahmet Ertegun, one of the principles in Atlantic Records. Before his 22nd birthday, Charles was recording four songs in Atlantic's New York studios. A few months later he would cut his first R&B chartbuster for that label, the humorous "It Should've Been Me."
Ray finally crossed over into the upper reaches of the Top-40 chart in 1959 with "What'd I Say," a song that pretty much altered the pop music paradigm forever. Growing up in a major metro area, I was already aware of Ray Charles through songs like "I've Got a Woman," "Swanee River Rock" and "(Night Time Is) The Right Time," but "What'd I Say" was something else again. My adolescent mind reeled at the implications of a lyric like "See the girl with the red dress on/She can do the Birdland all night long." I wasn't sure if he was really saying what I thought he was saying, but that chorus of "Unnnhhh, ooohhhh" seemed like a pretty good clue. At that point it was sayonara to Pat Boone forever.
When Ray had switched over to the ABC/Paramount label and began releasing country songs like Don Gibson's "I Can't Stop Loving You" or Eddie Arnold's "You Don't Know Me," there was never any sense that he had sold out. As far as we were concerned, these were Ray Charles songs first and foremost, and the fact that Top-40 radio couldn't get enough of them just meant that we got to hear more of Ray than ever before. Because if Ray Charles was about anything (besides a seemingly unlimited supply of soul), it was knowing how to pick a good song.
In David Ritz's long essay for the 80-page booklet that accompanies RC, Ray returns to this theme again and again. "Always go for the lyrics first 'cause I'm a lyrics man," he told Ritz. "So these country songs spoke to me through their lyrics. Think about it, man. 'Born to lose … I spent my life in vain.' That's a heavy statement. So if people say to me, 'Ray, you sang the hell outta "Born to Lose," ' I say it's cause the words tore me up."
It's little surprise, then (though a bit disappointing), that RC gives short shrift to the jazz instrumentals in favor of those trademark vocals. The obvious "Rockhouse" and "One Mint Julep," and 1970's "Booty Butt" are included, but nothing from Soul Meeting, Ray's fine collaboration with Milt Jackson.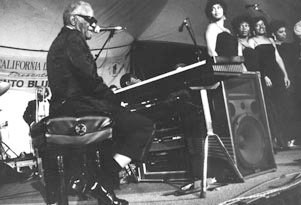 There are 102 songs in all, and if you figured Ray had lost his edge after "Let's Go Get Stoned," go figure again. It's true that after 1965 he'd only make it past #25 twice on the pop listings (with the Beatles' "Yesterday" and another country weeper, "Here We Go Again") until his 1989 collaboration with Quincy Jones and Chaka Khan, "I'll Be Good to You." And OK, I can live without some of the Billy Sherrill-produced country hits (in particular the truly sappy "Seven Spanish Angels," a duet with Willie Nelson that made it to the top of the C&W charts). But listening to his output throughout the '70s and '80s (this collection ends at 1993), it's hard to find fault with most of the song choices or arrangements, and certainly not with what he pours into even the corniest material. That "soul" quality is still there and it makes RC an overall highly enjoyable experience.
Getting back to the early Atlantic R&B sides, Rhino released all those 1952–'59 recordings in 1991 on a three-disc set, aptly title The Birth of Soul. This is a highly recommended collection, too, as it documents a period when Ray was fusing gospel, blues, jazz and pop influences into a unified sound that simply became known as "soul."
The reissue wizards at Rhino have picked up that thread in a six-disc set called Beg, Scream & Shout: The Big Ol' Box of '60s Soul. Not just a greatest hits collection, B,S & S essentially restricts itself to just one song by each artist (although some appear more than once if they recorded solo and as part of a group). And it's not just the hits, either. For every "I've Been Loving You Too Long (To Stop Now) by Otis Redding, "Sunny" by Bobby Hebb, "Sweet Soul Music" by Arthur Conley or "I Was Made to Love Her" by Stevie Wonder, there are such lost gems as "Searching for My Love" by (whatever-happened-to) Bobby Moore and the Rhythm Aces, "He Really Was Sayin' Somethin' " by (who-the-hell-are) the Velvelettes, "She Shot a Hole in My Soul" by (regional-favorite-resurrected-by-Fred-James-in-the-'90s) Clifford Curry or "7-Rooms of Gloom" by (what-no-"Sugar Pie, Honey Bunch"?) the Four Tops.
Rhino soulmeisters David Gorman, Reggie Collins, James Austin and Gary Stewart basically got to play DJ and pick the soul tunes that they like for your delectation. Thus we get "Mustang Sally," but the version by Sir Mack Rice, not the Wicked Pickett. Or Percy Sledge doing "It Tears Me Up" instead of "When a Man Loves a Woman." And there are a few (but not many) major artists left off, some for contractual reasons: Sam Cooke, the Righteous Brothers, Charley & Inez Foxx, Ann Peebles, Walter Jackson, Little Johnny Taylor, Johnny Adams, Cubie and the Stairsteps. (What, you've never heard Cubie's version of "Ooh, Baby, Baby"?) A short list, and relatively insignificant compared to the 144 artists who made the cut.
Taking its cue from Brother Ray, soul is/was a vocal-based style and instrumentals' are few and far between. The Young Holt Trio's "Wack Wack," the Mar-Keys' "Last Night" and Booker T. and the MGs' "Time Is Tight" are the rare exceptions. Among my favorite surprises are O.V. Wright's "Eight Men, Four Women," Freddie Scott's "Last Train to Jacksonville," Erma Franklin's original of "Piece of My Heart" (I've been looking for that one for years), Howard Tate's "Stop" and "Rainbow" by Gene Chandler. It's easy to forget just how strong some of these songs were.
As cool as the music itself is the Rhino's inspired packaging. The set comes in what looks like one of those lunch pail-like boxes that were used to hold 45s. Each disc is made to look like a 45, with the Rhino logo juxtaposed on an old soul label, complete with sleeve (one of which even has a $.98 sticker on it). There's also a deck of cards, each one containing the picture of an artist, the date of each song and how it charted, a paragraph of commentary and a trivia question. What a deal … and you can dance to it, too! (Don't you wish you had as much fun on your job as these Rhino guys obviously do?)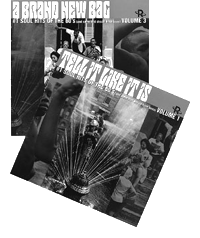 But in case you were looking for "Just the hits, ma'am," you haven't been left out in the cold. Relativity Records has revved up a three-disc set #1 Soul Hits of the '60s (and some that should have been) on its Repeat label. Of course, there's some inevitable duplication with the Rhino set, but nothing significant enough to scare you off this fine compilation. The hits were all #1 on the Billboard® R&B, not pop, chart, so it's likely there are a few you may have missed the first time around. You'll find chestnuts like James Brown doing "Papa's Got a Brand New Bag," Sam & Dave's "Hold On, I'm Comin'," the Dells' wonderful "Stay In My Corner" (though only the short version), Eddie Floyd's "Knock on Wood," Gene Chandler's "Duke of Earl," Aaron Neville's "Tell It Like It Is," Lou Rawls' "Love Is a Hurtin' Thing" and the Marvellettes' "Please Mr. Postman" — all singers who are represented by different songs on Beg, Scream & Shout. Additionally, several of the artists left off the bigger box can be found here.
Obscurantist that I am, my biggest pleasure came from the "should have beens." Mattie Moultrie's 1966 cover of Otis Redding's "That's How Strong My Love Is" is an absolute heart-ripper (and a new one on me). If you've only heard the Moody Blues' version of "Go Now," then you must hear Bessie Banks tear into her 1964 original, one that didn't even chart. Here's Big Maybelle with "Do Not Pass Me By" and Tommy Hunt's "I Just Don't Know What to Do With Myself," which preceded Dionne Warwick's hit by four years. Johnny Adams weighs in with "Reconsider Me" and my man Walter Jackson — who was crippled and performed on crutches — belts out "My Ship Is Coming In" (though his "Welcome Home" would have been an equally good choice).
There's a total of 65 songs, every one a treat. If you simply can't spring for the B, S & S box, #1 Soul Hits is an excellent fallback. But devoted lovers of soul who have a little extra holiday green will certainly have to have both. They're a clear reminder of just how fertile an era in black popular music the pre-disco decade was.
There were interesting, if very different, things afoot in the previous decade as well. In the '50s, Atlantic Records was home to LaVern Baker, Big Joe Turner, Ruth Brown, the Clovers, Chuck Willis, Ivory Joe Hunter, the Drifters and Clyde McPhatter (in addition, of course, to Ray Charles). The label churned out one R&B hit after another.
But the Ertegun brothers were also jazz lovers, and in 1956 they added enigmatic bassist Charles Mingus to their roster. By this time Mingus was already established as part of the vanguard of bebop (he appeared on the legendary Jazz at Massey Hall live session with Charlie Parker, Dizzy Gillespie, Bud Powell and Max Roach in 1953). He had established his own Debut label to produce his further explorations in composition and improvisation. Schooled in European classical music, his composing was loosely based on that framework, but when he reached Atlantic he began to introduce other sounds. One was the gospel that he had picked up from his stepmother's membership in a Holiness Church. Another was a revived interest in the blues; not that surprising, since he had done arrangements for Dinah Washington in the '40s along with session work on countless R&B records, but belated nonetheless.
Passions of a Man, yet another Rhino release, serves up Mingus' complete Atlantic recordings from 1956 to 1961, his first pass with the label. Like the man himself, some of these are challenging and even disturbing, as with his long, strange piece "The Clown," which features a bizarre narration by Jean Shepherd. But the rewards of accepting the challenge can be sensational. The entire 1959 Blues & Roots session (mentioned elsewhere in this issue) is here, augmented by four recently unearthed alternate takes — something roughly on par with the revelation of a new cache of the Dead Sea Scrolls. Also included is the session that would become Oh Yeah, with Booker Ervin (tenor sax) and Roland Kirk (sax, flute, whistles, sirens, etc.) wailin' the blues and emanating a good time feel on themes like "Hog Callin' Blues," "Oh Lord, Don't Let Them Drop That Atomic Bomb on Me" and "Eat That Chicken."
The entire five discs of music drip with soulfulness. A bonus sixth offers the complete version of a conversation between Mingus and Nesuhi Ertegun that appeared in an edited version on the original CD release of Oh Yeah. The interview certainly brings home what a strange cat Mingus was and it inspired me to finally read his autobiography, Beneath the Underdog. While not necessarily for the faint of heart, Passions of a Man portrays a sublimely vibrant period in the career of a musical giant whose turbulent life was spent in — and on the edge of — the eye of a powerful creative force.
---
Blues from the Red Rooster Lounge originates on Boulder's KBCO 97.3 FM (where it can be heard Sundays at 9 p.m.) and airs weekly on 15 radio stations around the U.S.. Check with your local station for availability. (Station program directors can receive a sample copy of the program by calling the Longhorn Radio Network at 1-800-457-6576.) The Rooster also consults for the MusicChoice digital cable radio service, a 24-hour commercial-free, all-blues channel available from hundreds of cable providers nationwide.
---
This page and all contents are &copy 1998 by Blues Access, Boulder, CO, USA.