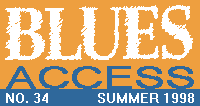 ---

What a rush: It may occasionally slip our minds, but blues was originally very much a face-to-face medium. To hear a performer you went to a juke or maybe hung out on his porch sipping whiskey. It wasn't until the advent of recording devices and radio broadcasts that the musical experience could take place outside the physical presence of the musician. While these technological marvels gave the music a wider appeal (and created a whole new way of appreciating sounds), they also were not without certain inherent distortions. Mainly, key components of the music are lost when that experience is strictly auditory.
All of which brings me to Bobby Rush. I think all of us who love music have come across something that simply didn't do it for us until we saw the artist in person. What I heard of Bobby Rush on CD sounded like OK R&B, though of the "strutting sexual peacock" variety that usually doesn't interest me very much. But I'd heard that he put on a terrific live show, so I figured I'd catch up to him sooner or later and, meanwhile, just put those CDs aside.
Sooner or later came at the 1996 King Biscuit Blues Festival. It was prime time Saturday evening and downtown Helena was hopping. From our vantage point atop the levee, Catfish Whitey and I could see the crowds on Main Street, more people at the carnival attractions on the next street over and the biggest audience of the weekend building in front of the prime stage. Out onto the stage came what looked like a demented black cowboy, dressed all in red with six-shooters on his hips, madly speed-rapping about "BobbyRushBobbyRushBobbyRush!"
The whole thing had the air of spectacle to it, so we made our way down front for a better look. The announcer/cowboy/foil was whipping the crowd into a frenzy. And here was the man himself, front and center with his coochie dancers, face in a wide, leering grin, as if he were drowning in a sea of booty and loving it. For the next hour or so, through several costume changes, some hilarious vaudeville shtick and plenty of infectious music, we found out just what Bobby Rush was all about.
The following summer I got to spend about 45 minutes in conversation with Bobby Rush before he went onstage at the Kansas City Blues & Jazz Festival. What I found was a thoughtful, respectful person who had built a solid show business career in what seemed like an alternative universe almost totally outside the awareness of the white American musical mainstream. I left, promising that he'd be hearing from us in the future.
Enter writer Stanley Booth (whose interview with Mose Allison was last issue's cover story), for whom an assignment to interview and hang out with Bobby Rush was a dream come true. The result of their interaction takes up a large portion of this issue, but we think you will be as fascinated as we were with what we learned about this very special artist.
Festivication: Our summer festival section is bigger and more complete than ever (thanks in large part to the fastidious phoning efforts of BLUES ACCESS staffer Billie Gutgsell). We've only included ones that we could definitely confirm. There are always a few small events that manage to slip under the radar, but as we find out about these we will be adding them here in our Online Edition.
Way before blues festivals were commonplace, there was Ann Arbor, a festival that had its genesis in the late '60s. From 1972 to 1974, Leni Sinclair was there with her camera and poet/writer/DJ/revolutionary and general renaissance beatnik John Sinclair was behind the scenes as co-producer. This was a time when blues giants still walked the earth and opportunities for them to play before large audiences were much more limited than they are today. Ann Arbor attracted the cream of the crop and Leni's photographs of them are the centerpiece of our special feature on this groundbreaking celebration.
If you're fortunate enough to own the 1973 LP Ann Arbor Blues & Jazz Festival 1972 (Atlantic SD 2-502), you'll be able to see a bunch more of Leni's shots. (It is notable that more than half of the musicians pictured there have passed on in the intervening quarter century.) John Sinclair wrote in the notes to that album, "We wanted particularly to destroy the elitist Euro-American presumption that these musics belong only in museums, on records, or in intimate small gatherings of intelligentsia who think themselves the only truly appreciative audience for such quaint esoterica." I think it's safe to say their goal has been realized.
www.what?: There are other good reasons to check out BLUES ACCESS Online. Large chunks of issues No. 25 through 33 are available there, as well as our master "Where to Find 'Em" list. You can subscribe online and take advantage of other cool offers, from t-shirts to art prints.
Getting reviewed: It seems like we mention this a lot, but it still bears repeating. If you are a musician or producer who wants to get your CD reviewed in BLUES ACCESS, you need to send us two (2) copies of any releases. We need one copy for the archives (and possible airplay on the Blues from the Red Rooster Lounge syndicated radio program) and another to send to a potential reviewer. Doing this doesn't guarantee that you'll be reviewed, but without two copies we can guarantee that you'll only get a mention in the "New Releases" section.
-- Cary Wolfson
---
This page and all contents are &copy 1998 by Blues Access, Boulder, CO, USA.