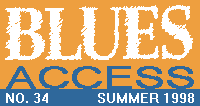 ---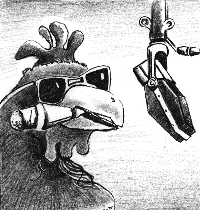 Rough Seas, No Land in Sight
George Myers wanted to throw a party. Not just any party, mind you, but The World's Greatest Floating Blues Party. To his everlasting credit, he pulled it off -- and not just once, but seven times. The Ultimate Rhythm & Blues Cruise brought the term "blues cruise" into common parlance and provided a rollicking good time on the high seas for a growing family -- which is exactly what they considered themselves -- of enthusiastic cruisers, many of whom were what George lovingly called "repeat offenders." Each cruise built in scale upon the previous one: more bands, more people, more exotic locations. From its original stomping grounds in the Caribbean, the URBC expanded to the Mediterranean and was planning an excursion to Greece this June when things began to unravel.

While the cruises were wildly successful as aesthetic experiences, the company didn't always take in as much money as it shelled out. It was embroiled in a legal dispute involving several hundred thousand dollars with one of the cruise lines. In mid-May the shoe finally fell. Just two weeks before the Greek tour, a letter from Myers produced an alarming collective thud in the hearts of prospective partiers. "It is with regret that I must inform you that due to the adverse decision of a lawsuit and the poor sales of URBC8 that Ultimate Rhythm & Blues Cruise Inc. is insolvent. Consequently the cruise will not occur."

The news would get worse. From what was a business fiasco and a major disappointment -- not to mention a possible financial setback -- for the hundreds of blues fans whose excitement was building for the trip to Greece, things took a tragic turn. Word soon filtered out that, embarrassed and disheartened, George Myers, 51, had taken his own life sometime on the morning of May 18.

· · ·


I had planned to be on board that Greek cruise and was crestfallen when I learned that it had been canceled. But that was swept away by this greater loss, and I'm here to praise George Myers, not to bury him under the recriminations and legal actions that seem likely to follow his passing.

I first met George at 1994's URBC3 in the Caribbean and we became instant friends. He was a hyperkinetic individual who poured his considerable zeal and energy into a love for the blues. As an underage youth it had led him to hop planes from his home in Kansas City to Chicago, where he would hang out all night listening to music before catching a flight back and going to school the next day. Later he would channel it into his award-winning nightclub, the Grand Emporium, in which he (along with Roger Naber and Herb Palmer) was a partner for 13 years.

"You see all those posters up there?" he once asked me, pointing to the handbills proclaiming the various blues and jazz greats who have played at the club and which became its wallpaper. "People think those are up there for the sake of the customers. But I really want the musicians to see them so they'll know what kind of standards they have to play up to."

George was passionate, adamant about the music. He'd been around enough to know the good stuff when he heard it and wouldn't be satisfied with less. "My ultimate blues set,"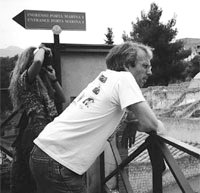 he told me, a glint in his eyes, "would be nine consecutive Otis Rush songs, each more depressing than the last." Not that he was in any way a somber person; it was just that down sound that he loved, and I could completely relate.
In addition to the club and the cruise biz, he also had a "straight job" as a commodities broker, a profession that requires a stomach for volatility and the ability to juggle a number of balls at one time. "George was always unsettled -- he never was content. He always had to have all these things going on and be in the center of the maelstrom," his friend and fellow trader Dave Gibson told The Kansas City Star. "But the music was always his avocation, the real constant for him. Everything else was a momentary distraction."
Within the music business -- which certainly attracts its number of flakes, phonies and crooks -- George was one of the good guys, a responsible, "do it the right way" guy. On the cruise ships there couldn't be just one stage for the music, and your average shipboard sound system just wouldn't do the trick. And if we're going to go to Greece, wouldn't it be fun to have all the loonies aboard a chartered flight, even if it's maybe not the most economical way to do it?
At the end, with the situation spiraling out of control, he couldn't abide the fact that he'd let a lot of people down. But he also didn't comprehend or accept that those of us who knew him would love him anyway.
In his letter to the cruise customers, George apologized and took personal responsibility for concealing the extent of the company's financial problems from employees and stockholders. Clearly, he didn't think that was sufficient. "This was the most honorable way to settle his accounts," said long-time friend and partner Naber. "It was his way of apologizing."
"He owed more than he had, and he knew this trip would only make it worse," said Marcia Selko, president of the Baltimore Blues Society and one of those blues cruise recidivists. "It was his goodness that caused this, not anyone's meanness. He simply tried too hard."
---
Blues from the Red Rooster Lounge originates on Boulder's KBCO 97.3 FM (where it can be heard Sundays at 9 p.m.) and airs weekly on 15 radio stations around the U.S.. Check with your local station for availability. (Station program directors can receive a sample copy of the program by calling the Longhorn Radio Network at 1-800-457-6576.) The Rooster also consults for the MusicChoice digital cable radio service, a 24-hour commercial-free, all-blues channel available from hundreds of cable providers nationwide.
---
This page and all contents are &copy 1998 by Blues Access, Boulder, CO, USA.