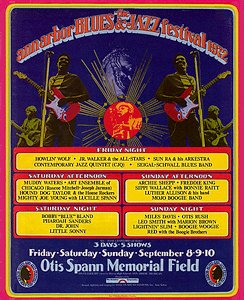 The Ann Arbor Blues & Jazz Festival brought together a wild mixture of modern blues masters and cutting-edge jazz creators with a riotous crowd of long-haired hippies and music lovers of every description to brew up an exhilarating blend of African-American music, sunshine and merriment for three glorious days in September of 1972.

This heady experiment in cross-cultural programming filled Otis Spann Memorial Field with 12,000 ecstatic celebrants for five shows that combined Howlin' Wolf, Jr. Walker & the All-Stars and Sun Ra & His Arkestra; Muddy Waters, the Art Ensemble of Chicago, Koko Taylor and Hound Dog Taylor & the Houserockers; Bobby "Blue" Bland, Pharaoh Sanders, Dr. John and Little Sonny; Freddie King, Archie Shepp, Sippie Wallace, Bonnie Raitt and Luther Allison; Miles Davis, Otis Rush, Lightnin' Slim, Leo Smith & Marion Brown, Robert Lockwood and Johnny Shines.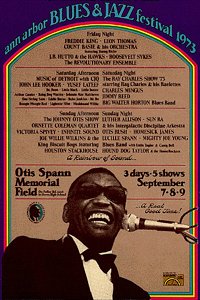 The festival returned in 1973 with an even more ambitious agenda, offering five insane combinations which presented on-the-same-stage performances by Roosevelt Sykes, Leon Thomas, the Count Basie Orchestra and Freddie King; Yusef Lateef, John Lee Hooker, CJQ and a Motor City Blues Revue that included Baby Boy Warren, Washboard Willie, Dr. Ross, Eddie Kirkland, Boogie Woogie Red, Eddie Burns, Bobo Jenkins and One-String Sam; Ray Charles, Charles Mingus, Big Walter Horton and Jimmy Reed; the Johnny Otis Show, Ornette Coleman, King Biscuit Boys and Victoria Spivey; and Luther Allison, Hound Dog Taylor and Sun Ra - three perennial favorites with the Ann Arbor audience.
Problems with city authorities prompted the organizers to move the festival to Windsor, Ontario - across the Detroit River - in 1974. Attendance shrunk, and disaster struck when Canadian border officials turned back thousands of American music lovers bent on attending the Ann Arbor Blues & Jazz Festival in Exile.
This brought the series to a shuddering conclusion, but the extraordinary music made at the three fests was preserved on tape and may be heard on a continuing series of CDs. The striking images of the artists captured in performance by photographer Leni Sinclair surely convey the excitement and thrills felt by everyone when they encountered most of them for the first time - some of the greatest musicians of our age.
---
| | |
| --- | --- |
| | Luther Allison had burst on the national blues scene in 1970 with his dynamic performance in Ann Arbor, and he was the big hit of the 1972 Blues & Jazz Festival with his tight, horn-driven ensemble, eloquent guitar and emotive vocals. Picked to close the 1973 festival, Allison returned with a spare backing trio to tease the crowd before pouring it on with a series of blazing solos. You can see in his face the joy Luther always felt when he was playing his guitar for a sympathetic audience. |
---
| | |
| --- | --- |
| By 1973 John Lee Hooker was a world-wide sensation, with versions of his songs available by everyone from the Animals to the MC-5. Invited to headline the Motor City Blues Revue on Saturday afternoon, Hooker brought his sons, Robert and John Lee Jr., onstage with him, and enjoyed a jovial, fun-filled reunion backstage with old Detroit cohorts like Eddie Burns, Boogie Woogie Red, Eddie Kirkland and Baby Boy Warren. | |
---
The legendary One-String Sam had languished in utter obscurity since his mid-'50s recording of "l Need $100" was released to an unsuspecting world by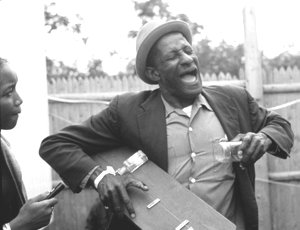 Detroit's miniscule JVB label. Located in an Inkster housing project in 1973, Sam was added to the Motor City Blues Revue and turned his 15 minutes onstage into a rousing, crowd-pleasing tour-de-force, fretting his one-string guitar with a baby-food jar that - stuck up next to the microphone - doubled as an echo chamber for his wailing vocal plaints.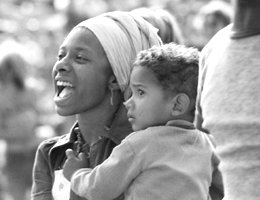 The surprise hit of the festival, One-String Sam remained on-site until the end, entertaining his new fans with a series of impromptu performances backstage and on the festival field itself.