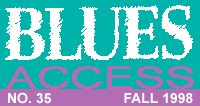 ---
Health report

Two of the blues' most visible elder statesmen are recuperating from health complications. Singer/pianist Charles Brown, 76, is home recovering from congestive heart problems that caused the cancellation of most of his summer dates. The bad news is that except for local gigs, the great singer's live career, which has blossomed over the last decade, has come to an end. He is expected to record again before long, and he has dialysis treatments a couple times a week.

And soul pioneer Rufus Thomas, 81, best known for hits such as "Walking the Dog,'' and "Do the Funky Chicken," is recovering from triple heart-bypass surgery. Thomas has been an ambassador for Memphis music since the late '40s. His recording career helped jump-start Sun Records, and his songs have been recorded by rock acts such as the Rolling Stones and Aerosmith. To wish him well, send cards to: Rufus Thomas, c/o 1595 Joanne St., Memphis, TN 38111.

---
BLUES ACCESS proudly salutes the winners of the 1998 Keeping the Blues Alive awards which are selected for the Blues Foundation by a committee of members of the blues industry:
Achievement in Education:
Michael "Hawkeye" Herman, Oakland, California
Achievement in Historical Preservation:
David Sanjek, New York, New York
Achievement for Blues on the Internet:
www.thebluehighway.com (Curtis Hewston)
Blues Organization of the Year:
Natchel' Blues Network, Norfolk, Virginia
Blues Club of the Year:
Buddy Guy's Legends, Chicago, Illinois
Promoter of the Year:
Tom Mazzolini, San Francisco Blues Festival
Blues Sponsor of the Year:
Lady Luck Rhythm & Blues Casino, Lula, Mississippi
Achievement in Blues Retail:
Bubba's Blues Corner, Helena, Arkansas (Bubba Sullivan)
Achievement in Public Radio:
Steve Cushing, Blues Before Sunrise, WBEZ, Chicago, Illinois
Achievement in Commercial Radio:
Blues Deluxe, Austin, Texas
Achievement in Visual Broadcast — Film, TV & Video:
Austin City Limits, Austin, Texas
Achievement in Literature:
David "Honeyboy" Edwards The World Don't Owe Me Nothing, Chicago, Illinois
Achievement in Journalism:
Ted Drozdowski, Boston, Massachusetts
Achievement in Print Media:
Big City Blues, Detroit, Michigan
Achievement in Art/Photography:
Mark Norbert, Minneapolis, Minnesota
Special KBA in Publishing:
Handy Brothers Music Co., New York, New York
Johnny Clyde Copeland Humanitarian Award:
Big Joe Turner Musician's Fund, Los Angeles, California
Manager/Agent of the Year:
Blue Sky Management, Minneapolis, Minnesota (Miki Mulvehill)
Sleepy John Estes update
If you're traveling in the western Tennessee area in September, you might add Brownsville to your list of places to visit. In connection with recent efforts (see BLUES ACCESS #34) to recognize Sleepy John Estes, the town is hosting a blues festival on September 25–26, with music by Larry Garner, Blind Mississippi Morris, Preston Shannon, the Radio Kings and others.
Before the music begins, Estes' monument will be unveiled at the Elam Baptist Church. Designed by Eric Von Schmidt, the stone is being donated by local funeral homes and will complement the markers already in place for Estes pals Hammie Nixon in Brownsville and Yank Rachell in Indianapolis. A tour will be offered of the Sleepy John Estes house, recently purchased by the town and now open as a museum, and the Estes and Nixon gravesites. For more information about the festival call Belinda Sellari at (901) 772-2193
---
Hall of Fame
Ahmet Ertegun and Bobby "Blue" Bland will receive lifetime achievement awards and six other people will be inducted into the Blues Hall of Fame during a star-studded ceremony Nov. 9 at House of Blues in Los Angeles.
Ertegun, the long-time head of Atlantic Records, joins Atlantic producer Jerry Wexler, recipient of the first lifetime achievement award. Bland, of course, continues performing after a career that has included some of the best-known blues albums and songs of all time.
The six other inductees include Albert King for his Stax album, I'll Play the Blues For You; Junior Wells for this Vanguard single, "Messin' With the Kid"; author William Ferris for his book, Blues From the Delta; Luther Allison and Junior Wells as performers; and Lillian Shedd McMurry, owner of Trumpet Records, and Sun Records founder Sam Phillips in the non-performer category. For more information about the event, call the Blues Foundation at (901) 527-2583 or point your browser to the foundation's site (www.blues.org).
And Buddy Guy, Dr. John, Snooks Eaglin, Earl King and Johnny Adams headed an impressive list of inductees into the Louisiana Blues Hall of Fame August 14 at the New Orleans House of Blues. Others who were inducted include Leslie "Lazy Lester" Johnson, Blu Lu Barker, James Johnson and Alonzo "Lonnie" Johnson. More about these awards at the hall of fame website (http://bus.maas.net/blues).
---
Bob sightings
There's a web site that includes a picture that purports to be Robert Johnson that the site's keeper claims was "found in a pile of old photos of black Americans from the early 1900s." It shows a young black man with a light shirt and dark hat, seated in front of a wood cabin with a cigarette dangling from his mouth. The page includes a close-up and copies of the two published Johnson photos for comparison and asks for people's opinion.
Our two-cents worth: We would agree that the man bears a resemblance to the known Johnson photos, although the large unlit cigarette, almost a mirror image of the one in the Johnson carnival photo, is certainly suspect. In a world of Photoshop and other readily accessible computer enhancement tools, who can say for sure that any photo is real? Also, you can't see the hands, and the other Johnson shots show long, delicate fingers that mark him. Another bad sign: The website is apparently operated by one L.A. Rothstein, who also offers his photography for sale at the site under the rubric LANDA OZ Productions. Email to the site is returned to sender. Hmmm. Not promising.
Perhaps of more significance, there are published reports of another Johnson visual, this one a silent film, less than a minute long, of a man, identified by Robert Jr. Lockwood as Johnson, playing his guitar in front of a movie house in Greenwood, Mississippi. (Curiously, when queried last year by the Red Rooster about his role in verifying RJ's image on the much talked about clip, Lockwood's response was terse: "Bullshit.") According to people who have seen the film, the guitar player has the requisite long fingers, and, get this, a harmonica rack around his neck, which would certainly add to Johnson lore. The Memphis collector who owns it is apparently weighing his options to sell, so we'll have to wait and see if it follows The Zapruder Film into general circulation.
---
"Where did I read that story?"
For those who know they read about their favorite artist in BLUES ACCESS but can't remember which issue it was, the latest update to Mary Katherine Aldin's Blues Magazine Selective Index is in its third edition, which takes BA through issue #33.
The index works according to artist and subject and also has complete listings for 78 Quarterly (issues 1–8), Blues and Rhythm: The Gospel Truth (1–130), Juke Blues (1–40) and Living Blues (1–139, except review-only issues). As Aldin explains, it's not meant to be comprehensive but intended for both scholars and casual readers. It's available for a reasonable $12, including postage ($16 out of the U.S.) from Mrs. Mary Katherine Aldin, Box 2407, Hollywood, CA 90078. A must for blues fans.
---
Send information for this column to ACCESS, c/o BLUES ACCESS, 340 S. 42nd, Boulder, CO 80303, fax to (303) 494-1127 or e-mail Lrucker@aol.com.
---
This page and all contents are &copy 1998 by Blues Access, Boulder, CO, USA.