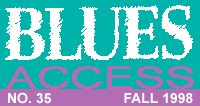 ---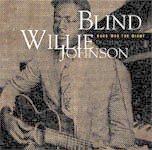 Letís turn the way-back machine to the years 1927Ė1930, the years that Blind Willie Johnson made the recordings that appear on Dark Was the Night (Columbia/Legacy). Johnson, was of course, a gifted slide guitarist, but it was his songs about faith, hope and redemption sung with a sandpaper growl that could scare ghosts out of a graveyard. "John the Revelator" may be the most frightening Biblical song youíll ever hear, while "If I Had My Way, Iíd Tear This Building Down" leaves one amazed that Peter, Paul and Mary could later bowdlerize it in their own key. "I Know His Blood Can Make Me Whole" is the sound not just of spiritual sacrifice, but human sacrifice: It sounds like something one of the cannibalistic zombies would hum to himself in "Night of the Living Dead." The terrific digital mastering makes Dark Was the Night vividly effective.
---
There are a whole lot more raw blues on the aptly titled Down Home Slide (Testament 6009). This ainít the glistening slide of post-Allman Brothers Southern rock. This is the sound of slide guitar as both instrument and metaphor,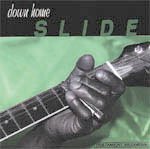 for blues players who keep finding out theyíve got farther to slide even after they think theyíve hit the bottom. Elijah Brown, on his version of "John Henry," sounds like heís heading for a whipping after 16 hours working fields with a plow on his shoulders. John Henry Barbee sings "I Know She Donít Love Me" as a sad, basic truth, while George Coleman has no trouble establishing the credibility of "Mad and Evil."
Youíve got your more acclaimed slide players here: Big Joe Williamsí "Roll Over Me Slow" and "My Lonesome Bed" capture the forlorn urgency of his artistry. But itís a lesser light like Blind Connie Williams who captures the trapped-between-heaven-and-hell existence of these blues people with the relatively upbeat "Iím on My Way to Canaan Land." For these musicians, the promise of relief in the afterlife is the only reason to go on living.
---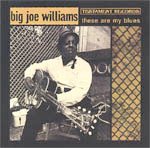 Big Joe Williams has his own Testament set, These Are My Blues. This solo recording from a 1965 concert has Williams bringing some low-down, dirty truths to what was almost certainly a clean-cut crew of students at Rockford College in Illinois. I like to imagine him dedicating "Good Morning Little Schoolgirl" to a sweet freshman cheerleader. Williams gets somber for a minute on "A Man Amongst Men," one of the many tributes to slain President John F. Kennedy from heartbroken bluesmen. But basically, you hope that Big Joe got to take a drive with one of those Rockford girls in his "Ď56 Plymouth" that they rode down "Highway 49," that he had to "Bottle It Up and Go" after just a touch of her "Mellow Peaches" because he got "Sloppy Drunk." A good time was probably had by all.
---
Blues isnít all hard times and trouble. Sometimes, in fact, itís just plain crazy. Hezekiah and the House Rockers may have come from Mississippi, but the river town of Natchez seems to have had its own musical microclimate that shared little with the Delta. At least thatís the message I get from Hezekiah and the House Rockers" (High Water/HMG 6511) who recorded these tracks in 1983 for an album released in 1990 by High Water.
The most notable of many eccentricities is the instrumentation: I do not believe any Delta blues group utilized, as its featured instrument, the trombone. As played by the late PeeWee Whittaker, the trombone makes perfect sense on river blues like "Goiní to California" and an original called "Mary Had a Little Lamb," which evokes images of a low-rent version of the Rebirth Brass Band. (The connection is underlined by a rendition of "When the Saints Go Marching In"). Hezekiah Early is the drummer, harmonica player and singer, while the guitarist was James Baker.
The instrumentation allowed these House Rockers to stray all over the musical map, although a version of "Whole Lotta Shakiní Goiní On" doesnít seem to have much purpose. But the harp/trombone interplay on "Baby What You Want Me to Do," takes us almost into Captain Beefheart territory. And surely this must be the only blues group to cut an original track (by guitarist Baker) called "Disco Fever."
---
Every aspect of Janis Joplinís death-by-overdose in 1970 was tragic: Not just the brevity of her life ó she was 27 ó or the well of insecurity from which she drew both her fatal addiction and her blues power. Sadder yet was the body of recorded work left behind, which struggled mightily to fall short of the dramatic luminosity of her best concerts. In a way, she was the victim of a classic music industry bait-and-switch. Signed to Columbia Records with her unpolished but perfectly suitable band Big Brother and the Holding Company, Joplin was persuaded by many that she would be a solo star with more technically adept musicians.
But Joplinís musical strength came with her identification as a misfit, and she would never be as comfortable with purebred musicians as she was with the mangy mutts of Big Brother. Their reputation-making sets at the 1967 Monterey International Pop Festival notwithstanding, the alchemy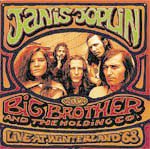 between Joplin and her guys ó guitarists James Gurley and Sam Andrew, drummer David Getz, and bassist Peter Albin ó has been largely unrepresented for more than 30 years. Now, Janis Joplin with Big Brother and the Holding Company: Live At Winterland í68 (Columbia/Legacy CK64869) finally does justice to Big Brotherís contribution to the Joplin legend.
How intense is Joplin? She blasts-off with the beginning to "Down on Me" before Bill Grahamís introduction has faded. She hurls her body recklessly into "Bye Bye Baby," riding her emotions like a skateboarder careening down Divisidero. "I Need a Man to Love," in Big Brotherís "progressive-regressive hurricane blues style," as Andrew called it, is as defiant as it is definitive.
"Piece of My Heart" is even more intense: Andrew, Albin, Gurley and Getz whip up enough wind around Joplin that it sounds like a typhoon laying siege to Okinawa. Like everything else about Joplin, these shows seemed like too much to last too long. But this is the best recording thatís ever been made of her, with the sidekicks with whom she always belonged.
---
While the blues lived inside Janis Joplinís heart, they are just one of the many residents competing for Van Morrisonís soul. But ever since 1964, blues and rhythm & blues have played an important part in his music. As leader of the Irish band Them, Morrison composed classics like "Gloria" and "Mystic Eyes" while doing passionate covers of blues standards, from Big Joe Williamsí "Baby Please Donít Go" to T-Bone Walkerís "Stormy Monday Blues" to Jimmy Reedís "Baby What You Want Me to Do." (John Lee Hooker did an enthrallingly strange version of "Gloria," featuring a guest spot by Morrison, a few years ago.)
Picking away at a vault in search of his own set of Basement Tapes, Morrison has released a two-CD set called The Philosopherís Stone: The Unreleased Tapes (Polydor), a deep, rich and powerful collection of tunes recorded between 1971 and 1988. And thereís plenty for the blues-biased Van fan to enjoy. "Really Donít Know" is a sorrowful blues featuring piano and scat. "Ordinary People" is a straightforward blues progression full of fragmentary thoughts, beautifully communicated. The band behind him on the cut is a blues-rock-jazz dream team, with former Butterfield/Electric Flag alumnus Mark Naftalin on harp, Connie Kay of the Modern Jazz Quartet on drums, and a surprisingly saucy Ronnie Montrose guitar solo.
Morrisonís 1977 adaptation of "John Henry" sounds like a primal scream from a raw wound. But Morrison, who occasionally appears tormented at having to be engaged in the Business of music, has never put across his pain the way he does in the "Drumshanbo Hustle" of 1973. Torrents of tortured images accumulate until Morrison spews out the climactic couplet: "You were puking up your guts/When you read the standard contract that you just signed." Now thatís the blues!
---

Shortcuts: I hadnít heard much of James "Son" Thomas before the release of Beefsteak Blues" (Evidence 26095), sessions originally recorded between 1980 and 1985. Heís got a gentle voice that sometimes rises to a sweet falsetto. The thing I like best about this pleasant journeyman is his self-penned epitaph: "Give me beefsteak when Iím hungry/Whiskey when Iím dry/Pretty women when Iím living/Heaven when I die." Ö Paula Recordsí anthology Chicago Blues of the 1950s: The Music That Made the City is not precisely, historically true. Of course, if you ignore all the blues people who recorded for Chess, Checker, Vee-Jay and Mercury you can start to build a case. At least these recordings originally done for the Cobra, Chief, JOB and ABCO labels featured Willie Dixon, Lafayette Leake, Otis Rush and Earl Hooker, among others, as session players. The artists arenít exactly household names: They include Guitar Shorty, Lillian Offitt, Lee Jackson, Clarence Kelly, Moody Jones and Morris Pejoe. Morris Pejoe? Actually, Pejoe proves to be an energetic journeyman on "Screaming and Crying." The best track here, though, is Sunnyland Slimís raucous, rocking 1956 recording of "Highway 61." The way the harp and piano rip up the joint tells you all you need to know about why Highway 61 was revisited nine years later by Bob Dylan Ö Though the Allman Bros. Bandís glory days were behind them when they recorded for Epic in the í90s, Mycology: An Anthology (550 Music BK68682) has some worthwhile moments: "Good Clean Fun" would never have been the subject of an Allmanís song 20 years ago, and "Seven Turns" is more Tao-pop than Macon boogie. But the pop structures are durable, Tom Dowdís production easy to get along with and the good playing never cheats on feeling. Live bonus tracks: "Midnight Rider" live acoustic from 1992 and "Every Hungry Woman" live from the 1970 Atlanta Pop Festival appearance that broke the group wide open Ö Four of Mose Allisonís unwaveringly suave albums for Atlantic in the late í50s and early í60s have been issued in a handsome two CD package, The Sage of Tippo, by Joel Dornís 32 Jazz label. Swinginí Machine, produced by Nesuhi Ertegun, features Jimmy Knepper on trombone and Jimmy Reider on tenor sax. Intriguing, if not the maximus Mose instrumentation. The three subsequent albums, The Word From Mose, Wild Man on the Loose and Iíve Been Doiní Some Thinkiní all feature the piano-drums-bass set-up that has suited the sage for the ages. Fabulous.
---
This page and all contents are &copy 1998 by Blues Access, Boulder, CO, USA.