HTML>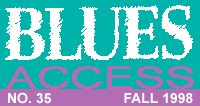 ---

Crossing the Generations: We live at a time when all too few of the blues "originals" are still with us, and all too many are finding their way into the obituary pages. The idea of turning up a "lost" bluesman is almost a lau ghable one these days, fodder for a cheesy Hollywood movie like "Crossroads."
In the 1960s, though, it could and did happen. Starting on page 40, Rebecca Davis tells the fascinating story of a young blues fanatic who helped an ailing and disoriented Son House "get his groove back." On the face of it, it seems outrageou s that a guitarist in his early 20s would have the temerity to take one of the greatest Mississippi Delta blues legends in hand and proceed to teach him how to play his own music. Yet that is indeed what Alan Wilson did, and if that were his only contribu tion to the blues he would be deserving of our gratitude.
Those of you who were around then and still have your memory intact will surely remember that at almost any concert in the late '60s or early '70s you were likely to hear some obnoxious guy bellow out one of two things:
a) "Whippin' Post!"
b) "Booo-gieeee!"
For the latter we have the band Canned Heat to thank. Although they took the "boogie" idea to almost interminable lengths, the band was founded by two young blues scholars who took the source music very seriously. Bob "Bear" Hite began acquiring blues 78 rpm records when he was in his early teens, ending up with what was reputed to be one of the best collections in the country. Alan "Blind Owl" Wilson (no, he wasn't blind, but he did wear thick glasses) was performi ng around Cambridge and writing articles about then-obscure country bluesmen while he was a student at Boston University.
Listen to their first album or any of the unreleased tracks from 1967 that appeared on 1994's Uncanned: The Best of Canned Heat (EMI) and you'll hear a group that's giving loving attention to classic blues tunes and originals that derive from th e classics. Despite their later excesses, it's worthwhile to check out this early material and perhaps re-examine the role of a band that was waving the blues flag at a time when not too many people were paying attention.
Obviously, then, there is a history of youngsters delving into the tradition and attempting to find their part in it. You don't need me to tell you that the current scene appears to be virtually flooded with extremely youthful performers who are often ballyhooed as "the future of the blues." While I have to admit that my standard take is "Come back when you've had some real life experience," we felt it was time to give the most prominent of these "blue kids on the block" t heir propers.
Bryan Powell, a performing musician himself and a longtime contributor to these pages, sat down with Shemekia Copeland, Jonny Lang, Kenny Wayne Shepherd, Mike Welch and Josh Smith to sort out the real from the hype and to find out just how they visuali ze themselves within the continuum. Whatever you think of any or all of these artists, we think you'll come away from this article with an enhanced perspective on them.
Woodstock Is Tired, Bluestock Is Wired: The folks at Bluestock are working hard at creating a national blues convention and festival in a location that drips with blues history. On October 23 and 24, Beale Street in Memphis will be home to a variet y of performances, panel discussions, exhibits, films, showcases and representatives from all levels of the blues biz. For information on how you can attend, call (901) 526-4280 or head over to www.bluestock.org. If you don't think you can afford to pay y our way in, call and ask how you can be a volunteer.
We Go Pocono: It always amazes us to hear people say, "Gee, I love the blues but I've never heard of BLUES ACCESS." Maybe we shouldn't be so surprised, since we're admittedly better at being reclusive fans of and commentators on the blues than we are at being self-promoters. And living in Colorado has a myriad of advantages, but high visibility isn't one of them.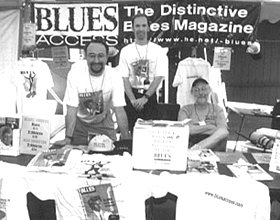 So, as part of our summer musical wanderings, the BLUES ACCESS crew set up shop in early August at the Poconos Blues Festival, our first official visit to the East Coast. In addition to making ourselves more conspicuous in this populous part of the country and generating lots of new friendships, we met a whole lot of blues folk we'd only known previously by phone or in writing. And we gave away a fat stack of CDs courtesy of Evidence Music (from nearby Conshohocken, Pennsylvania) to lucky winner J. Stone of Mendham, New Jersey.
Photographer extraordinaire Joe Rosen was on hand to provide you with this shot of our hard-working trio. Left to right: Cary Wolfson, booth manager Scott Schnabel andLeland Rucker.
— Cary Wolfson
---
This page and all contents are &copy 1998 by Blues Access, Boulder, CO, USA.