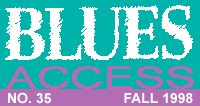 ---
Time for another side trip into some performance and documentary videos that have been piling up one side of my desk over the past several months.
---
Masters of the Blues
(One-hour VHS video)
---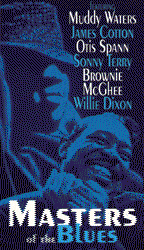 Produced a few years ago for Canadian television with guitarist Colin James as host, this exciting hour of blues was recorded three decades earlier in a Toronto studio as part of the 1966 CBC-TV Festival series. I was a bit skeptical at first, especially given the line-up; why, Muddy Waters' band alone included James Cotton on harp and James Madison on guitar — it just seemed too good to be true.
But 10 seconds into "Got My Mojo Workin'" I knew this was going to be a video I would be coming back to again and again. The crisp, black-and-white footage has excellent audio quality, and the incredible Muddy Waters Band segments are augmented by sterling performances from Otis Spann, Mable Hillary, Sonny Terry and Brownie McGhee, Sunnyland Slim and no less than Willie Dixon himself.
Not one to shy away from self-indulgence, host James gets to have an impossible dream realized: to play guitar and sing back-up for Willie Dixon. The CBC producers employ some techno/cyber mumbo jumbo that allows James to "play with" Dixon on his famous "Crazy for My Baby" — a nice, if bizarre, touch.
While introducing the last cut, James notes that on the first day of recording, Willie Dixon looked around at the stars present and said, "There has never been a session recorded like this before." The producers were listening and decided to close the program with what must be the first ever 'We Are the World"–style all-star jam on film: Everybody who recorded during those magical few days gets together for a memorable rendition of "Bye Bye Baby, Goodbye." A keeper. (Rhino Home Video, 10631 Santa Monica Blvd., Los Angeles, CA 90025-4900)
---
The Land Where Blues Began:
The Alan Lomax Collection
(VHS video)
---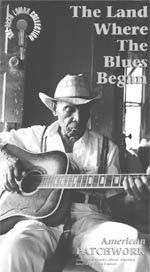 Alan Lomax has created a set of video documentaries that celebrate the roots of American traditional music. This particular piece, part of his American Patchwork series, is a fine example of a cultural anthropologist's perspective on the traditions and lifestyles that gave birth to the blues in the Mississippi Delta.
Unlike many attempts at this subject, Lomax doesn't focus on the music or how somebody famous got their chops or paid their dues. Instead, he attempts to capture the spirit of the people through his glimpses into what comprised life in the turn-of-the-century Delta and Delta life today.
Drawing comparisons between the improvised instruments used today with those still played in Africa, Lomax simply states his case that the blues carries on an African tradition of interaction between the players and their surrounding dancers, a tradition that offers respite and recreation in a life often filled with hardship and sorrow. The video and audio quality are excellent, as is the overall scripting and production. (Vestapol Productions, distributed by Rounder Records, One Camp Street, Cambridge, MA 02140)
---
Delta Blues, Cajun Two-Step:
Music from Louisiana and Mississippi
Newport Folk Festival, 1966
(VHS video)
---
If you're seeking cultural analysis, you won't find it on this tape of lots of raw footage from the 1966 Newport Folk Festival. Originally filmed by Alan Lomax, it includes a "head-cutting" contest between Son House, Bukka White and Skip James each taking turns playing tunes. Who's the winner?
You be the judge, but I have seen lots better footage of Son House, so it really comes down to whether you like the growling White or the falsetto James, both of whom are in good form. Complemented by some Creole accordion from Alphonse "Bois Sec" Ardoin (with Canray Fontenot on fiddle), as well as images of the Ed and Lonnie Young Fife and Drum Band, this Newport footage helps us imagine the texture of the time, when folk and blues revivalists scoured the countryside looking to "save" the music from obscurity. Too bad Lomax didn't have better equipment; this has some of the poorest video and audio quality I've ever seen. Still, I suppose, it's better than nothing. (Vestapol Video, Rounder Records, One Camp Street, Cambridge, MA 02140)
---
Freddie King
Live at the Sugar Bowl
September 22, 1972
(VHS video)
---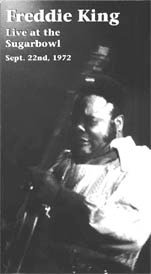 We have certainly seen better performances of Freddie King. Here the band members seem to be more concerned about how they look than how they sound. While King is in better form and the band a bit more rehearsed than the concerts recorded in Europe from this period, the camera work and audio quality are less than I'd hoped for.
Die-hard King fans — yeah, I'm talking to you guitarists out there — you'll probably find a few worthwhile segments. For the rest of you, I suggest !!!THE BEAT!!!, a set of King recordings on the groundbreaking black TV show from 1966 when "Hideaway" was a hit, King was at his peak and the house band included Clarence "Gatemouth" Brown. (Vestapol Productions/Stephan Grossman's Guitar Workshop, PO Box 802, Sparta, NJ 07871)
---
Red River Blues 1948–1974
Brownie McGhee and Sonny Terry
(VHS video)
---
A great collection of 16 performances by the legendary duo certainly considered the definitive purveyors of Piedmont blues (now succeeded by John Cephas and Phil Wiggins). Terry and McGhee toured and recorded together for more than 25 years before parting ways.
One of the gems is a version of "John Henry" recorded in 1948 for the Library of Congress with none other than Woody Guthrie. It's an exercise in itself just trying to guess the dates of each recording, either based on the styles of dress and whether McGhee was sporting hair and beard, with color/B&W often the deciding factor. Certainly a must-have for fans of the duo and the Piedmont style in general. (Vestapol Productions/Stephan Grossman's Guitar Workshop, PO Box 802, Sparta, NJ 07871)
---
This page and all contents are &copy 1998 by Blues Access, Boulder, CO, USA.