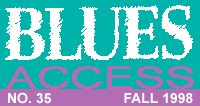 ---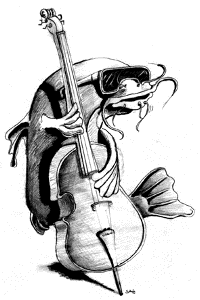 Blues book shelf
So much blues photography (and the books created from those pictures) only emphasizes performance. And let's face it, most go for the big, live shot of some guitarist contorting his face muscles while reaching for the highest fret on the guitar.
The almost complete absence of that dynamic is the first thing in favor of James Fraher's The Blues Is a Feeling: Voices & Visions of African-American Blues Musicians (Face to Face, hardcover, $40). Fraher, whose work often graces Living Blues and these pages, includes several dozen large-sized, exquisitely presented, intimate portraits of black musicians that capture more than just a good stage move; at their best they seem to peer inside the musicians' very souls.
Besides sitting down musicians both famous — Buddy Guy, Gatemouth Brown, Frank Frost, Robert Lockwood Jr., Hubert Sumlin — and lesser-known — Uncle John Williams, Bud Spires, Kansas City Red, etc. — to get their pictures taken, Fraher includes a quote from each, based around the title's implications. While there will always be those who feel that blues is "too much of the same thing," Blues Is a Feeling offers powerful evidence otherwise.
The nightlife along Central Avenue, which extended from downtown Los Angeles south through Watts, was a melting pot of black music from the 1920s through the '50s, in the days when it was all lumped as "race" music. (See BLUES ACCESS #19 for Willard Manus' overview.)
Central Avenue Sounds: Jazz in Los Angeles (University of California Press, cloth, $29.95) brings to life the storied denizens of the clubs and nightspots that housed generations of black musicians and fans for the latest sounds in jazz and blues. Extensive interviews with 19 people who were there bring a human element to the stories of Bird Parker and Dizzy Gillespie in their first West Coast appearances, and of the worlds of Billie Holiday, Miles Davis, Duke Ellington and Lester Young. Not for the casual reader, Central Avenue Sounds fills in significant holes in that important period of music and social history.
There have been a host of encyclopedias in the last few years, but before Let the Good Times Roll: A Guide to Cajun and Zydeco Music (Upbeat, softbound, $16.95) there hadn't been one devoted strictly to the Cajun and zydeco genres. Editors Pat Nyhan, Brian Rollins and David Babb include an introduction that explains the elements of each music, chapters on artists with compact discs ranked from good to bad, an extensive bibliography and Internet resources. The research seems solid, and the world of Louisiana's unique musics comes alive on every page.
When Alan Lomax did his West Indies field work in the early '60s, there was in the air the utopian notion that the various small islands could join with Jamaica and Trinidad in a new democracy, the Federation of the West Indies.
Lomax was genuinely excited by the prospect, and that enthusiasm carried over into his research. In spite of underlying linguistic differences, he writes, his results "provided a rich soil of unity for the future Federation. No matter what their language or dialect, the hundreds of Windward and Leeward Islanders we had met were stamped with the common Creole style."
Shaped by the same experiences — slavery and shipment to the Americas — their New World communal music became something new, based as much upon their new lives as their old traditions. Lomax believed that the music "could become a national resource for a federated West Indies" and found especially in children's songs the kinds of underground political satire that crosses lingual distinctions.
Politics, of course, eventually scuttled the unification ideal, but Lomax's work has gone on. Brown Girl in the Ring: An Anthology of Song Games from the Eastern Caribbean (Pantheon, hardcover, $29.95) has lyrics and music for 68 songs, an introductory Lomax essay and commentary and observations by J.D. Elder and Bess Lomax Hawes. A compact disc, Caribbean Voyage: Brown Girl in the Ring — Games and Pass Play Songs Sung by Children and Adults From Trinidad, Tobago, Dominica, St. Lucia, Anguilla, Nevis and Carriacou (Rounder 1716) is the perfect companion, with 62 of Lomax's period recordings that can be incorporated into a classroom or study group.
Peter Cooper's Hub City Music Makers: One Southern Town's Popular Music Legacy (Holcene, paper, $19.95) isn't a blues book per se, but in tracing the history of the music of Spartanburg, South Carolina, he runs across a lot of blues.
A member of Spartanburg's first platinum group, the Marshall Tucker Band, when asked about the musical history of Spartanburg, said, "Man, there isn't any." And while Spartanburg might not be on everybody's list of musical must-visit destinations, Cooper's narrative, besides the above-mentioned Tucker Band, includes Piedmont songster Pink Anderson, whose mentor, Blind Simmie Dooley, also lived in Spartanburg. The Rev. Gary Davis, from nearby Greenville, learned to read at the city's school for the deaf and blind. The section on Anderson also outlines Roy Book Binder's efforts to bring Anderson's music to a larger audience.
Other chapters are devoted to the career of bebopper Herbert Lee "Ace" Rickenbacker Jr. and Walter Hyatt, a mentor of sorts to alt-country figureheads Lyle Lovett, Junior Brown and Jimmie Dale Gilmore. Hyatt, who was killed in the ValuJet Everglades disaster two years ago, led the Austin, Texas-based Uncle Walt's Band.
— Leland Rucker
---
This page and all contents are &copy 1998 by Blues Access, Boulder, CO, USA.