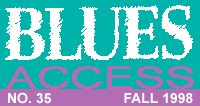 The Kids Are Alright
Shemekia Copeland
by Bryan Powell





| | |
| --- | --- |
| Shemekia Copeland: | Carrying On Her Father's Legacy |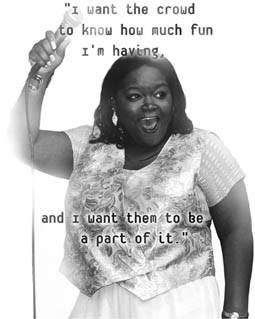 Blind Willie's in Atlanta is thumping on a Sunday night. Nineteen-year-old Shemekia Copeland has a nearly packed house under her spell as she belts out one upbeat blues after another from her Alligator debut, Turn the Heat Up.
Copeland's band, including Arthur Nealson on guitar, Dona Oxford on keyboard, Eric King on bass and Barry Harrison on drums, is more playful, limber and versatile than the group she recorded with. Nealson plays dazzling guitar that is almost over-the-top but never crosses that line. Oxford is a capable vocalist herself, and bassist King drops in some tasteful chords and sliding notes during Nealson's solos.
The crowd, which seems to be comprised of an unusually large number of attentive, white female fans, follows Copeland down into the quieter blues of "Have Mercy" and "Ghetto Child" and up again to the raucous "My Kind of Guy" and "Turn the Heat Up." Shemekia (pronounced sha-MEE-ka) Copeland, daughter of the late Texas bluesman Johnny Clyde Copeland, is the only person in the room not old enough to drink, but the audience is entirely happy to go where her blues will lead them.
"I want the crowd to know how much fun I'm having, and I want them to be a part of it," Copeland will later explain to me. Tonight, she's getting her wish.
Smiling, Blind Willie's owner Eric King (not to be confused with Shemekia's bassist, of the same name) steps over to me during one of the songs and says, "This sure beats Fiona Apple, doesn't it?" I can only nod in agreement.
Rewind three hours or so: A slightly tattered white van with New York license plates eases to a stop in front of Blind Willie's. Inside are Copeland, her bandmates and her mother, Sandra, just in from Charlotte, North Carolina, a trip prolonged by an inexplicable and seemingly endless traffic snarl where I-85 intersects Atlanta.
Shemekia Copeland enters the club with a quiet, unassuming demeanor. She's wearing a T-shirt and denim shorts. Her hair is neatly pulled back. She is, well, not tall and speaks very softly. She does little to suggest that she will soon be onstage belting out the blues in a sparkling pull-over top, black slacks and shiny shoes with platform heels.
Copeland's quiet manner is in part deliberate: She's resting her voice as much as possible. "I'm just learning to sing every night," she says, in between sips of hot tea. "I've only had to sing three or four nights in a row before this tour. Your voice has to get strong."
The tour — her first — is only a couple of weeks old, having begun in Cincinnati, but she's already enjoyed a rousing reception at the Chicago Blues Festival, where she says it took a mere 15 minutes to sell out her supply of Turn the Heat Up. "We sold more than 200 CDs that day," she says, with a hint of awe. The tour is scheduled to include stops at Buddy Guy's Legends in Chicago, the North Atlantic Blues Festival and the New York State Blues Festival.
Raised in Harlem, Copeland got her first taste of performing when she was just eight years old. Her father brought her onstage at the Cotton Club in New York.
However, it wasn't until Shemekia was 15 that she discovered a desire to perform. "Until then, I was just interested in being a kid," she recalls. Her father's health was already failing; he suffered from a heart condition that would require eight operations, including a heart transplant, before his death in July 1997.
Shemekia Copeland began opening her father's shows and appeared with him on television programs such as Good Morning America, where much of the attention centered on a mechanical pump that helped keep him alive for an unprecedented 20 months while a donor heart was located.
Shemekia has incorporated her father's music into her own. Barry Harrison, drummer with Johnny Clyde, is part of her touring band. He also appears on several album cuts, including "Ghetto Child," one of her father's songs.
She's her father's daughter in other ways, too. "I see Clyde more and more in [Shemekia's] expressions, her attitudes and her gestures," says mother Sandra affectionately. Sandra Copeland, with a sincere frankness that would melt the coldest heart, vows to make sure that both she and Shemekia take care of themselves on the road, eating healthier and getting enough rest and exercise. That fulfillment of that vow will be, clearly, another part of her father's legacy.
In addition to her father's music, Copeland expresses a musical debt to Aretha Franklin, Etta James and Koko Taylor, to name a few. "I've met Koko a couple times. She was everything I thought she'd be," Copeland recalls. She also enjoys the music of Gatemouth Brown, Howlin' Wolf, Albert King and Freddie King, and soulmeisters including Sam & Dave, Sam Cooke, O.V. Wright and Jackie Wilson. "If I could have married all those guys," she enthuses. "I would have!"
Copeland is also good friends with Mike Welch. "We talk on the phone almost every day," she says. Welch's diverse tastes, particularly for the Beatles, are rubbing off on Copeland, she adds.
As a black female vocalist, Copeland is, in some respects, unique among the modern generation of young blues artists. Still, she expresses a sense of camaraderie with her young peers Welch, Jonny Lang and Kenny Wayne Shepherd. "I want to open for the Rolling Stones!" she says, with a laugh. "I think the success that they're having is great. I hope we're still out there doing this when we're 50 or 60 years old."
---
This page and all contents are &copy 1998 by Blues Access, Boulder, CO, USA.