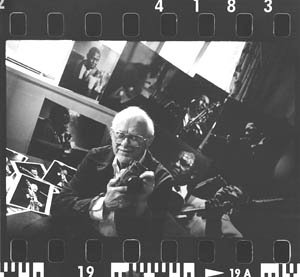 Renaissance Man
by Scott Barretta

Raeburn Flerlage is
a photographer
for all seasons
Raeburn Flerlage isn't a name one is likely to forget, but in spite of the wide range of his music photographs — with hundreds of book, magazine and record covers in the United States, Canada, Europe and Japan — his name might still be unfamiliar to the average collector or fan.
Editors, publishers and producers familiar with his work for Folkways, Chess, and downbeat, in the books Urban Blues, Deep Blues and Bluesland and other documentary productions call on him regularly, but even to blues aficionados he is still relatively unknown.
But after some 40 years of active involvement in the music business, the Chicago-based Flerlage (pronounced Fler-laj) is finally getting the attention he deserves. The thousands of performance photos he took during the 1950s, '60s and early '70s have caught fire with the contemporary blues audience, particularly the vintage shots required for today's burgeoning compact-disc reissues, documentaries, post cards, coffee-table books, T-shirts and other blues-based products.
Flerlage's career as a photographer stretches back to the late '50s, his involvement with music even further. In 1939 he began writing concert reviews and started a record column, The Magic Groove. Although initially confined to classics, The Magic Groove expanded to cover folk and international music as well as jazz and blues after he started getting review copies from new sources, including those of Moses Asch, who was later to gain fame as the founder of Folkways Records.
After working in radio publicity and newspapers (he interviewed Marian Anderson, Paul Robeson and Louis Armstrong, among scores of others), Flerlage was forced at the onset of World War II to enter a war plant. To his own surprise, he was offered another music job: A director of industrial music and employee recreation was needed, and his qualifications filled the bill.
"I had no practical skills to offer an aircraft engine plant," Flerlage said in a recent interview. "But I was able to pipe music over their PA systems and organize orchestras and choruses among the factory workers. They wanted to hear Sammy Kaye and Guy Lombardo and Glenn Miller, so I put these from my collection into the system and replaced them with Leadbelly and Big Bill Broonzy and other artists of more interest to me. They got what they wanted, and I changed my collection to a blues powerhouse. Maybe it was a little slick, but we both got what we wanted."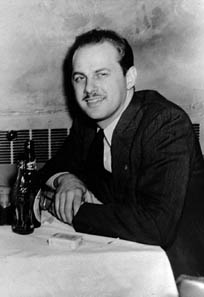 After the war he did some reporting for The Chicago Star, gave a series of lectures on "The People in Their Music" and was offered the job of Midwest Executive Secretary for a new folk music organization, People's Songs. Pete Seeger was the national executive secretary and Studs Terkel was on the Chicago board, and, again, there was an association with Moe Asch, who supported the organization with contributions and aid.
People's Songs was committed to the integration of music, liberal politics and the labor movement and worked with artists such as Seeger, Woody Guthrie, Paul Robeson, Big Bill Broonzy, Josh White, Burl Ives and the legendary Leadbelly. Beginning in Chicago with an appearance at Orchestra Hall by White, the group promoted concerts and threw fund-raising parties to raise expenses.
But by the end of 1946 funds were running low and payroll couldn't be met, and Flerlage arranged to hand over his office to performers from New York, who could make ends meet by filling bookings themselves while running the office in their spare time. Before long the Joseph McCarthy-led Communist witch-hunt decimated the organization, and it was many years before the folk boom revived. Flerlage recalls with some sadness that several of those he had worked with turned their back on their old associates (including himself) in order to protect their careers. But some remained unshakable, including Seeger, Terkel and the man he regards as the greatest he ever met, Paul Robeson, who tragically was broken down by prolonged and unremitting persecution through reactionary tactics.
After leaving People's Songs, Flerlage managed record stores for three years and worked as a dining-car steward on the Cincinnati-New York line, where, among others, he once met Duke Ellington and his orchestra in one of the club cars.
In 1955 he was offered a job in the record business again. The distributor of Asch's Folkways Records needed a salesman in the Chicago Loop, and Flerlage took the assignment. Soon he arranged to represent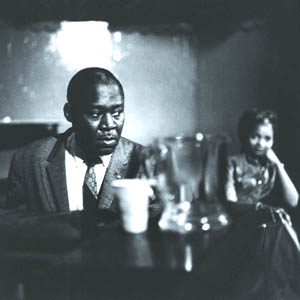 © Raeburn Flerlage


Folkways in the Midwest as a PR man and personal representative, and Asch soon became aware of Flerlage's growing interest in photography. When Flerlage started serious study at the Art Institute of Chicago and the Institute of Design, Asch gave him his first professional assignment: interviewing and photographing Memphis Slim, who was staying at the Pershing Hotel on Chicago's West Side.

"There couldn't have been a better choice of a blues artist to start me on the road. Slim was a warm, friendly, sophisticated, understanding and hip guy," says Flerlage. "I had a girlfriend at the time who was an accomplished pianist, and I took her with me on the session, and she and Slim talked shop and had a very friendly time while I was getting some great, relaxed, natural shots.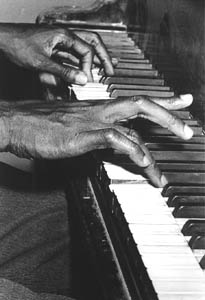 © Raeburn Flerlage

"Slim, and I'll never forget this, arranged — without a word to me — to have some of the hotel hands set up the lights like it was a club. Slim wasn't performing there at the time, but he had the lights set up so it looked that way, and he worked with me all afternoon. He must have taken care of the helpers out of his own pocket, because he never asked me for a cent."
Moe Asch, despite his parsimonious reputation, was always generous with Flerlage. He used about six or seven shots of Slim on album covers and in booklets, gave Ray a bonus and offered him more photo jobs and assignments to write liner notes and produce such artists as Little Brother Montgomery, Big Joe Williams and folk instrumentalist Frank Hamilton.
Flerlage enjoyed three sessions with Memphis Slim, the third also involving Arbee Stidham, but he was reluctant to continue working the same way. "I didn't like setting up jobs. I found that the only thing I felt right about — the only thing I really had a gift for — was catching the action while it happened. That's what I enjoyed."
The blues revival was just gathering steam, and Flerlage quickly became known as the man for the job on small labels like Delmark and Testament and later for larger operations like Chess, RCA, Prestige/Bluesville and World Pacific, all the while continuing with Asch labels Folkways, Disc and Scholastic.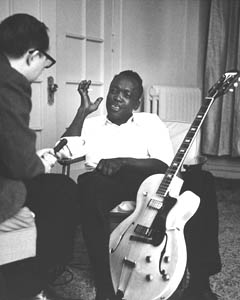 © Raeburn Flerlage

Testament was run by Ray's good friend Pete Welding, the downbeat editor who regularly used Flerlage's prints for magazine covers and features. They started working together on photo interviews with artists like Howlin' Wolf, Muddy Waters, John Lee Hooker and others, often including the youthful Mike Bloomfield on their expeditions. At other times just Flerlage and Bloomfield would work together covering sessions for Rhythm and Blues, photographing and interviewing, in addition to Wolf and Muddy, Jimmy Reed, Otis Rush and others who appeared at Pepper's, Theresa's, Smitty's, the Trianon and other South Side night spots.
Flerlage had begun hosting FM radio shows in the late '50s with an emphasis on folk music, and he covered all annual folk concerts at the University of Chicago for more than a decade, in the process building a massive photo file covering virtually every important performer in the folk circuit during that important period. He gradually shifted his focus more to blues, and he recalls one memorable "live" appearance on his Blues International radio program, where a by-then-famous Mike Bloomfield attacked the studio piano with such barrelhouse vigor that the station manager asked him to cease and desist, unaware of the value of Bloomfield performing for free.
Flerlage also documented the scene at white clubs such as the Fickle Pickle, Gate of Horn, Blind Pig and Plugged Nickel, but the pictures he values the most are those he has taken in black clubs such as Sylvio's, Pepper's and Theresa's or in ballrooms like the Trianon, where he began specializing in capturing the active involvement of the audiences.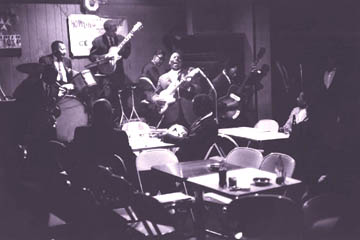 © Raeburn Flerlage

"You walk into these clubs and you're in a different world! You open the door and the smoke hits you in the face," remembers Flerlage. "You can't see and you can't breathe. You've got to grope for a corner where you can catch your breath.
"But when your eyes clear, you start to see the tables and the people, the glances, the sounds, the music. They all begin to electrify you — like a real shock. You feel your eyes opening wider. You feel yourself smiling, laughing. Now, you are the audience. OK, you may look different. You may have a different kind of job and come from a different part of town — which I didn't — but you know what they're talkin' about. You've had that experience. You've had that sorrow. You've been conned and double-crossed and taken for a ride, had money troubles, been disappointed in love and all that stuff. You are the audience, you are part of the experience.
"But in the white clubs, as wonderful as some of the artists and some of the performances were, and however knowledgeable some members of that audience were, the experience was different. The audience felt it — and the performers felt it. They were telling you about them; they were not telling you about you in a way that almost boils down to you-equals-them. That is the difference."
While other white commentators might have noted such differences, Flerlage's insights into such issues derive not only from going to clubs or visiting musicians but also through daily life. He has lived and raised a family in the black community for more than 50 years, something not very common in racially-divided Chicago. This life choice led many years ago to an estrangement from his father, who was angered when his son's sympathies were made publicly evident in Life and Time magazines when they re-ran an Ebony photo essay in which an interracial cast, including Flerlage, dramatized the Sinclair Lewis novel Kingsblood Royal, in which the white protagonist questions assumptions about race after finding he has traces of black blood in his lineage.
Flerlage's career as a blues photographer more or less spanned the years of the blues revival. His "retirement" in the early '70s was sparked by a violent incident from which he emerged unscathed at a West Side bar while attending a Johnny Littlejohn show with Chris Strachwitz, shooting for an upcoming Arhoolie album cover. Although never hesitant to go out on the town alone, the incident made it clear to him that the risks to his investments in expensive equipment seemed unreasonable in the changing atmosphere of the West Side.
The radio shows had also fallen by the wayside, but he had started his own record distribution firm in the '60s, carrying labels such as Folkways, Rounder, Alligator and more than 100 others, which lasted 13 years.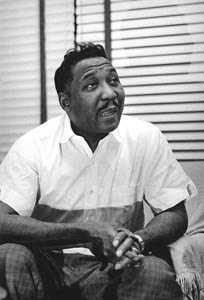 © Raeburn Flerlage

It eventually became apparent to him that a photographer with his back catalog couldn't really retire, especially when there were orders to fill from around the world. Flerlage clearly welcomes his new source of retirement income, and he relishes the task of digging through his thousands of pictures and reliving the joyous, humane feeling of being in black clubs. While he is clearly proud of his portraits of Sleepy John Estes and club shots of Howlin' Wolf, Otis Spann or Bobby "Blue" Bland, the photos he is most anxious for others to see are those of ordinary people interacting in the audience. (See BA #33 for examples of Flerlage's work in that vein.)
In recent years Flerlage has provided pictures for the documentary Record Row, the recent Chess 50th anniversary compact-disc series, the House of Blues chain (some of his pictures were damaged during the Atlanta Olympic bombings at the HOB stage), Sandra Tooze's Muddy Waters' bio, Mojo Man, and Peter Goldsmith's Making People's Music, and he's also negotiating for a book (or books) of his pictures.
---