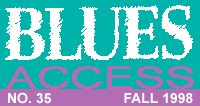 The Kids Are Alright
Josh Smith
by Bryan Powell





| | |
| --- | --- |
| Josh Smith: | Searching For a Style of His Own |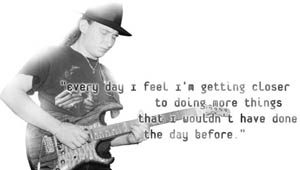 You can thank 18-year-old Josh Smithís sister, sort of, for setting him on a musical career.
It was October 1982, and Smithís third birthday wasnít going to be much of an event, because his mother was about to give birth to Joshís sister.
"Dad didnít want me to feel left out, so he bought me a guitar and a tennis racquet because he loves music and he loves tennis," Smith recalls. "The tennis racquet really didnít interest me, but the guitar did. It was a teeny little guitar that almost dwarfed me, I was so small back then. But it didnít matter; it just felt so great when I was holding it."
By age six he was ready for lessons, and at 13 was attending local jam sessions.
"The first time I ever got up," Smith explains, "I was four feet tall or whatever, and the guitar was as big as me. The second I started playing, people went nuts. Of course, they were clapping for this little kid, but I didnít care ó it just blew my mind. I was hooked. That was it. From that day on I knew this was what I was going to do for the rest of my life."
Smith, who lives in Pembroke Pines, Florida, has released three CDs on his own Maddog Music label. The most recent, last Novemberís Too Damn Cold, was produced by Jim Gaines, whose credits include Luther Allison, Stevie Ray Vaughan, Jimmy Thackery, Lonnie Brooks, Blues Traveler, Santana, the Steve Miller Band and Journey, to name a few. With his band, the Frost, Smithís summer tour calendar included a bone-bruising 41 dates in seven weeks, including stops at the House of Blues in Chicago, Hueyís in Memphis and B.B. Kingís in Los Angeles.
Blues was a natural choice for the young guitarist. "That comes from my home life. Itís what my parents listened to. Iíd heard it since the day I was born ó Muddy Waters, Albert King, Freddie King, B.B., Albert Collins, T-Bone Walker. Thatís what I thought was the popular music," he says.
Throw in Thackery, Stevie Ray Vaughan and Jimi Hendrix, and youíve got a working basis for Smithís present style and sound. Particularly, both Smithís guitar and vocals reflect the influence of Thackery, a friend and mentor who introduced Smith to Gaines. "Heís as good a guitar player as anybody Iíve ever heard," Smith says of Thackery. "Heís so versatile and heís got his own style. When I hear him I know automatically that itís him."
Smith says he wants the same thing himself. "I hope to have my own style, so that hopefully 10 years from now, 30 years from now, someone will turn on the radio and from hearing one note ó just like they do with B.B. King ó say, ĎThatís Josh Smith playing guitar.í Everyday I feel Iím getting closer and doing more things that I wouldnít have done the day before, things that I made up, cultivating all my influences into a style."
Smith knows that his youth works as a media angle, which helps get fans out to shows, but also is a point of contention among traditionalists. He hopes that eventually fans will look beyond his age and evaluate his work on its merits alone. "I just want to be a musician, not a young musician, despite the fact that I am a young musician," he explains.
His musical peers and heroes, he points out, arenít concerned about his age. "Iíve hung out with B.B. King. He doesnít care how old I am. When I get up and play with the Kenny Neals and the Larry McCrays and the Lucky Petersons, theyíre trying to rip my head off, just like Iím trying to rip their heads off. Weíre just having fun. They donít have a problem looking past my age, and I wish all people could do that."
As his work evolves, Smith hopes to land a major label deal, giving him a chance to play the type of venues that host Jonny Lang, Kenny Wayne Shepherd and others. However, if that never happens, he wonít mind. "I love what Iím doing, getting out there and playing the clubs. If thereís a hundred people out there, or a thousand, if theyíre into you, it gives you a natural rush. I donít mind playing the clubs. Itís fun, and I could do it for the rest of my life, definitely, and make a fine living."
---
This page and all contents are &copy 1998 by Blues Access, Boulder, CO, USA.