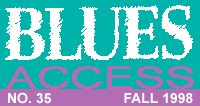 ---

Still behind the Blues' Iron Curtain
I have heard great opinions about BLUES ACCESS for a long time but never read it until recently. A friend of mine visited his uncle, who lives Louisiana, at Christmas last year and brought me issue #31. I so enjoyed reading your magazine. I found so many interesting articles about blues and my favorite blues artists in your one issue. What a pity that BLUES ACCESS is not obtainable in our market.
I have been enthusiast of blues music for 30 years. Living here in I do not have access to blues sources (concerts, albums, books, magazines, score, lyrics, etc.) you have there in the United States. Some Americans complain about the United States, but they sometimes forget how lucky they are and that the rest of the world (for example we in Eastern Europe) do not have access to as much as the Americans do.
Great blues artists very rarely visit our part of the world. No possibility to go to concerts or buy blues albums; therefore blues is not popular in my country. Every year we have in Poland a good blues festival called Rawa Blues. Charlie Musselwhite visited our festival three years ago. The harmonica lovers in my country enjoyed hearing him.
I play harmonica and acoustic guitar, and my son plays lead guitar. We both play in a five-person band. We are not a professional musicians; we are amateurs playing for our and our friendsí pleasure in our housing club.
I would like to meet new friends. I am thinking about pen pal friends because I cannot afford to visit your country. If someone is interested in contact with blues enthusiast in Poland, please write or e-mail me:
Janusz Glapa
Kutrzeby 4a/8 71-296
Szczecin, Poland
janharp@hotmail.com
---
Give Hammond his due
Just got my issue in the mail yesterday, and while I havenít yet read the whole thing, I saw the mini-review of John Hammondís Long As I Have Youí (BA #34, New Releases). Not that I disagree with the review, I think this is Johnís best album since he signed with Pointblank, but it seems to me that he gets short shrift from BLUES ACCESS.
It may be my decomposing brain, but it seems that his records never get a full review, instead relegated to "blurb" treatment. I understand that he is sometimes dismissed because he doesnít write his own songs, but he does mine chestnuts in his repertoire, rarely, if ever, falling back on the usual warhorses. And while there seems to be a wave of new acoustic blues warriors (Kebí Moí, Corey Harris, Alvin Youngblood Hart), for a long time John was one of the few carrying the torch.
I think the most difficult job a performer has is to keep an audienceís attention with just an acoustic guitar and his voice, and I have spent some magical hours awe-struck by Johnís acoustic performances. And on this release, the pairing with Little Charlie and the Nightcats is inspired. Give the man his due.
Marc Wieman
Rockville Centre, New York
MWieman@FDIC.gov
---
George Myers
I was anxious to read the article on George Myers (BA #34, Rooster Pickinís). I have had the immense pleasure of participating in several Ultimate Rhythm & Blues Cruises. Your article did George justice, and I wanted to personally thank you for enlightening those that didnít know him to the person he really was.
It is through his vision that we now have a family of lifelong friends throughout the world. This is the gift he gave us all.
Onnie Heaney
Publisher, Cruzin' the Bluz
Santa Cruz, California
cruzinbluz@aol.com
---
More on George
Thanks for such an insightful, warm article on George Myers. You captured Georgeís essence, and shared the opinion of all of us who knew and loved him ó losing any amount of money was not worth his life. Many of us, from the musicians to the URBC fans, would gladly have given him that and more to save him.
Debbie Lubin
---
Makiní musical connections
Once in a blue moon (no pun intended), one gets the feeling of coming around, full circle. Little did I know until today when I read the article (BA #33) that when I was a 15-year-old watching a band called Blues Image at a rock club called Thee Image on Miami Beach playing a song called "Parchman Farm" that I was experiencing Mose Allison. Same goes for "Young Man Blues" from the Who album, Live at Leeds. It did my heart good to know that Mr. Allison got his royalty checks on the up-and-up.
Iím a 46-year-old guitarist who is now gaining love and respect for the blues and some jazz. I find myself falling in love with the history of music as much as the music itself. (It just occurred to me that when I listen to Terry Adams of NRBQ play a way-outside Thelonious Monk type solo over pretty pop changes, it amazes me. He makes it work.)
Re: the articles on Big Joe Williams and Sam Myers: I just saw Dylan at a small club on Miami Beach recently. Again, little did I know I was listening to Big Joeís influence. I was making fun of Dylan and Keith Richards 10 years ago. Now I love them. Both schooled in the blues. I saw Anson & Sam Myers at a West Palm Beach blues bar a couple years ago. I had no idea of the history behind what I was hearing. They played at a nice volume, which I enjoyed. I see so many so-called "blues artists" who play at what I call "Stairway to Freebird" volume. Silly of them, I think.
I think it stinks that Sam Myers has seen no royalties for his song that Clapton recorded, "Sleeping in the Ground." The blues gave Eric a career ó surely he could pull some strings with the publishers of this song to see to it that Sam gets his due royalties.
I would like to mention that I played guitar on several projects with the RockíníRoll Hall of Famer Dion de Mucci. Did you know he learned his finger-picking style (actual finger plectrums) from Mississippi John Hurt? He did. I heard all the stories from the man himself, who is an avid blues fan. Anyway, kudos to BLUES ACCESS for bringing me full circle in just one issue. Great information. Keep up the good work.
Pat McGuire
Hollywood, Florida
---
Vaughan hardly "floundering"
Daniel Durcholzís comments in his review of the new Jimmie Vaughan CD (BA #34) that former bandmate Kim Wilson "flounders while he tries to keep the Fabulous Thunderbirds imprimatur flying" is an indication that he hasnít seen any of the T-Birdsí live shows in the past year or so.
Unlike Jimmie, who seems content to collect cars in Austin and manage his brotherís estate, venturing out only when he is part of a packaged tour or has something to sell, Kim is out there every week, and the new T-Birds performances are sprinkled with some of the old hits, some of the new material, but a healthy dose of straight ahead blues, doing what they always did best: bring traditional styles to a large group of listeners who probably never would grace the door of a blues club.
Thatís a big difference between the two. Kim continues to spread a blues message in front of a band thatís become one of the finest youíll hear, and his growth as a singer and harmonica player is something that has been nothing short of awesome since he and Jimmie split up. His devotion to the music and performing is rare among musicians who attained the level of fame and stature he realized with the Birds. Comparing him with Jimmie is apples and oranges.
Tom Ellis
Dallas, Texas
---
Playground feuding by another name Ö
I enjoy the magazine tremendously, but I do bare grief with Daniel Durcholz and his comments about Kim Wilson in his review of Jimmie Vaughanís Out There (BA #34). I have everything by both artists, and they have both grown considerably in blues. Mr. D.D. should grow as well and not try to start up the playground feuds. Kim Wilson deserves better for his contributions to this art form.
Beverly Reid
Sarahsville, Ohio
---
Remembering Ted Hawkins
What a fabulous article about Ted Hawkins! (BA #33, Rooster Pickinís) I was totally blown away when I first heard "There Stands the Glass" and at first chance drove 30 minutes to buy The Final Tour, which I reviewed for our local blues newsletter.
I can see you were as deeply touched by his music as I was, and your story was food for a starving man. I had refrained from buying more of his music because I was afraid it would not be as good. You have washed away my fears. I would really like to get ahold of Boardwalk, but I guess thatís wishful thinking. Well done, man!
Scott Davis
Easton, Pennsylvania
sdavis@ptd.net
---
The Right Stuff
I just read about the results of the W.C. Handy awards and was greatly pleased to see Rod Piazza was the winner in the harmonica category. This recognition is long overdue for Piazza, and it is very satisfying to see him get the proper reward. He has been a true bluesman for more than 30 years. The guy just flat tears the harp up, and his band is the premier West Coast blues band going. I have long been a fan of Rodís ability and versatility on the diatonic and chromatic harps. Nobody can swing like this guy.
The right man won.
Gregg Black
San Onofre, California
---
Keeping the blues alive
I just wanted to tell you how much I enjoy your magazine and appreciate how it has grown over the years.
I would like to address in particular the two-page layout of Chuck Winans coverage of the Handy Awards in Memphis (BLUES ACCESS #34). The article was brief but concise and covered all the highlights as I remember them. It was a glamorous and exciting venue, showcasing performers, past and present, in a way that was an entertainment event in itself, not just a dry awards presentation.
However, your magazine only covered half of the story. Nowhere is there listed the recipients of, or even a mention about, the Keeping the Blues Alive Awards presentations that were held the following evening in a banquet ceremony at the Peabody Hotel, as an important part of the Handy Awards Weekend.
True, it was not a glamorous and showy event. True, I have a biased interest in this as my husband was one of the recipients of the awards. But the Keeping the Blues Alive Awards, the non-performing awards for people who keep the blues alive behind the scenes, is an equally important aspect of the Handys.
The KBAs help give needed recognition to individuals and organizations that have made significant contributions to the Blues world, and they are selected strictly on the basis of merit. They are by large, unsung heroes. Yet they are the hard working machinery that helps drive, and is an integral partnering force in, the blues movement that the artists and their audiences enjoy.
Your magazine is also a part of that machinery. It is an important vehicle that can help carry the kind of information that increases awareness in the blues community, and as a result, makes blues a much more cohesive force. I was disappointed to see that coverage of the KBAís in Blues Access was omitted.
Again, thanks so much for a fine magazine and for your commitment to the Blues.
Sincerely,
Willitte Herman
Topaz Productions
Oakland, California
---
We love mail. Write to:
---
This page and all contents are &copy 1998 by Blues Access, Boulder, CO, USA.