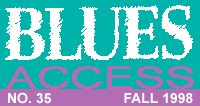 ---
Discs that have been given full reviews in this or previous issues of BLUES ACCESS
are quoted with the reviewers initials in brackets.

Red Rooster Pick

Catfish Pick
(†=Import)
Note: Be sure to send us two (2) copies of all new releases.
---
B.B. & the Blues Shacks • Reality Show

Honed by years of gigging in Europe, this German band is at the forefront of that country's blues-roots movement. The L.A. production never gets in the way of their powerful Chicago and West Coast hybrid style.
(Stumble †)
---
Dave Bartholomew • New Orleans Big Beat

(1993) Legend Dave Bartholomew, who practically invented New Orleans rock'n'roll, reunited his big band for this scorching set that includes new material (the very funky "JazzFest in New Orleans," "Son of Stagger Lee") and visits to familiar territory (wait 'til you hear Bartholomew revisit the "Domino-Bartholomew Medley") among its many treasures.
(Landslide Records)
---
The Bellhops • Room Service

If this Aussie sextet is half as good live as they are on this disc, they're worth a listen the next time you find yourself Down Under and in need of a blues fix. They work their magic on several classics, but it's their own tongue-in-cheek songs - "Red Eyes," "Shake Dem Bones," "Criminal of Love" that make the most lasting impressions.
(Prune Productions †)
---
Eric Bibb & Needed Time • Good Stuff

If you don't look at the CD cover, you'll probably think you're listening to a lost Keb' Mo' album. Bibb (who apparently lives in Sweden, where this was recorded) has the same easygoing approach, a deft acoustic guitar style and good songwriting instincts with a pleasant gospel-tinged voice. The sound is enriched with instrumentation that includes bouzouki, banjo, mandolin, pump organ, Hawaiian guitar and accordion.
(Earthbeat)
---
Big Sandy • Dedicated to You

Big Sandy usually heads the rockabilly-swing outfit, the Fly-Rite Boys, but here he tackles the R&B and doo-wop singles his mother played for him as a kid by Los Angeles groups like the Cufflinks and the Meadowlarks and local stars like Richard "Louie, Louie" Berry. He even got to sing with wild man Dewey Terry and the Calvanes, whose singles he sang along to as a child. Funny, poignant and at times transcendent, this captures the vibrancy and humanity of '50s R&B.
(Hightone)
---
David Booker • Take Out Your False Teeth Mama

Booker is a British-born bluesicologist transplanted to Denver, where he's been entertaining audiences for the better part of two decades. Singing, playing guitars and kick drum and backed by some of the Mile High City's finest, he draws on a wide variety of historical sources and filters them through a fine musical sensibility (and sense of humor).
(Big Nut)
---
David Bromberg • The Player: A Retrospective

The infamous '70s sideman gets quality sideman help - from Garcia, Dylan, Harrison - on these selections from Bromberg's Columbia records. So when are they going to release David Bromberg, which provides this best-of's best moments? Like him or not, you have to admit he was fearless in his day.
(Columbia/Legacy)
---
Mojo Buford • State of the Blues Harp

(1989) Nicely reissued package of John Stedman-produced album with four BBC tracks added for this compact disc version. Plenty of throaty Muddy vocals, electric harmonica runs and heavy rhythm section.
(JSP †)
---
Roy Carrier & the Night Rockers • Twist & Shout

Chubby's dad can do the do, too. Infectious zydeco rhythms and plenty of bluesy homage to Clifton Chenier (always a good sign). Crisp sound on a mix of live and studio tracks.
(Right On Rhythm)
---
Roscoe Chenier • Swamp Blues

Despite the surname, this is NOT a zydeco disc. Chenier (he's Clifton's second cousin) is a versatile singer and guitarist who covers ground from acoustic to straight ahead southern Louisiana blues to Fats Domino R&B.
(Vidrine)
---
W.C. Clark • Lover's Plea

"Clark is blessed with a voice that can easily slip across the border between gritty blues and honey-dripping soul. Great songwriting and a classic R&B groove." [Oudiz]
(Black Top)
---
Willie Clayton • Midnight Doctor

A premier soul singer with more than a hint of Sam Cooke in his voice, Clayton covers the familiar territory ("Three People Sleeping in my Bed," "Don't Make Me Pay For His Mistakes") with a surprising vitality and solid production that emphasizes those pipes.
(Blueside †)
---
Shemekia Copeland • Turn the Heat Up

While everybody's talking about Susan Tedeschi's big voice, along comes Shemekia Copeland, standing tall in her father's footsteps. Guitarist Jimmy Vivino, Alligator chief Bruce Iglauer and John Hahn provide her with high-energy, in-your-face production touches. The 19-year-old seems to bask in the company of fellow New Yorker Michael Hill on guitar for "I Always Get My Man," Joe Louis Walker's vocal-guitar spot on "My Turn Baby" and Mike Welch's soft touch on her father's moving "Ghetto Child."
(Alligator)
---
James Cotton • Seems Like Yesterday

(1967) If you remember Cotton when he was breathing fire with Muddy, you will love this live set recorded in Montreal in 1967. His feverish, urgent takes of soul classics, "Money Honey," "Knock on Wood" and "Turn on Your Love Light"/"Please, Please, Please") remind us that R&B is just another word for blues.
(Just A Memory)
---
Geno Delafose & French Rockin' Boogie • La Chanson Perdue

Geno Delafose still loves "the lost songs." As many young zydeco players stray further from their Creole/Cajun base, Delafose resists the temptation to "rock up" his material, preferring, for the most part, to stay with the songs and styles he grew up with. Geno is carrying on the tradition of his father's band, the Eunice Playboys, but that doesn't make him a young fogey. Interspersed with the jumping two-steps and accordion waltzes, Delafose rocks hard on a Neil Sedaka rarity and makes you believe "Save the Last Dance for Me" was written somewhere near a bayou.
(Rounder)
---
Downchild Blues Band • Lucky 13

Strong effort from this Canadian group led by wailing harp- and guitar-playing Donnie Walsh, who wrote eight of the dozen songs presented here. Chuck Jackson wrote the rest and his muscular tenor vocals are several cuts above your average blooze band. Obscure, but undeservedly so.
(Blue Wave)
---
Theodis Ealey • Raw

"A well balanced, appealing album from a powerfully expressive singer and versatile guitarist." [Oudiz]
(Ichiban)
---
John Lee Granderson • Hard Luck John

(1962-1966) It's too bad Granderson waited 25 years after he came to Chicago to record for Pete Welding's Testament label. If his old-time style was an anachronism by that time, it's no less potent, his rich voice and guitar playing showing traces of the influences of Sonny Boy Williamson and Robert Nighthawk, but with a slide style that's all his own. Nice string band accompaniment, too.
(Testament)
---
Steve Guyger • Live at the Dinosaur

Producer Tino Gonzales keeps the club atmosphere intact on this sweaty romp through Chicago blues with the guy who blew harp for Jimmy Rogers after he left the Waters band. Aided by the incomparable Dave Maxwell on keyboards.
(HorsePlay)
---
Travis "Moonchild" Haddix • Sign of the Times

Soulful vocalist and guitarist's first CD since leaving Ichiban in 1994 is soul-blues done right, with straight ahead arrangements: guitar, bass, drums, keyboards and tasty horns (and no synthesizers, programmed drums or shlocky vocal choruses). The production gives some songs an unfortunate muffled sound on what could otherwise be a breakout disc.
(Wann-Sonn)
---
Alvin Youngblood Hart • Territory

"A surprising and satisfying journey through American vernacular music." [Feld]
(Hannibal)
---
Bugs Henderson & the Shuffle Kings • Have Blues ... Must Rock

Henderson, of course, defies all categorization, and he loves to rub it in ("Have Blues ... Must Rock") and show off all those amazing licks he has mastered ("Hideaway" on this one). I say: Let him roam wherever he wants.
(Burnside)
---
Mark Hummel • Lowdown to Uptown

"If harmonica player Mark Hummel served a supper as solid as this CD, you'd leave his table stuffed to the gills. The 12 cuts are a major helping of music that's strong and hearty, but tactful." [Schuller]
(Tone-Cool)
---
Etta James • Life, Love & the Blues

"James went back to her early roots to explore songs instrumental in putting record companies like Chess and Motown on the musical map. In the process, she proves she can produce her own work more evenly than a veteran producer." [Koetzner]
(Private Music)
---
Blind Willie Johnson • Dark Was the Night

(1927-'30) "Johnson was, of course, a gifted slide guitarist, but it was his songs about faith, hope and redemption sung with a sandpaper growl that could scare ghosts out of a graveyard." [Robins]
(Columbia/Legacy)
---
Andrew "Jr. Boy" Jones • Watch What You Say

"Jones rapidly gathers loyalists who can relate to his witty material, dance to his insistent rhythms and appreciate his hot, snaky guitar work." [Schuller]
(Bullseye Blues)
---
Chris Jones & Steve Baker • Everybody's Cryin' Mercy

Talk about your eclectic tastes! Jones and Baker couldn't hit me better: Little Feat ("Old Folk's Boogie" and "Willin'"); Mose Allison ("Everybody's Crying Mercy"); Jean Ritchie ("L&N"); Mark Knopfler ("Setting Me Up"); and Hank Williams ("Lonesome Whistle"). And all done with taste, wit and the good sense to put the songs in front.
(Acoustic)
---
Tutu Jones • Staying Power

"Not only are his chops great and his guitar leads sizzling with passion, but his voice and songwriting should be enough to thrust him onto a higher level." [Koetzner]
(Bullseye Blues)
---
Janis Joplin With Big Brother & the Holding Co • Live at Winterland '68

"This is the best recording that's ever been made of her, with the sidekicks with whom she always belonged." [Robins]
(Columbia)
---
Vance Kelly • Hands Off!

Long one of Chicago's best-kept blues secrets and former A.C. Reed cohort has found a larger following in this decade, and his latest album shows off why. His classic soul voice is complemented by his "riffling" guitar chops.
(Wolf †)
---
Willie Kent • Everybody Needs Somebody

(1996) Another solid collection recorded at Tee's Lounge by one of Chicago's most notable bands, fronted by Mr. Bassman himself.
(Wolf †)
---
Jimmy D Lane • Legacy

Just when we thought that Lane - aka Jimmy Rogers Jr. - was lost in Jimi-land (see his Long Gone in New Releases, BA #34), he pops up with this fine disc of traditional-styled tunes with a contemporary feel. Carey Bell's harp is a featured second voice, with guest spots from Jimmy's dad (his final recordings), Hubert Sumlin, Sam Lay.
(Analogue Productions)
---
Little Willie Littlefield • The Red One

"The piano sounds so clean and crisp that you'll be tempted to polish it after he's done playing." [Oudiz]
(Oldie Blues)
---
Professor Longhair • The London Concert

Recorded in "living mono," this is the complete concert that Fess performed in London in March, 1978. Upon its original release, the album garnered a Handy Award for best blues album of the year.
(JSP †)
---
Louisiana Red • The Blues Spectrum of Louisiana Red

Good overview of Red's JSP recordings, including six band tracks from '89 and '92. The rest are either solo acoustic guitar or duos with Sugar Blue. A few of these are on CD for the first time.
(JSP †)
---
Magic Slim & the Teardrops • Black Tornado

"Holt is a powerful guitarist with a booming voice that's perfect for the material at hand." [Jordan]
(Blind Pig)
---
Taj Mahal & the Hula Blues Band • Sacred Island

"A breezy collection that is more like the kind of project Bob Dylan did with the Traveling Wilburys - a fun little aside to his more serious work." (Koetzner)
(Private Music)
---
Timothy Lee Matthews • Songs for the Greats

Matthews, who co-wrote the standard "I Feel Like Breaking Up Somebody's Home," a hit for Ann Peebles among others, often eschews regular meter and verse patterns for a kind of alt-blues - sort of like Swamp Dogg crossed with rocker Jonathan Richman. Worth the adventure, however.
(MOP)
---
Sticks McGhee • Sticks McGhee -Volume 1 (1947-1951)

(1947-'51) McGhee was a guitarist who sang "down home blues with an uptown style." He hit big with "Drinking Wine Spo-Dee-O-Dee" in 1949 (with big brother Brownie on lead guitar). There's 21 other goodies - quite a few of them on the topic of imbibement - with Brownie chiming in on many of them and Sonny Terry on a few.
(RST †)
---
Mon Gumbo • Mississippi Takes Forever

These Pittsburgh folks all have day jobs far from blues, but they never let their occupations get in the way of their New Orleans fixation. They deal a high-energy live program heavy on Professor Longhair, Dr. John, Buckwheat Zydeco and Huey Smith, and this eclectic disc approximates that onstage obsession.
(Mon Gumbo)
---
John Mooney • Against the Wall

Ruf Records saved this CD from impending obscurity after House of Blues' first attempt at a record label imploded. This was Mooney's last disc before he underwent his own personal implosion and subsequent resurrection. It features a song list full of grabbers, with plenty of those patented choppy guitar leads.
(Ruf Records)
---
Rick Moore • Slow Burnin' Fire

Moore plays blues with a country tinge, unlike most of his Nashvillian contemporaries, and this collection of original songs, with able accompaniment from Jimmy Nalls and Reese Wynans, among others, shows considerable promise.
(M R L)
---
Raful Neal • Old Friends

The head of the Neal family (see BA #30) gets together a few offspring, grandchildren and pals for this friendly collection of mostly original songs that has the feel of a Saturday night fish fry in the back yard. An 11-song buffet line of Louisiana soul, highlighted by "My Baby Left Me," "I Got Over You" (with a nice harp solo from Raful) and "Pride and Joy." Pass the crawfish and taters.
(Club Louisianne)
---
Christian Rannenberg • Blues

The opening notes of "California Shuffle" are immediate evidence that Rannenberg is not your average piano pounder. On what is basically a solo disc (there's bass on a few tracks), this German pianist augments his own compositions by drawing heavily on the Percy Mayfield songbook, with nods to Leroy Carr, Cow Cow Davenport, Robert Johnson and Blind John Davis. His singing (and there are plenty of pure instrumentals) is undistinguished but not grating.
(Wonderland †)
---
Dave Ray • Snake Eyes

Maybe it's the nostalgic overload of being so long since I heard Snaker himself. Or perhaps it's the exquisite taste he shows in taking disparate songs ("Down in the Bottom," "Junco Partner," "Tomorrow Night," "Kiddeo (sic)," "If It's Really Got to Be This Way") and making them work as blues - or the personal stamp he puts on each track with that redoubtable mastery of the 12-string acoustic guitar. Every track carries the ring of authority and authenticity that only comes with age and complete command of voice and instrument.
(Tim/Kerr)
---
David Rea • Shorty's Ghost

David Rea, who wrote "Mississippi Queen" and recorded Robert Johnson songs before most of us had ever heard of Johnson, returns with a set that includes some folk and country blues and a sheaf of Johnson covers, including the daunting "Hellhound on My Trail," and even kicks new life into the overdone "Stack-O-Lee."
(Gistu)
---
Coco Robicheaux • Louisiana Medicine Man

In case you weren't aware, there's a lot of strange goings on in the Louisiana bayous, and Coco Robicheaux has seen most of them. With acigarettes-and-whiskey voice that falls somewhere in the range between Dr. John and Howlin' Wolf, his music covers much the same territory (and then some): stone cold blues, gris-gris, cottonmouth swamp, sweet love, Treme stomp (with the Pinstripe Brass Band) and a little something spiritual. Good medicine.
(Orleans)
---
Dave Specter & Lenny Lynn • Blues Spoken Here

Most guitarists come with big egos affixed to their Gibsons, but Dave Specter comes off best when he's not in the spotlight. Name me someone who's doing this kind of jazz-blues any better. Didn't think you could.
(Delmark)
---
Sugar Ray • Sweet & Swingin'

As lead vocalist for Roomful of Blues, Ray Norcia had the ability to take a wildly swinging tune and crank it to the next level. His first solo disc since leaving that band is no slouch, with pianist Matt McCabe and guitarist Kid Bangham helping him take a bite out of well-chosen material from masters like Big Walter, Percy Mayfield, Arthur Alexander and Little Willie John. Roomful's Carl Querfurth produced, and the Jordanaires (!) add that special touch on two takes.
(Bullseye Blues)
---
Two Bones and a Pick • Butter Up 'n' Go!!!

Basic Boston trio is augmented by saxes (including Sax Gordon), keyboards and harp for their third CD release. They once again show a real knack for Tiny Grimes/T-Bone style swinging guitar blues and '50s R&B honk.
---
Various • Down Home Slide

"This is the sound of slide guitar as both instrument and metaphor, for blues players who keep finding out they've got farther to slide even after they think they've hit the bottom." [Robins]
(Testament)
---
Various • Generations of Blues, Vol. 2: Born in Chicago

Solid collection that concentrates on Butterfield, Wells, Musselwhite and Siegel-Schwall as they were following Waters and Sonny Boy and Son and Jimmy Reed and Little Walter, all of whom are represented here. So why is the last 30 minutes of the disc blank?
(Vanguard)
---
Various • Louisiana Hoodoo Party

Toe-tappin' tunes recorded in Nashville and at Jay Miller's Crowley, Louisiana, studio for Excello Records. Silas Hogan, Slim Harpo, Lightnin' Slim, Earl Gaines, Lazy Lester, Guitar Gable, Lonesome Sundown and others join Tabby Thomas in exhorting us to "boogie all night long."
(Hip-O)
---
Various • Big Blues Extravaganza: The Best of Austin City Limits

The longest-running popular-music TV program offers up a healthy roster of blues performers with Texas pedigrees of some kind - dating from Lightnin' Hopkins' appearance two decades ago to Miss Lavelle White's set last year.
(Columbia/Legacy)
---
Various • Working the Road the Golden Age of Chicago Gospel

Robert Anderson was often compared to Bing Crosby, but after listening to these 10 tracks recorded for the United imprint in 1952, the only thing they had in common was that they made great singing sound easy. There are fewer better examples anywhere of gospel ballad singing than his "Oh Lord, Is It I?" Also includes five previously unreleased examples of gruff, sanctified, soul-gospel shouting by the Rev. Robert Ballinger and the energetic, melismatic Lucy Smith Singers.
(Delmark)
---
Eddie "Cleanhead" Vinson • Blues, Boogie & Bebop - "Meat's Too High"

Second reissue of early '80s sessions recorded in London. Guitarist Les Davidson blends perfectly with Eddie's sax and songsmanship.
(JSP †)
---
Stan West • West Coast Slide

Guitar shop owner and ZZ Top lookalike West credits Rahsaan Roland Kirk, Elmore James, Eric Dolphy, John Coltrane and Muddy Waters as his prime inspirations. That's a pretty heavy quintet and Stan seems to have distilled the essence of the blues from what they taught him. His slide playing melds well with Jeff Ross's lead stingeroo and Jay Loeffel's heavy harp on 15 well-constructed tunes. Now where can I get some of that Robert Johnson designer underwear he sings about?
(Res-O-Nator)
---
U.P. Wilson • The Good, the Bad, the Blues

In the words of BA contributor Tim Schuller's liner notes, Wilson is "no safe, showbizzy bluesdude," he's a "truelife Texas bluesman with an edge all his own," points of which are scattered all across this highly charged disc.
(JSP †)
---
Jesse Yawn • Forevermore

Big Jesse hails from Maryland but he moves easily from a Kansas City shout to a Mississippi moan. He's a dynamic live performer (who was a big hit at this year's Poconos Blues Fest) and producer-guitarist Tino Gonzalez has done a nice job of bringing a good bit of that feeling into the studio.
(HorsePlay)
---
To be eligible for review in BLUES ACCESS, send two (2) copies of all new releases.
---
This page and all contents are &copy 1998 by Blues Access, Boulder, CO, USA.