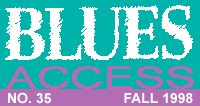 ---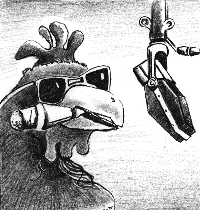 Things to Do in Cyberia
When You're Blue
(Or Bored)
OK, I admit it: I spend way too much time in front of a computer. Itís part of the nature of doing business, especially the publishing business, and gathering information at the end of the millennium.
But itís a seductive little bugger, too, calling me to look in on one more newsgroup, to visit one more web site, to check my email just one more time before shutting it down for the day. And, considering weíre talking about a style of music that was born in the cotton fields, itís the gateway to a surprising amount of blues connections. Weíve had various features in the past about blues areas on the World Wide Web. Here are some other curiosities the Roosterís found interesting enough to check out hisself.
Have you ever wanted to put together your own CD of blues songs from a variety of sources? You could spend a couple grand for a CD recorder and a stack of blank discs, or you could visit www.customdisc.com. Custom Revolutions offers you the opportunity to create a personalized, customized CD with only the music that you want to hear. Sounds like a cool idea, right? Just the kind of thing you were expecting when you heard that the Internet was going to radically change the delivery systems for home entertainment.
And it is a cool idea. Itís also one whose execution is still in its infancy, at least as evidenced by the offerings at this site. From the home page youíre offered a variety of styles to choose from: Rock/Oldies, Jazz/Blues, Alternative, Country/Folk, Urban/Dance, Special Tastes (weíre afraid to ask!). We chose Ö well, you know what we chose. Once at the Jazz/Blues page, we were offered the chance to select from a list of featured artists, to search for an artist or song or to browse from a list of artists or songs. If we were feeling lazy, we could pick any or all of three pre-packaged sets, but, shoot, we could go to a store and do that. So we went for the do-it-yourself option.
Unfortunately, when this company says, "Make the greatest CD in the world Ö YOURS!" theyíre not really offering me a full palette to paint with. I decided to try searching by artist: Buddy Guy ó seven hits, all from Stone Crazy; Johnny Copeland ó two hits, both from Alligator collections, none from his large Rounder catalog. How about Muddy Waters, Howliní Wolf, Little Walter, Willie Dixon? Nada. Bobby Bland, Jimmy Reed, Little Milton? Nope. (Although, too my surprise, I did find an album by the legendary Mud Boy and the Neutrons.)
Things werenít a whole lot better on the jazz side. I drew a blank on Dizzy Gillespie, John Coltrane, Rahsaan Roland Kirk, Art Pepper and Miles Davis, key members of my personal musical pantheon.
Eventually I did indeed come up with a discís worth of good tunes. (I know this because I was able to listen to a preview of each one in RealAudio.) The price didnít seem bad at all for an individualized assortment: a basic $5.99 plus 99Ę each for most songs (longer ones were a buck and change). My eight-song CD, which clocked in at 45:41, came to $17.18 including shipping. I couldíve picked up to 72 minutes on a disc, but my browser was having a bad hair day and was slow to load the pages.
The bottom line: At this time, your enjoyment of www.customdisc.com will be in inverse proportion to the size of your current CD collection and in direct proportion to the speed of your modem. (And if youíre a huge fan of Alligator Records, the one true blues label they have in abundance, youíll go nuts.) But if they dramatically increase their library of musical possibilities, this concept could have a bright future.
---
Now what about all those CDs youíve already got? Are they as organized as you want them to be? When you buy a new disc do you log each song, their times and all the sidemen? Didnít think so, though Iím sure youíve been meaning to for a long time.
The musical obsessive has found a new friend in AudioFile, a software application that gives you a way to track every CD (or LP or tape) in your collection. Itís available from http://www.spinfree.com/store/audiofile and, as of this writing, sale priced at $29.95. Thereís a free demo version to try before you buy, and it comes in both Windows and Macintosh (yeah!) flavors.
The basic card for each entry provides space for the artist and title of the disc, record label and genre (both selectable from a user-defined list), catalog number and any personal tracking code you care to attach. A field beneath all this stuff provides space for a listing of songs (and, in the case of compilations, the artist performing each song). Clicking an icon next to the song title opens a new window full of additional ways to track just about any minutiae you want. Pop-up menus allow you to generate a list of all discs by a given artist or jump to any title in the set. If youíre a real musical mental patient, you can store album art, sound clips and the artistís web site, with more custom fields at hand to cover anything the designers havenít thought of.
But thatís not the cool part. If youíve got a large collection, you may not want to spend your every waking moment entering data into your computer. For an additional 20 bucks you can buy AudioFile Internet Companion, which we highly recommend if youíre already this far gone. Just log on to the íNet, fire up AIC and pop a CD into your CD-ROM drive. The software will search a growing database of over 200,000 CDs and in a few seconds load all that info into AudioFile for you.
In my experience, AIC was able to identify roughly 70 per cent of the discs I fed to it. Considering that most blues recordings are not on plain vanilla major labels, this is pretty darned good. If your collection contains other genres from more mainstream sources, your mileage should be even better.
AudioFile and AIC arenít for everyone, but if you want to get a handle on your collection, itís worth taking the free demo ride to find out.
---
Getting more blues-specific, one of the Netís more appealing attributes is its ability to put people of like interest together. Four years ago Beverly Howell volunteered her services to America Online to host a blues chat. Her first guest was Doyle Bramhall, and since then dozens of musicians have met with their fans, interface to interface.
Chats, if youíre not familiar, are like a rather chaotic, typewritten town meeting. Blues geeks and geekettes fire away with queries like "So you woke up this morning Ö then what?" A few lines of miscellany later, the artist (or more likely the high-speed typist he or she is talking to) responds. Keeping track of who is asking or answering what at any given time is sure to keep your head spinning.
Howell eventually moved the operation to her own web site, www.blueschat.com, where she could add a host of features, including archived chat transcripts, general information, obituaries and, eventually, live on-site reports from blues festivals. (You can even see the Roosterís beaming countenance from the Poconos Blues Festival by aiming your browser at www.blueschat.com/gallery2/pocono98/merchant.htm.)
Now sheís taken the chat notion in for retooling. Noticing that way more people were reading the transcripts than were actually participating in the live conversations, Howell is in the process of changing over to an audio version. Chatsters will submit questions in advance, and then visitors will be able to listen to the sessions as they happen Ö or anytime else at their convenience. Bobby Rush, Andrew "Jr. Boy" Jones, Tommy Shannon and Eddy Clearwater are already confirmed for the coming months. Chat on!
As audio capabilities become more sophisticated, the opportunities to actually listen to music online keep growing. Check out www.bluestown.com for lots of links to live and archived concerts, Internet-only blues radio channels and Net versions of shows on established stations like WWOZ-FM, New Orleans and WRLT-FM, Nashville.
And now, if youíll excuse me, I think Iíll emerge into the sunlight and take a bike ride or something.
---
Blues from the Red Rooster Lounge originates on Boulder's KBCO 97.3 FM (where it can be heard Sundays at 9 p.m.) and airs weekly on 15 radio stations around the U.S.. Check with your local station for availability. (Station program directors can receive a sample copy of the program by calling the Longhorn Radio Network at 1-800-457-6576.) The Rooster also consults for the MusicChoice digital cable radio service, a 24-hour commercial-free, all-blues channel available from hundreds of cable providers nationwide.
---
This page and all contents are &copy 1998 by Blues Access, Boulder, CO, USA.