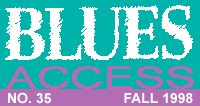 The Kids Are Alright
Susan Tedeschi
by Bryan Powell





| | |
| --- | --- |
| Susan Tedeschi: | When Dreams Come True |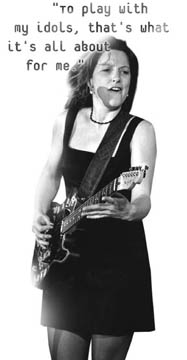 Susan Tedeschi moved to Atlanta from Boston in February, but it hardly matters, because she's never home anyway.
Tedeschi's been on tour recently with Jonny Lang and Buddy Guy and has upcoming dates with B.B. King, Dr. John and other musicians that she's long admired.
"To play with my idols, that's what it's all about for me," Tedeschi explains in an interview. "It's not the money." In fact, Tedeschi says with a laugh, she's more in debt than she'd ever imagined after putting together the transportation, musical gear and clothing needed to tour. It's all part of the reality that sets in when dreams come true. "I've set long goals, future goals, more as dreams," she says. "When they start to come together, it's very strange."
Tedeschi, 27, is touring in support of her Tone-Cool disc, Just Won't Burn (see review, BA #34). She plays both piano and guitar. Tedeschi is a 1991 graduate of the Berklee College of Music, where she sang in the gospel choir. Playing weddings and parties to pay the bills while in school, she began frequenting local blues jams and soon was working gigs with Toni Lynn Washington's back-up band. She launched her own group in 1993 and won the Boston Battle of the Bands just a year later. That led to an appearance at the National Blues Talent Competition in Memphis, where she met 18-year-old Sean Costello from Atlanta, now her guitarist.
After releasing an independent CD, Better Days, in 1995, she signed with Tone-Cool in April 1997. When her Boston-based band broke up, she headed South to live with Costello and form her new touring band. Just Won't Burn, released in February, features a convincing blend of blues, R&B and gospel that reveal the influences of Aretha Franklin, Irma Thomas, Bonnie Raitt, Janis Joplin, Dinah Washington and others.
Some cuts go even farther afield, such as "You Need to Be With Me," which has a Bob Marley-styled reggae groove. Tedeschi says her musical roots also extend to Mahalia Jackson, Johnny "Guitar" Watson, Otis Rush and Jimmie Vaughan, to name a few.
With a broader base of musical influences and a few more years behind her, Tedeschi sees herself as distinct from the younger generation of players we've profiled. Collectively, she's impressed by their commitment and the staggering amount of hard work that they have put in since childhood. "People from my generation didn't even know about blues when they were 14," she says, commenting on the ages that Kenny Wayne Shepherd, Lang and fellow Boston-area resident Mike Welch began their careers. "So many 10-year-olds can play blues now!"
Still, Tedeschi shares a common bond with her younger compatriots (aside from still looking like a teenager) in that she wants to take her musical roots and develop a personal identity.
"A lot of bands, like the Stones, the Beatles and Clapton, all wanted to be blues artists," Tedeschi says. "They had to force themselves to write and be original, and came up with their own sounds. B.B. King and Chuck Berry came out with their own sound, too. That's what made them so great."
---
This page and all contents are &copy 1998 by Blues Access, Boulder, CO, USA.