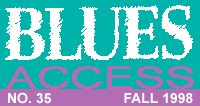 ---
Hangin' with the Big Boss Man
When I first moved to Chicago, I wanted to see and hear every bluesman the city had to offer: from the big names to the struggling unknowns, anyone and everyone who was playing blues, up close and in person.
Of the big names, guys like Muddy Waters and Howlin' Wolf were easy to find. Although Muddy kept a constant touring schedule, he could be seen in the Chicago area quite frequently, so often that half the time I never even bothered going to see him. Howlin' Wolf was also easy. He played every Friday and Saturday at Eddie Shaw's 1815 Club. Seventy-five cents to get in and 50-cent beers and, of course, the chance to witness a true legend of the blues.
Jimmy Reed was a little harder to track down. He had been inactive for several years and had only done one gig as far as I could tell within the first year I was in town. I finally got to meet him through a source that was all to close to home.
I had rented an apartment that I shared with a couple of blues DJs from a local college radio station. These guys just happened to be the ones who had helped put together the show with Jimmy Reed and John Brim at the University of Chicago several months before. I already was very good friends with John Brim. Billy Branch and I used to hang out with John Brim Jr., going to clubs and sitting in, so I was at John's house a lot. I had been trying to get the senior Brim to take me to meet Jimmy, but the timing never worked out.
Finally I was able to convince the two DJs to set up a meeting. We went over to Jimmy's apartment on the South Side — I can't remember exactly where it was except that it was not far from Florence's Lounge, which I knew all too well.
It was really not what I had expected for an artist of Jimmy's stature: just a typical South Side ghetto apartment with nothing fancy — no gold records on the wall. Only Jimmy and his wife living in a small, very-low-rent but clean apartment, barely making ends meet. He didn't even have a car!
It was obvious that if Jimmy had made any money off his records and personal appearances, it was long gone now. I had arranged in advance to bring a small reel-to-reel recorder and a couple of microphones, and Jimmy was going to invite some of his friends over to play some music for us, all to be captured on tape.
When I arrived I was surprised to see John Brim with his pink plastic guitar, which had what seemed like hundreds of multi-colored buttons on it, none of which seemed to do anything at all. Also present was Jimmy's cousin, Levi Reed, to lay down some bass lines on the guitar.
Reed was sitting on a bed in the living room, and several of his neighbors had also gathered around to take a listen. After some small talk Jimmy set up his guitar, got out his rack harmonica and began to play for us. He was soon joined by Brim and Levi Reed. I was immediately surprised to find that it was Jimmy playing all the fills and "diddley do's" on the guitar — I had always assumed that it was Eddie Taylor doing that with Jimmy doing the "lumpdy lump" parts, but I had it exactly backwards.
Jimmy was also blowing some really nice harp, just like on his records. The DJs and I were so thrilled to get this personal performance from "Mr. Jimmy Reed himself just especially for us, we wanted to pay him back somehow. We asked him if he would like to join us that night and visit a club that we had been hanging out at, and to our surprise he said yes. Of course I think we were paying, so what would you expect? It shouldn't have been a surprise at all.
The club we were going to take him to was the Michigan Avenue Restaurant and Café Society. What a name for a ghetto club! It was owned by a guy by the name of Sweet Pea and located right around the corner from Pepper's Lounge at 23rd and Michigan streets. On the weekends Big Bill Hill would broadcast for WOPA from this funky little club. I think the performances were broadcast over the air, with Bill spinning records during the breaks.
This particular night the band was to be Little Willie Anderson's, with just Jimmie Lee Robinson on bass and George Beasley — who is the best blues drummer I ever saw. No guitarist at all.
We tried to hurry Jimmy out of the house to head over to the club, but he was just taking his time. I don't think Jimmy ever hurried a day in his life. Finally he began to get ready. He started by putting on a fresh polyester shirt, raising his arms and giving them a good spray of Right Guard deodorant, not directly to his underarms but on the shirt under his arms. We thought this was kind of unusual but really didn't pay it too much attention.
Next Jimmy began doing his hair, getting it all slicked back nice and neat, then topping it off with — yeah, you guessed it — more Right Guard. (I figured he must have 1,001 uses for it.) What next, bug spray? No, next on with the trademark black-and-white, checkerboard-pattern, patent leather platform shoes, but not without a good shot of Right Guard.
Man, this cat was smellin' like a high school locker room circa 1968. We made it to the club with our special guest in tow, and everyone was so glad to see Jimmy. You could really tell what a star he must have been. Everyone came up and greeted him like a long lost friend. The band began to play, and soon Willie announced to the audience that he had "the" Jimmy Reed in the house.
Jimmy was sitting over by the bar when Willie asked if he'd like to blow some. Jimmy just replied in his long nasal drawl, "I got a baaaad toooooth," meaning politely that he just wanted to hang out.
George Beasley seemed to be having a good old time taunting him from the stage with lines like, "Come on now, Jimmy, you been suckin' with bad teeth all these years." Needless to say, Jimmy didn't sit in. We took him around the corner to Pepper's at his request for awhile and checked out Buddy Scott and the Rib Tips, who at that time were doing Top-40 R&B.
Jimmy soon tired of that, so we drove him home safe and sound, and that was the end of my first day with Jimmy Reed, the legend and the man.
---
This page and all contents are &copy 1998 by Blues Access, Boulder, CO, USA.