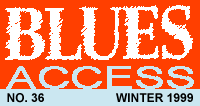 ---
Now you see him; now you Ö
The image was so intriguing, especially the fingers.
But the grainy, 16-mm footage that some thought might be Robert Johnson (see Access, BA #35) has turned out not to be the infamous bluesman after all, but an as-yet-unnamed singer on the streets of Ruleville, Mississippi, in 1941. Johnson died in 1938.
Just who it was on those silent, precious seconds of decaying film has been the subject of recent debate. The film depicts a black musician in a work shirt with what appears to be a harmonica rack around his neck. The fingers, a guitaristís fingers, are reminiscent of those famous digits that distinguish both published photos of Robert Johnson, especially in the still from the film.
The still came from "Tater Red" Allred, a Beale Street entrepreneur, who began showing his copy to people, asking if it was Robert Johnson and hinting that it might be. He also claims to have shown a still from the film on two occasions to Robert Jr. Lockwood, who said it was his stepfather, though to other people Lockwood denied identifying Johnson.
Meanwhile, the rumors began to sprout wings. It was the same kind of guitar Johnson played. Writers speculated; one magazine, Guitar One, reported the footage as authentic Johnson and offered as proof that the guitarist was playing a "moving capo," a difficult guitar maneuver. Robert Plant and Jimmy Page were going to buy it for six or seven figures. The sky seemed the limit.
But thanks to some good sleuthing by a couple of scholars, the debate fizzled and died. The formal end came after a screening in September 1998 at the RockíníRoll Hall of Fame in Cleveland, Ohio, with all the big names in Johnson scholarship in attendance ó Peter Guralnick, Tom Freeland, Dick Waterman, Gayle Dean Wardlow, Frank Driggs, Steve LaVere among them ó as well as Robert Jr. Lockwood and Henry Townsend.
After it was announced that there were several other copies of the film in existence beyond Allredís and the facts began flowing, it didnít take long for the assemblage to conclude that the film wasnít of Johnson, especially after Lockwood emphatically denied it. Working separately, researchers Freeland and LaVere uncovered some basic details that prove beyond a doubt that the film is not of Robert Johnson.
What they found: The footage was shot by one B.F. Jackson as a promotion for his theater. The movie being advertised in the background is Blues in the Night, released three years after Johnsonís death. The "capo" is actually a shadow, and the guitar isnít the one Johnson has been pictured or associated with.
Still, nobody has a clue who it is.
Any ideas?

---
Hall of Fame-bound
In a ceremony in September that included a memorial speech by Jerry Phillips, son of Sun Records record mogul Sam Phillips, legendary musician Wynonie Harris was inducted into the Nebraska Rock Ní Roll Hall of Fame in a weekend ceremony.
Phillips called Harris one of a handful of black artists who helped shape modern rockíníroll. "My dad feels he was able to help black artists open doors, and the black influence (in rock) canít be denied. Whether itís Wynonie Harris or (fellow bluesman) Little Milton, they were important, but they werenít able to get any radio airplay."
One of Elvis Presleyís early hits, "Good Rockiní Tonight," was a Harris tune, and Harris himself ó nicknamed "Mr. Bluesí" ó is credited with the 1940s hits "Who Threw the Whiskey in the Well" and "Hurry Hurry." Harris, born in Omaha in 1920, spent much of his life in the New York City area and died of throat cancer in 1969 in Los Angeles.
---
Where do you want to go to play?
The latest entrant in the Musicianís Help category is The Musicians Atlas 1999, 320 mind-boggling pages of clubs, radio stations, press contacts, music conferences and showcases, associations, schools, studios, manufacturers, record stores, distributors, record labels, publishers, graphic artists, photographers, web designers, managers, agents, lawyers, producers and engineers, merchandising companies, gear and equipment and the World Wide Web. For more information, call (973) 509-9898 or check the web site (www.musicianatlas.com).
---
Blues in South Africa
George Worthmore writes: "I am an American living in South Africa. I came here in 1995 as a performer and eventually bought the night club where I performed. The concept of the club is the return to Africa of blues music. Although I made my living playing rockíníroll and rockabilly, my roots are in country blues. I studied with Dave Van Ronk and Ian Buchannon, both students of the Rev. Gary Davis. I had the honor of playing with Johnny Shines and Robert Jr. Lockwood when they were in New York City. I played as a regularly featured act at both Mannyís Car Wash and Dan Lynchís Blues Bar, New York Cityís top blues venues.
"The Bluesroom is a nightclub in Johannesburg that is devoted to the presentation of quality music with high-quality production values. Gatemouth Brown has performed here, and we are bringing Ken Saydak, 1996 Chicago music critics choice for best keyboardist. We have a 24-track recording facility on premises, and we are recording and broadcasting local African jazz and blues musicians. We would like to bring over some journeyman level blues acts. Contact the Blues Room, Village Walk, Sandton, South Africa, 2146 RSA; e-mail gworthmore@onwe.co.za; web site (www.bluesroom.co.za)."
---
Send information for this column to ACCESS, c/o BLUES ACCESS, 340 S. 42nd, Boulder, CO 80303, fax to (303) 494-1127 or e-mail Lrucker@aol.com.
---
This page and all contents are &copy 1999 by Blues Access, Boulder, CO, USA.