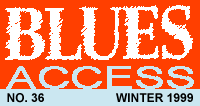 ---

Blues Heaven:The current, ongoing "blues revival" can be traced back to the early í60s, when young British rock musicians (many of them turned on to the music by the American Folk Blues Festival tours of Europe) started scavenging for 45 rpm records from the U.S. that most American teens didnít even know existed. When the Rolling Stones released a tune called "2120 South Michigan Avenue," itís doubtful that many of the fans who tapped their toes to it had any inkling of what that title referred to. Naturally, we blues hipsters are aware that this was the address of Chess Records, the label that practically defined the sound of postwar electric blues in Chicago.
Today that address has been restored and is home to the Blues Heaven Foundation, a philanthropic effort founded by Chessí own "Slash" (songwriter/bass player/producer/A&R man), Willie Dixon. When Willieís daughter, Shirli Dixon-Nelson, consented to take our man Tom Moon on a guided tour, he found that there was still some mojo in those hallowed halls.
Speaking of the days when "British Blues" bands wielded a big influence on the stateside record buying public, a relic of that era, long thought to be lost to the drug-hazed overindulgence of the decadeís latter half, has almost magically reappeared. Peter Green, first with John Mayallís Bluesbreakers and later as founder of the original incarnation of Fleetwood Mac, was (along with Eric Clapton and Jimmy Page) one of the best and most respected of the Brit blues disciples. If all you know of Fleetwood Mac is "Rhiannon" and Stevie the, uh, witch, check out the bandís earliest recordings (like the eponymous Fleetwood Mac and the classic English Rose). Youíll hear the young "Greenie," along with guitarists Jeremy Spencer and Danny Kirwan, demonstrate the influence that Muddy, Elmore and Robert Johnson had on their music before they turned a corner and became a killer progressive rock band.
By 1969 the group had gained enough acclaim that they were able to bring their brand of blues on home to Chicago, specifically to 2120 S. Michigan. With Mike Vernon and Marshall Chess at the controls, Green and Co. recorded more than 20 tracks with Buddy Guy, Willie Dixon, Otis Spann, Shakey Horton, J.T. Brown, Honeyboy Edwards and S.P. Leary. (Most recently reissued as the two-disc set Fleetwood Mac in Chicago 1969 on Sire.) Green eventually left the band, surfacing occasionally with solo projects of varying quality before dropping off the musical radar screen altogether. Word had it that his mental balance was irreparably upset by the excesses of the rockíníroll life. The odd magazine article would appear, describing him as living in his motherís house but inhabiting a world of his own, one that had few points in common with consensus reality.
Then, almost miraculously, last year he began to actually make live appearances with Splinter Group. This was followed by a CD of Robert Johnson songs and gigs in the U.S. Gary Graff caught up with Peter Green during his most recent tour and let him speak his mind. Now his life story is in the works, and we get to also meet Greenís biographer, Martin Celmins.
A Plexing Situation: Writer and Texan (not necessarily in that order) Tim Schuller has regaled BLUES ACCESS readers with his trenchant outlook since our earliest days. Heís most happy when discussing not just his home state, but his hometown of Dallas and its "far weirder" sister city, Fort Worth. While often overshadowed by Chicago and the Delta, the Lone Star state has a distinguished blues pedigree, and Tim profiles for us three of its denizens starting to transcend their reputations as local characters. Gregg Smith, Andrew "Junior Boy" Jones and Robert Ealey all have nationally distributed recordings and, with a little luck, could be poised to make a splash in other parts of the country.
Lifeís Too Short: We mark the passing of two superb musicians, Johnny Adams and Teddy Reynolds, in this issue. And the Rooster reminisces on the life of Eva Cassidy, who passed on before her true magnitude could be realized. As we went to press, we learned of the passings of Eugene Powell, Albert Washington, New Orleans singer Leonard "Chick" Carbo (of the Spiders) and contemporary Delta bluesman Lonnie Pitchford, all of whom will be expounded upon next issue. Also gone are guitarist Willie Kizart, R&B singer/pianist Sonny Knight, John Paul Haley (of the fine Boston trio Two Bones and a Pick) and Duchess Henderson, wife of popular Texas guitarist Bugs Henderson.
Win! Win! Win!: Operating on the theory that everybody likes a chance to get free stuff, we decided to go all the way this issue and offer you a shot at a blues heirloom. Even if youíre not a musician, youíll want to immediately sign up for lessons when that genuine B.B. King "Lucille" Epiphone guitar, autographed by the great man himself, shows up at your door. Then youíll be able to say, "I play the same model guitar that the Pope does!"
Thereís plenty of other good stuff in our sweepstakes besides the custom axe: Weíre giving away 15 sets of classic blues on CD from the Columbia/Legacy Mojo Workiní Blues series (one disc each by legends Willie Dixon, Son House, Big Bill Broonzy and Blind Willie Johnson, plus a set of various slide-guitar masters). And every one of the 36 winners will receive a copy of On the Road with B.B. King: An Interactive Autobiography. When this CD-ROM first came out, hereís what the Red Rooster had to say about it in these pages: "Media X, who produced the disc for MCA, has created an imaginative piece of work that maneuvers like an elegant computer adventure game."
So what are you waiting for? Check out the details. Of course, if youíre already a subscriber you donít have to do anything: Weíve rewarded your investment in our future by automatically entering your name in the contest. But you still might want to take advantage of this opportunity to extend your subscription and pick up on those free CDs from Blind Pig Records.
ó Cary Wolfson
---
This page and all contents are &copy 1999 by Blues Access, Boulder, CO, USA.