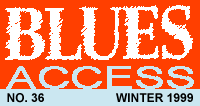 ---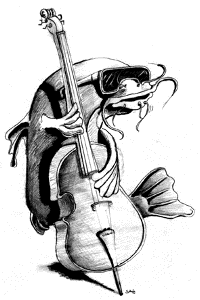 Memphis Blues Again
It was a comic, almost absurd juxtaposition of elements.
There was Othar Turner and the Rising Star Fife and Drum Band onstage at Blues Hall, one of the revived music parlors on Beale Street, 1998.
The people up front near the band, which shuffled configurations with every tune, were already fans or curious out-of-towners in Memphis for Bluestock/Blues Foundation events eager to see living history in the person of Turner, now 90 and still performing music heís had 70 years to experiment with. Oblivious to the historical context, the better-heeled patrons in the back hollered pick-up lines over the various snare and bass drum rhythms.
The music of the Rising Star Fife and Drum Band isnít really created with the performance stage in mind, and it was obvious the various members would be just as happy playing at one of Turnerís backyard picnics in the Mississippi hill country. Between numbers it was a bit of a Grateful Dead atmosphere, with musicians walking off-stage and sipping a beer or lighting a smoke before reassembling, beckoned by Turnerís home-made fife. The music hearkened to a time before blues, with the snares providing an almost Civil War feel behind Turner.
After several instrumental numbers, they were joined onstage by a bespectacled, white youngster with a vintage wooden guitar, who started adding appropriate slide figures and his vocals to "My Babe," which I remember from Little Walter but probably goes further back than that. He fit in perfectly. Soon an even younger kid that I had noticed in the club earlier filled the empty stool on the drum kit and started hitting his snare and bass in sync with the Rising Star Bandís tapping rhythms. The music they made was incredible.
After a short intermission, the two young men were joined by a left-handed, black bass player, and they proceeded through a blistering half-hour set which included a somewhat juiced-up version of "My Babe" that sounded traditional, modern, different ó picture Ry Cooder if his debut album came out this year.
The trio bills itself as the Northern Mississippi All-Stars, and is playing mostly in the Memphis area. As it turns out, the two are brothers, guitarist Luther and drummer Cody, sons of Jim Dickinson, the legendary Memphis producer, which made immediate sense, watching this trio with a healthy respect for its elders and plenty of energy to go from there.
Other than a 1996 Caroline Records single with "My Babe" and ".44 Blues," they remain unrecorded. And, again not surprisingly, Luther Dickinson produced the 1998 Rising Star Fife and Drum Bandís Everybody Holleriní Goat (Birdman 018). Coming at a time when David Crosby occupies a Hollywood Square and Willie Nelson hawks his new CD on The Home Shopping Network, it was a breath of fresh air and a kick in the pants.
Among the other musical reasons for living in 1998:
Ambitious and beyond eclectic, Alvin Youngblood Hartís second album, Territory (Ryko) stakes out new turf, and as the title suggests, heís already headed into uncharted terrain. But never any further than when he pulls out all the stops and slips deeply into "Ice House," the angular Captain Beefheart instrumental suite ó and brings it off. Give this guy some room ó heís gonna need it.
At the beginning of Journey (Audioquest), a loosely constructed conceptual album, Mighty Sam McClain is in a reflective mood, nodding to his earlier days on his reworkings of "Iím a Man" and "Change Is Gonna Come." But everything builds to the final two cuts. On the penultimate track, "Hanging on the Cross," the singer is literally hanging "between heaven and the blues," left scraping and clawing to stave off perdition. It takes the full four-and-a-half minutes of the redemptory "Somebody Help Me" to finally pull him back from the abyss.
That we can even hear the achingly lovely, superbly crafted Man of My Word (Rounder) is nothing less than a miracle: Itís Johnny Adamsí final effort, finished between bouts with cancer that finally felled him, and itís perhaps his greatest artistic success. Adams carefully picks over the consonants and vowels and phrases of audacious songs like "Even Now" or "This Time Iím Gone for Good" like the precious gems and stones they are. Long-time cohort and ace guitarist Walter "Wolfman" Washington leads a New Orleans-based band that always follows Adamsí finely tuned sense of nuance.
Like the Bandís Music From Big Pink or Super Chikanís Blues Come Home to Roost, the 1983 recording, Hezekiah and the House Rockers (High Water/HMG) represents a porous entity, in this case a post-modern Mississippi power trio with the unusual ability to soak up and regurgitate nearly every American music of the 20th century in a little less than an hour. Listen as so many traditions ó boogie woogie, country, R&B and gospel, rockíníroll, fife-and-drum among them ó get turned inside out in the able hands of Hezekiah Early, "Peewee" Whittaker and James Baker, whose guitar/harmonica/drums/trombone instrumental line-up is every bit as weird as you can imagine.
In the way that all music associated with the Muddy Watersí Chicago circle defines the term, Blues Hit Big Town (United/Delmark), the earliest recordings Junior Wells made for United Records, at a time when he was hardly known outside the South Side house party/club scene, are the epitome of "cool." All things considered, these intense, primal tracks are on par with Wellsí classic Hoodoo Man Blues. Vital stuff.
On The Robert Johnson Songbook (Artisan Recordings), Peter Green miraculously side-steps the dual pitfalls of most who dare cover the Robert Johnson canon ó blind reverence and overuse of the slide guitar ó by concentrating on the songs instead of the legend. By avoiding the temptation to mime Johnsonís affected slide style or fall back on his own formidable guitar skills, Green and collaborator Nigel Watson showcase these powerful songs in a way that bring out the jazz connections and shadings that many rock-centric Johnson interpreters overlook.
ó Leland Rucker
---
This page and all contents are &copy 1998 by Blues Access, Boulder, CO, USA.