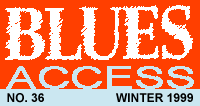 Strange Voodoo
Inside the Vaults of Chess Studios
by D. Thomas Moon





---

It's a crisp, gray afternoon in south Chicago, and a resolute group of middle-aged tourists from Japan are stopping traffic as they snap photograph after photograph of the building that stands before me at 2120 South Michigan Avenue. The inconspicuous, two-story edifice is far from the mainstream of Michigan Avenue shopping, and they are not here by accident.
They've come here because of a love affair with a facet of Chicago many Chicagoans don't even know exists and fewer have experienced — the music known throughout the world as "Chicago blues." The venerable structure they're frantically snapping was once the home of Chess Records, the most important and influential post-World War II blues label. Where Muddy Waters, Little Walter, Howlin' Wolf, Sonny Boy Williamson and Willie Dixon recorded music that defined the genre and helped to nurture the growth of other American musical idioms. Jazz, rock'n'roll, R&B and soul music all owe a great debt to the bedrock blues sound they created right here in this building.
Few of the building's former occupants had more to do with the label's success than one-time composer-in-residence Willie Dixon, who wrote and arranged blues to order for all the label's biggest names. Over the course of several decades, he penned some 500 blues compositions, played bass on innumerable records and saw many of his songs become mainstays of blues-rock repertory. (His song "My Babe," to give but one example, has been recorded by at least 25 different groups and artists, including Elvis Presley, Ricky Nelson, Nina Simone and Peter, Paul and Mary.)
It seems fitting that the building where Dixon made musical history is now the site of Willie Dixon's Blues Heaven Foundation, an organization dedicated to assisting musicians, educating the public about blues history and nurturing young artists to ensure the future of the blues. And there could be no better guide through the Foundation's archive and museum-in-the-making than Willie Dixon's daughter, Shirli Dixon-Nelson, the organization's executive director and overseer of the day-to-day on-site operations.
We meet in the lobby, where a receptionist once took the names, arrival times and license numbers of visitors as they stood studying the faces on the record jackets that bedecked the walls of the dwarfish cubicle. "Here in the reception area, visitors and clients waited for admission to the Chess company office — sometimes all day," Dixon-Nelson explains. "A receptionist safely stationed here guarded the front entrance from behind these sliding, ribbed-glass windows. Her main job was to monitor access to the first floor and to protect the time, I'm sure, of Leonard Chess, who was very busy juggling not only the record label, but the various radio station and publishing interests that they had."
On occasion, veritable battle gear was needed to keep unwelcome visitors at bay. According to legend, one exceptionally loyal secretary and Sonny Boy Williamson squared off sometime after Chess had installed a new security system. She apparently had great difficulty convincing the cantankerous harmonica ace that he could not enter without proper authorization. To make matters worse, a visiting rabbi happened to be within earshot of Sonny Boy's profane outbursts. "Let me in here. I built this motherfucker," he is reported to have said, to which the receptionist replied, "Sonny Boy, don't be talking like that. Don't you see that rabbi standing over there?" "Motherfuck the motherfuckin' rabbi," Williamson allegedly retorted. "That rabbi there after the same thing I'm after — and that's money. Now open this motherfuckin' door up!"
Interestingly, among those who worked here behind the glass was multi-octave songstress Minnie Riperton, who initiated her illustrious career with Rotary Connection on Chess' Cadet Concept imprint. "We believe that her exposure to the various levels of business that was conducted here at a time when the rules and regulations were just being written helped her to develop her own professional career," Dixon-Nelson observes. "But she did guard the entrance. That was her job."
Once inside, we pause briefly at a gift shop which shares the same space with the reception area. "This was where the promotional activities of the company took place," she indicates with a sweep of her hand. "Here journalists, DJs and business associates could get new releases and the latest photos and bios of many of the Chess artists from a small table." True to both form and function, the Blues Heaven Foundation has adorned the walls with placards commemorating Chess' 50th anniversary, and visitors can still pick up selected recordings, along with T-shirts, posters, books and other blues-related merchandise.
Leaving the reception area, we retrace the steps of innumerable hopefuls and follow a photo-lined corridor toward the offices that once belonged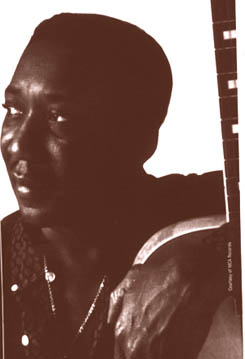 to Phil and Leonard Chess. I am reminded of a hallway encounter that had so bewildered Keith Richards, who recorded here with the Rolling Stones and made the address famous with an instrumental number titled "2120 South Michigan." "You walk in ... on your hands and knees in this Mecca," he told Paul Trynka, "And they say, 'You might like to meet this guy who's up on a stepladder in a white overall.' 'Who's that?' 'That's Muddy Waters.' It was another of those slaps around the face."
The story has always puzzled me. Either times were exceedingly lean or Muddy was one remarkably loyal employee. Dixon-Nelson admits that blues artists often took other forms of employment in the early 1960s, yet she believes that this story may be a "wives' tale."
"What I know of him, seeing him all my life, I would opt to dispel the story because of the nature of Muddy's character," she says. "Not only was he larger than life in spirit, but he certainly was a celebrity in every form. I can't remember a time, whether he was visiting my father in the garden or whether he was working on a song with him on an extremely hot, humid Chicago day, in which he was not dressed in a suit and a silk shirt with cuff links and whatever else was appropriate for his attire. However, I happen to believe that Keith Richards is one of the most honest artists that is on the scene today that was part of the original Chess family. I don't believe that he would ever make a statement, if in fact that is his statement, that would be inaccurate. Who knows what actually occurred."
Leonard's office is smaller than expected. In marked contrast to the elegant accommodations enjoyed by executives of the major East Coast labels, it was, presumably, very modestly adorned when it served as an office. The removal of five layers of plaster and dry wall has exposed the original redwood walls and red glass accents, and the floor tile type and color painstakingly restored to its original '50s look. The size and position of Leonard's desk speak volumes about the supremely contradictory figure who once presided over the room and other artists and executives who would deferentially enter it.
An astute, hard-edged business man well-known for his sharp tongue and quick temper, Leonard Chess was both loved and hated. Nevertheless, his proven, seemingly infallible Midas touch in all things related to building the Chess empire commanded the respect of others. "When in town, Leonard Chess used this small office to make business deals and plot marketing strategies for many Chess labels, including Argo, Checker and Cadet," Dixon-Nelson remarks.
"He was also part owner of Arc Music, which is a publishing company. He certainly had to monitor record sales in order to pick up royalties, although I'm not sure where they got channeled to. I remember my mother saying that she went to Leonard's home, and it was maybe a half-mile ride to get to the front door from the front gate," she laughs. "He also owned WVON radio station for six years, which became known as Wonderful Voice of the Negro. WVON became the station that would serve as the political voice for the black community, though I don't think Leonard realized the affect that the radio station had in the community when he assumed ownership. I think initially his plan was to get the records played on the radio station.
"Being the head of a radio station in and of itself had to be extremely difficult — selling to the advertisers, formatting, etc.," she continues. "But Leonard, in fact, managed a number of different businesses and had a number of different people involved with the label in ways that are not often known by the general public. One of the studio engineers has disclosed to us that he had an actual ownership in the studio, which was a trade arrangement that was provided after he built certain aspects of the studio and laid out the various mechanical needs for the studio. He traded that service to Chess for part of the ownership. I'm sure that Leonard had extremely long and extremely busy days filled with such negotiations. I doubt that anyone came to him that didn't want something. I'm sure that a typical day involved all sorts of ideas and creativity, as you can hear from the music that came from the label, as well as a lot of suggestions, recommendations, and then just that hard line, 'I have something to sell.'"
Adjacent to Leonard Chess' office was brother Phil's slightly smaller office, which currently supports the activities of Blues Heaven Foundation board members, attorneys, volunteers and Dixon-Nelson. Before joining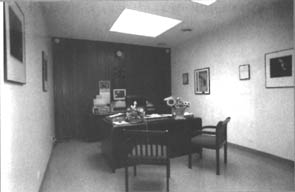 the record company full time in the early '50s, Phil Chess managed the brothers' succession of night clubs (the 708 Club on East 47th Street and later the Mocombo at 39th and Cottage) and played an instrumental role in scouting talent for the then-fledgling label. Once Chess was firmly established, Phil spent more time on the road promoting records and maintaining contacts with DJs and radio station personnel.
"Leonard also used his brother to help filter some of the artists' needs," notes Dixon-Nelson. "My father, before he passed, told me of days when he would be called into the studio to defuse all sort of issues and encourage the artists to get the work done. My father never spoke about Leonard at any great length, other than to state that it was a difficult time for him and for many others, but he always felt very strongly that Phil Chess was the more sincere-spirited person in terms of understanding the struggle of the artists and wanting to contribute to them in a positive way."
Directly behind Phil's office was the expansive shipping and packaging room, currently a multi-purpose locale for Blues Heaven's Blues in the Schools Program, career-development workshops and other informational or educational assemblies. "Some of the original decorative features are still in place here," Dixon-Nelson points out. "The Chess emblems that are in the wall are part of the original treatment to the room. This is probably where the materials that went out into the world were actually packaged and shipped. Chess had three other sites, and none of them served the role of this site, which was a recording studio, office and distribution location. The only thing they didn't do here was press the records, although they cut the originals on a lathe upstairs."
After making our way through the vast room toward the back of the building, we pause at the foot of the staircase that leads to the second-floor studio. If stairs could talk, these would speak of a reality largely forgotten in an age of so-called "color-blindness," but one that still shapes the lives of many black entertainers. "Most Chess artists were directed to use these back stairs to get up to the studio and rehearsal rooms," Dixon-Nelson confides. "We left the stairs in place because all of those who came here and visited this site when they were young talked to us about what they saw. Often without really recognizing that the period didn't offer equal opportunities all the time for black musicians, they did notice that most of the musicians entered the building through the back. That went on to be changed later in life, after other owners came onto the scene. But basically, whether you were Muddy Waters or Chuck Berry or Bo Diddley or Willie Dixon, it didn't matter. You were to use these back stairs to access the building — you weren't allowed access to the first floor. This is information that has been historically documented by the Chicago Landmark Commission and the Historical Society, and we've also documented it by talking to various artists about why these stairs existed and what happened here."
The original back door, covered with autographs and phone numbers, was removed from its original place near the stairs and is now located in the basement. Clearly written on the back of the door is a note from a fan intended for Mr. Jagger: "Mick, I want to get in your pants." As fate would have it, the Stones weren't directed to the back stairs when they recorded here; Jagger was unable to retrieve the message. Nevertheless, the door stands as a testament to a different message, one which was heard loud and clear all over the world: "Blues had a baby," sang Muddy Waters, "and they called it rock'n'roll."
With the advent of this new musical expression, additional race issues were raised. In what seemed like a blink of an eye, an avalanche of white performers were cashing in on a trend started by the Stones and other blue-eyed soul acts with repertoires that consisted largely of thinly veiled covers of blues and blues-based R&B. Sadly, as the white imitators thrived, African-American originators were denied market access, despite what many consider to be the superior quality of their material.
"I believe if the jockeys would have played the originals at that time, they would have been big," Phil Chess observes in the documentary film, Sweet Home Chicago. "Very, very big. But it wasn't accepted at that time. I went to Boston on a promotion trip one time and I took a bunch of records. And I went to see this one disc jockey, and I never forgot it. I give him the records, and he looks through it and he says, 'Yeah, this I can listen to and play, this I can listen to and play.' And he got to a Howlin' Wolf record, and he says, 'I don't play this,' and he throws it to the side. I said, 'What's wrong? You didn't listen to it.' He said, 'I don't play that kind of music.' I never forgot it. It kinda bothered me. He said, 'Well, it's a black record. I don't play it.'"
"I believe that Leonard Chess had to have had an extremely strong-willed character to even sell music of this type to the audience at this time in American history," offers Dixon-Nelson. "The voice of the black citizen at that time was almost silent except for through this music. Leonard championed this type of music and allowed the world to take a strong look at it and to accept it just for what it was, which is the truth of what we are and who we are. People call the blues everything, but somehow they forget that the blues at one time was offered as a prayer, offered as hope for people."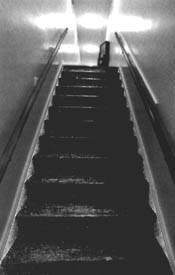 Climbing the stairs, we come upon a small, concrete room which once housed a vault used for storing master tapes, discs and other valuable items. Directly in front of the vault was a storage room, now used as a design and development office by Blues Heaven. "This room was used to store additional recording equipment as well as microphones, tape supplies and outboard recording gear," Dixon-Nelson tells me. "[Ron] Malo and other Chess engineers occasionally recorded live in the clubs. Ahmad Jamal's famous Live at the Pershing was their first. Malo said that it was the only time he packed a pistol at a gig," she lbbaughs.
Glancing quickly ahead, I easily spot the engineering booth in the distance, and I know that we are approaching what many consider to be hallowed ground. However, there is still one small, rather nondescript room separating us from what was formerly the technical studio. Passing through the portal, Dixon-Nelson informs me that we are standing in what was once the rehearsal studio. She also makes it clear that nobody got to go to the "big room" without fastidious preparation here first. "Prior to recording, the writers, artists and arrangers would use this room to prepare for a session," she says. "Here they'd tighten up the background harmonies, go over horn charts and sort out intros and tempos."
As if sensing my anxiety, she does not elaborate further and quickly leads me into the main studio. "Some of the best music ever recorded was made here," Dixon-Nelson says with pride as we enter the historic room. As I survey the environs, she braces herself for questions, and after a few minutes pass, I inquire about working conditions. "Well, back in 1955, Chuck Berry is said to have made 144 takes of 'Maybelline' under my father's watchful eye before the producer thought that it was worthy of a release," she says.
"It was hard work, but I think the artists enjoyed what they were doing. I don't know that it was the right atmosphere to enjoy it, and as I listen to some of the outtakes it obviously wasn't. A lot of artists have been vocal in expressing negative feelings about their dealings with Leonard Chess. But what you have to understand is that a lot of them were trying to escape an oppressed environment. Then they came into a facility where they were directed to use the back stairs, where they were not allowed in certain areas, where they were an MF this or an MF that or a SOB this or an SOB that, where whether they felt like doing it or not they're told to do the job or take a hike or sometimes they're paid with things other than money.
"These sort of things were completely inappropriate, as they would be at any time in life, whether it's early American history or not," she continues. "I believe that their feelings are warranted. But at the same time, the artists express that Leonard was a conduit for many of them to get their music out into the world. So it's a love/hate relationship, obviously one that is rooted in true-life experiences. I think that we have to acknowledge both that [Leonard Chess] was a product of his period and that these men and women were under a tremendous strain to be able to deliver something and to get what they gave to the world. We are very fortunate."
Turning our attention to the room itself, I am mindful of former engineer Ron Malo's description of the studio in the notes to the Chess Blues box: "You know, the studio at 2120 was an exceptional piece of engineering," he states. "It was a room within a room, adjustable walls, state of the art microphones, and so on."
Dixon-Nelson agrees but points out that famed record producer Ralph Bass, who also worked for a time here as an engineer, once referred to it as a "large hallway."
"It's not a particularly large room, although the ceiling is extremely high in the studio. But it is a space with a unique combination of sonic factors. There were nine adjustable panels used to control resonance as well as isolating instruments for recording purposes. Visiting musicians often ask if they might play their harmonica or guitar in this room to experience the acoustics that helped shape the Chess sound."
My eyes are drawn almost immediately to a section of pipe protruding through the studio floor which requires no explanation. Long before moving into the 2120 location, Leonard Chess had been experimenting with open microphones in toilets and sections of sewer pipe suspended from the ceiling to achieve echo effects. What I am looking at is nothing less than a technological revolution in its time, a clear manifestation of Chess' resourcefulness. "People ask all the time about the echo chamber," Dixon-Nelson says through a smile, as if anticipating my question.
"The echo chamber is definitely one of the main components of 2120 and was custom built for Chess by Putnam and Company. This studio was utilized for live, mixed recordings, and often getting an echo would not have been on your list of priorities because you had musicians and instruments all in one area. You had this long, elongated hallway-type studio instead of a big, wide room in which you could assemble all of the instruments and all of the people comfortably. So they opted to send a tube down to the basement and into a big hollow room and to place an amplifier down there as well so that nothing else would have sounded but this amplifier in this big echoing room."
Curious about the other end of the pipe and the chamber itself, Dixon-Nelson leads me down the stairs to the building's long, triangular-shaped basement. She explains how sound from the second-floor studio was once fed down cables through two pipes to speakers located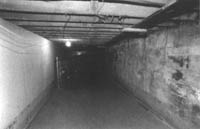 here. "Though designed as a stereo pair, only one side worked well, so it was actually a mono effect," Dixon-Nelson says. "This basement was a grueling little place. It was never well-lit and was used as one of the storage facilities."
Just as I am beginning to feel every bit of the gloom of this cave-like enclosure, she starts to recount a sorrowful chapter omitted from many annals of music history. "Chuck Berry was allegedly offered the echo chamber to live in when he had to lay low during a difficult time in his career," she says quietly.
"From what we've been able to determine, again documented in both the Historical Society and the Landmark Commission, there was a period in Chuck Berry's career in which he left the label and had some issues relative to royalty requirements or needs. Upon his return to Chess from the Mercury label he was directed to use the basement to seek refuge. Apparently, he had financial needs and needed a place to live. He had created Chess Records as a rock'n'roll label for the world to hear, yet he was not able to convince them to put him across the street at the Lexington Hotel or some other place where he may have had running water and a bed and all the things you would expect an appreciative label to have provided for him.
"Chuck Berry sent music into orbit to represent music on Earth [In 1977, Chuck Berry's 1958 hit "Johnny B. Goode" rocketed aboard the Voyager deep space probe.] and I'd like to think that he would never have had to have that experience. I tell people that when you look at Chuck Berry and have all these other comments about his character, you must remember that he had a formidable challenge in just trying to give the world his spin on life through his music."
On that somber note, the tour comes to a close. Having finished paying my respects to the old Chess Records building, I march back up the stairs, satisfied with the balance that Blues Heaven seems to have struck between instilling appreciation for the blues tradition and championing the cause of those who have been or hope not to be exploited by the music industry.
On my way out, I stop for a second time at the gift shop, where I spy a Chuck Berry CD. As I hold it in my hand, I contemplate the universe and conclude that 2120 South Michigan Avenue is as likely a site for a first contact as any. "Greetings, Earthlings," an intrepid extraterrestrial might announce after taking a few photos. "We enjoyed that 'Johnny B Goode' song you sent our way. Out of this world! Anything else available from that label?"
* * * * *
Interested in learning more about Chess Records? Check out this History of Chess at the MCA Records site. Also, look for a follow-up to this story in the spring 1999 issue (#37) of BLUES ACCESS.
---
This is only one article from our current issue. For the complete magazine,
get the hard-copy version of BLUES ACCESS.
---