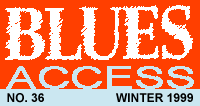 ---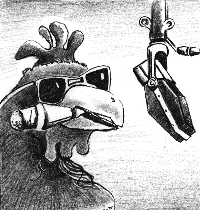 One From the Heart
Iíll let you in on a secret: I hear voices. No, Iím not schizophrenic (at least I donít think so), itís just that songs crawl into my brain through my earholes and then get stuck there. And I know Iím not the only person this happens to; otherwise, what else could justify the existence of stupid advertising jingles?
Iím here to report a particularly stubborn and persistent case of this phenomenon, one that started a couple months ago and managed to continue largely unabated throughout a three-week trip to Indonesia. The especially haunting voice is a she, and her name is Eva Cassidy.
I had never heard of the Washington, D.C.-area singer when a friend wrote to tell me that her CD, Live at Blues Alley, had knocked him out. "Itís not just blues," he wrote, "but you should listen to it."
Being not just blues ó or not "just" anything ó proved to be a major stumbling block in Cassidyís musical career. Catholic tastes are not an asset in the target-audience-driven world of records and radio (or even blues magazines). Record labels passed on her (even though Bruce Lundvall, head of the Blue Note jazz label, was singularly impressed with her talents) because she simply could not be pigeonholed.
Eva Cassidy was born in 1963 and grew up in the comfortable Maryland suburbs of D.C. She displayed artistic talent as a child, both in painting and crafts. She had a sweet voice and learned to play guitar from her father, although she was painfully shy and self-conscious about her talent. Leery of the limelight, her big musical dream was to sing backup for Stevie Wonder.
She eventually came to the attention of producer Chris Biondo, at whose home studio she recorded some backup vocals for other artists, as well as a demo of her own: soulful versions of jazz tunes, folk, blues, soul, whatever songs moved her. Biondo introduced her to Chuck Brown (hailed as the father of "Go-Go," a funky R&B style that gained huge popularity around D.C.), who was looking to take his music in a more sophisticated direction. Chuck heard Cassidyís demo and began to imagine the possibilities. When they first met, however, he was not prepared for the petite, bashful, young blonde woman behind the voice.
They went on to record a disc of duets for Liaison Records, The Other Side, in 1992. Artifacts from the Ray Charles, Billie Holiday and Little Willie John songbooks, along with jazz and pop standards, are generally given a classy, loungey jazz treatment. The most raucous performance is a fine send-up of James Brownís "Iíll Go Crazy," but the most affecting one is Cassidyís solo opportunity on "Over the Rainbow." Backed by her own guitar, she manages to transform this familiar piece of Tin Pan Alley treacle into something at once aching, hopeful and chilling.
Frustrated at attempts to interest major record companies in her solo work and unwilling to do what she called "pop crap," Cassidy, Biondo and her manager Al Dale, decided to record her live and put it out themselves with tiny Blix Street Records. For the January 1996 date they chose Blues Alley, the Georgetown club where she and Brown had held the coming-out party for their CD. The song selection was, typically, all over the place: from "Stormy Monday" and Holidayís "Fine and Mellow" to soul standards "People Get Ready" and "Take Me to the River"; from Stingís "Fields of Gold" to Louis Armstrongís "What a Wonderful World." Just as typically, when listening to the tapes, Cassidy heard only her mistakes and didnít want them released, relenting only when she was allowed to include a thrilling, gospel-drenched, studio version of Pete Seegerís "Oh, Had I a Golden Thread."
The album came out to good local response, but there were dark clouds looming. That summer she went to the hospital for a broken hip and general weakness and was diagnosed with melanoma. Stunned friends organized a benefit for her in September 1996. Ravaged by chemotherapy and blood transfusions, with the use of a walker she still managed to get onstage and sing "Wonderful World." It was so emotional that Chuck Brown, playing guitar for her, had to leave the stage in tears. Eva Cassidy died two months later at the age of 33.
Since her passing, Blix Street has released Eva By Heart, a brilliant set and her bluesiest by far. It includes souliní versions of traditional tunes like "Wayfaring Stranger" and "Wade in the Water," a duet with Brown on Little Willie Johnís "Need Your Love So Bad," Doug MacLeodís "Nightbird," the standard "Blues in the Night" and a gospelish "Time Is a Healer." The latter, along with "Golden Thread," is what I couldnít get out of my head even while wandering the streets of Bali. Another disc, Songbird, offers highlights from the other three.
In this Roosterís book, the top floor of the pantheon of Great Female Soul Voices has just three members: Aretha Franklin, Etta James and Irma Thomas. Given her absence of aggressiveness, itís unlikely that Eva Cassidy could have made that kind of name for herself, although not for lack of talent. But like those women, as Richard Harrington wrote of her in The Washington Post, "She could sing anything ó folk, blues, pop, jazz, R&B, gospel ó and make it sound like it was the only music that mattered."
Evaís four CDs are available via mail order from Liaison Records, 1-800-841-6201.
---
Blues from the Red Rooster Lounge originates on Boulder's KBCO 97.3 FM (where it can be heard Sundays at 9 p.m.) and airs weekly on 15 radio stations around the U.S.. Check with your local station for availability. (Station program directors can receive a sample copy of the program by calling the Longhorn Radio Network at 1-800-457-6576.) The Rooster also consults for the MusicChoice digital cable radio service, a 24-hour commercial-free, all-blues channel available from hundreds of cable providers nationwide.
---
This page and all contents are &copy 1999 by Blues Access, Boulder, CO, USA.