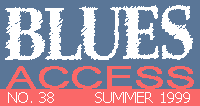 ---
Help where it's needed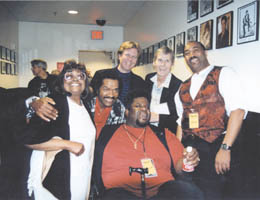 Linda Seubold writes: It isn't often you see a blues club full of unpaid musicians with smiles on their faces. But at April's BluesAid II concert in Tunica, Mississippi, more than two dozen blues, country and rock stars — Charlie Musselwhite, Kim Wilson, Johnnie Johnson, Bobby Rush, Steve Cropper, John Kay, Buddy Miles, Gary Nicholson, the Kentucky Headhunters, Katie Webster, Pinetop Perkins, James Cotton, Anson Funderburgh and Leroy Parnell among them — were positively beaming about working for free.
They had gathered from all over the country to donate their performances to BluesAid, a non-profit organization formed last year by the Sonny Boy Blues Society to help ailing and needy blues musicians pay for health care, medicines and other basic necessities.
"As you well know, many of our most influential blues men and women have not fared well financially and are without any health-care insurance and/or savings in case of illness," explains Rayne Gordon, president of the Helena, Arkansas-based SBBS. "The BluesAid project is an extension of the blues society's local efforts to help these aging artists obtain proper medical help and medications they may have otherwise gone without."
One rousing set, a rocking, all-star jam of Austin songwriter/singer/guitar-slinger Gary Nicholson's tune, "Pay Bo Diddley," pointed to another financial problem among older blues musicians — not being paid music rights and royalties. Punching home the song's message to the famous Bo Diddley beat were Nicholson, Buddy Miles, Johnnie Johnson, Leroy Parnell, NYC singer/guitarist James Lewis and the fabulous BluesAid II house band, the Cate Brothers.
Katie Webster, who suffered a stroke about five years ago and receives monthly pharmaceutical bill assistance from BluesAid, made a rare and remarkable appearance with Anson Funderburgh, Leroy Parnell and Kim Wilson. Webster's brief time at the piano was as dazzling as her room-illuminating smile and included a rousing version of one of her biggest Alligator Records hits, "Two-Fisted Mama." Although the stroke has severely damaged her eyesight and once-nimble fingers, she still pounded out powerhouse runs and chords.
"This is what it's all about," Kim Wilson said backstage, with a smile and nod toward harpmeister Frank Frost and his Jelly Roll King drummer and long-time friend, Sam Carr. Frost, a colon cancer survivor with many monthly health needs not covered by insurance, also receives BluesAid assistance.
The commitment from all the participating stars to the BluesAid goals was obvious onstage and off. The famous artists gathered for the benefit seemed to enjoy seeing and playing with each other as much as the lucky people who paid $35 per day to attend their phenomenal musical collaborations.
Musselwhite took three days from his tightly-booked schedule to play both days, and Miles honored his commitment to the shows in spite of the death of his mother the day before the event. Levon Helm brought his new jump blues band and a hot, new female vocalist — daughter Amy — to the gig. With her dad providing some awesome mandolin backing, Amy Helm lit up the club with exciting covers of "I Just Want to Make Love to You," "Shake a Hand" and a Big Mama Thornton-style "Hound Dog."
Because attendance was down for this year's BluesAid, organizers are considering a cybercast of "best of" performances from the two-day event to give music fans a chance to see what they missed and contribute to a worthy cause. For more information, visit the BluesAid website at www.bluesaid.com or the Sonny Boy Blues Society at www.deltanet.org/sonnyboy. Or contact the Sonny Boy Blues Society at Box 237, Helena, AR 72342, (870) 338-3501.
---
K.C.'s deliverer of the blues
Leland Rucker writes: In 1979, I was a cub rock-music writer at the old Kansas City Times. Among other things, I wrote a Saturday morning concert-preview column, and was desperate to talk with anybody who would answer my calls, whether the Ramones and Van Halen or Barry Manilow and Mickey Gilley.
One day I get a call from a mailman in the area who says he's promoting a concert by some guitar player by the name of Eddy Clearwater. Calls him the Chief. A mailman bringing the blues to town, I thought. Wonder how long this will last, I muttered to myself.
I had never heard of Eddy Clearwater, but the mailman's excitement was palpable, and he even brought over a copy of the Chief's latest single to my home that weekend. Eddy Clearwater became an item for the next weekend's column.
And really, it was this mailman's enthusiasm that got me to go outside my usual parameters (which at that time was rock and pop) and begin writing columns and features on the blues artists he started bringing through — all who seemed patient enough to endure my naive questions: Gatemouth Brown (who explained how pot had saved his life), J.B. Hutto, the Nighthawks, Koko Taylor and Luther Allison (who was openly bitter about his status back then, before he moved to Europe and made his dramatic U.S. comeback), and a lot of other names I had never heard of before.
And the mailman/promoter's tenacity worked to both our benefits; he got publicity for deserving artists and I got to talk with some interesting people I would have otherwise missed.
The mailman, of course, was Roger Naber, now long-time owner of Kansas City's Grand Emporium club and the man behind the scenes in that city's enviable blues scene. Whether with the unforgettable Ultimate Rhythm and Blues cruises of the early '90s or the eclectic line-ups of the Kansas City Blues & Jazz Festival, Naber has shown an inordinate amount of behind-the-scenes persuasiveness, good taste and the unique ability to always deliver the musical mail. We missed the big, 20th-anniversary celebration April 24 at the Grand Emporium, but our caps are off to you, Roger. Here's to another 20 years.
---
The blues' literature major

P>Anybody who's listened to New Orleans public station WWOZ or reads about blues is probably familiar with the name John Sinclair. The former White Panther activist dons many hats these days — producer, promoter, performer, poet, historian among them. He's a regular BLUES ACCESS contributor, as a feature writer (Coco Robicheaux profile in BA#37), reviewer (see this issue's section) and poet ("Pea Vine Special" in BA#29).

"Pea Vine Special" is part of Fattening Frogs for Snakes: A Delta Sound Suite, a volume of poems that Sinclair has been working on since the early '80s that traces the movement of acoustic Delta blues into electric Chicago blues. The introduction is by Sinclair's old running partner, Amiri Baraka, with cover art by Gary Grimshaw and inside illustrations by Francis Pavy.

It's being published through Surregional Press, an offshoot of Mesechabe: The Journal of Surre(gion)alism, a literary magazine to which Sinclair is also a contributor. It's being done by subscription, which means that interested readers send in their money, and when they get enough subscribers, the book will be printed. Publisher Dennis Formento, aided by a grant from the New Orleans Jazz & Heritage Festival Foundation to cover production costs, says there is still room for subscribers to the first printing, which should happen sometime this summer or early fall.

For more information on getting your own copy, write to Formento: 1539 Crete St., New Orleans, LA 70119-3006, call (504) 944-4823 or email him: daf09@gnofn.org.
---
Keeping the Blues Alive awards 1999
The Blues Foundation has announced the winners of the 1999 Keeping the Blues Alive awards, to recognize the accomplishments and contributions of non-performers in the blues world. Awards were given out during this year's Handy Awards ceremony.
The recipients include:
Achievement in Education: D.C. and Selby Minner, musicians who organize music educational events in Oklahoma.
Achievement in Historical Preservation: Yazoo Records, established in 1967 by Nick Perls and Bernie Klatzko.
Achievement For Blues on the Internet: Blues on Stage — MNBlues.com, a popular blues website created by Ray Stiles.
Blues Organization of the Year: The Fox Valley Blues Society in Aurora, Illinois.
Blues Club of the Year: Biscuits & Blues in downtown San Francisco, founded in 1995 by Frank Klein.
Promoter of the Year: Jerry Pillow, one of the founders of the King Biscuit Blues Festival.
Manager of the Year: Bob Bell, long-time publicist, driver, soundman and manager of Roomful of Blues.
Blues Sponsor of the Year: The Winston Blues Revival, for its support of the Music Maker Relief Foundation.
Achievement in Blues Retail: Amazon.com for its attention to blues.
Achievement in Public Radio: Dr. Russell J. Linneman, host of Blues and More for 15-years on WUTC-FM in Chattanooga, Tennessee.
Achievement in Commercial Radio: Tom Marker's popular Blues Breakers program on WXRT-FM, Chicago.
Achievement in Visual Broadcast: River of Song, a four-part Smithsonian series produced and directed by John Junkerman.
Achievement in Literature: August Wilson, for powerful plays that probe African-American experiences in the United States.
Achievement in Print Media: Blues & Rhythm – The Gospel Truth, founded in 1984 in England.
Achievement in Photography: David Horwitz, for his documentation of blues events around the country.
Achievement in Advertising: Budweiser, for its support of more than 50 blues events around the country.
Chairman/President's Award: Amie Devereaux, a co-founder of the Blues Foundation in 1980.
---
Send information for this column to ACCESS, c/o BLUES ACCESS, 340 S. 42nd, Boulder, CO 80303, fax to (303) 494-1127 or e-mail Lrucker@aol.com.
---
This page and all contents are &copy 1999 by Blues Access, Boulder, CO, USA.